What is one of the worst nightmares for freelancers?
Tax season.
It is that time of the year when freelancers get the most stressed.
According to a CNBC survey, 1 in 5 business owners doesn't know how much tax they have to pay.
We say, don't wait for tax season to come, know your taxes as a freelancer and stay prepared for it. Moreover, you can cut your tax bill short if you know the deductible expenses.
Try our free online invoice generator today!
Whether your business is in construction, landscaping, consulting, photography, auto repair, or the medical field, invoicing takes way too long. That's why we're here. InvoiceOwl makes your invoicing faster and simpler so you can get paid promptly and without the hassle.
So, here is the ultimate guide on taxes for freelancers for you to file accurate tax returns and claim valuable tax deductions.
All freelance professionals, be it independent contractors, photographers, writers, or even freelance tax professionals, need to file their business income tax returns. Filing income tax returns on your freelance income keeps you away from trouble with the IRS.
So let's know what taxes you need to pay.
Types of Taxes
Just creating and sending tax invoices is not enough. As a freelancer, you are responsible for paying your taxes timely. Failing to which your freelancing business can be penalized.
Thus, knowing your taxes is of utmost necessity for freelancers. So, let's learn how many taxes you are supposed to pay to the IRS.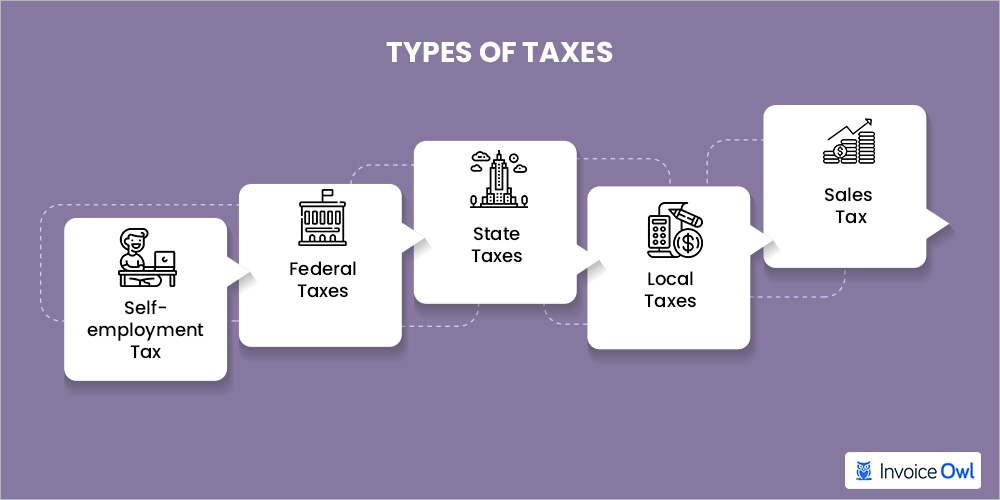 Self-employment Tax

When you are the only employee of your own business, you are responsible for paying a self-employment tax in addition to all the regular tax.

When you work for a company, you pay social security tax of 12.4% and medicare of 2.9% automatically out of your salary. Therefore, to represent the same, you have to pay the 15.3% self-employment tax.

The only difference is when you are just an employee, you and your employer pay this tax equally, i.e. 6.75%.

On the other hand:

When you are your own boss, you play both the roles of employee and employer too. Thus, you have to pay a total of 15.3% on your net earnings for the tax year.

When to pay the self-employment tax?

The self-employment tax is applicable to the net income of the year.

However, you are supposed to pay estimated tax payments quarterly throughout the year.

The SE tax is part of federal taxes, which takes us to the next category.

Federal Taxes

Federal taxes are the taxes most freelancers are afraid of. It brings the biggest burden with it.

Federal income tax is the biggest revenue source for the US government.

So, let's understand it well.

Federal tax is imposed by the IRS on the taxable annual income earned by an individual, organization, trust, or other legal entities.

Moreover, if you hire employees, you as the employer are responsible for withholding the social security and medicare tax from the employee's salary and filing taxes on their behalf.

When to pay the Federal tax?

If you are self-employed: you have to pay estimated taxes annually by April 15th.

If you hire employees: you have to pay every month or every alternate month.

State Taxes

Depending on the state you live in, you have to pay the state income taxes additional to the federal taxes.

However, you are exempted from making estimated tax payments for the state tax if you live or do business in six states. e.i. Florida, Alaska, South Dakota, Nevada, Texas, Washington, and Wyoming.

The state tax rates differ from state to state. Thus, know the regulations and rates of your state before paying the estimated tax.

If you hire employees, you have to make sure you cut half of the tax from employee salary and pay half of the tax as an employer.

Moreover, if you build an LLC as a freelance business owner, you might be liable for paying additional taxes depending on the state you do business in.

When to pay the State tax?

You have to pay estimated taxes throughout the year.

You can file an annual tax return with the state tax department.

Local Taxes

Other than the federal and state taxes, there are around 5,000 local jurisdictions, such as cities, counties, and municipalities that levy local taxes.

For example, New York City is the most famous for imposing local taxes.

Moreover, you need to keep in mind that many local jurisdictions impose annual business registration fees.

Therefore, visit the local chambers of commerce or local government's website for accurate information on local taxes.

When to pay the Local tax?

For most jurisdictions, you need to pay estimated taxes quarterly.

Sales Tax

Quite clear by its name, it is the tax that the local government implies on every sale that a business makes. And this is why you should issue tax invoices.

The rate of sales tax is again subjective to the state you operate your business in.

However, there are exceptions.

Alaska, New Hampshire, Oregon, and Montana, Delaware are the only states that exempt freelancers and business owners from sales tax.

Other than these states, every state implies sales taxes.

But as a freelancer, you do not have to worry much. As these sales tax is applicable on sales of products to the public. Most state governments do not impose a tax on providing services to clients or impose on particular services only.

Only New Mexico, West Virginia, Hawaii, and South Dakota are the states that impose service tax on all services.

Moreover, you need to apply for a state sales tax permit. The state can charge you penalties if you sell products/services without having the permit.

When to pay the Sales tax?

It depends on your state sales tax rules.

Are you already worried about paying taxes?

Don't worry! You can lower your tax liability.

Want to know how?

The government has provided exemptions for the necessary expenses that you can subtract from your gross income to lower the taxable income.

So, let's look at all those categories of expenses that you can deduct from the gross income.
Types of Tax Deduction Categories
Tax deductions are the essential expenses made by the business that can be filed against the gross income to project accurate taxable income.
By counting the essentials you can know the actual profit you made. Since the government imposes taxes on only the profit made by an individual or an organization, you can pay taxes accurately.
So, here are tax deductions you can file for lowering your taxes.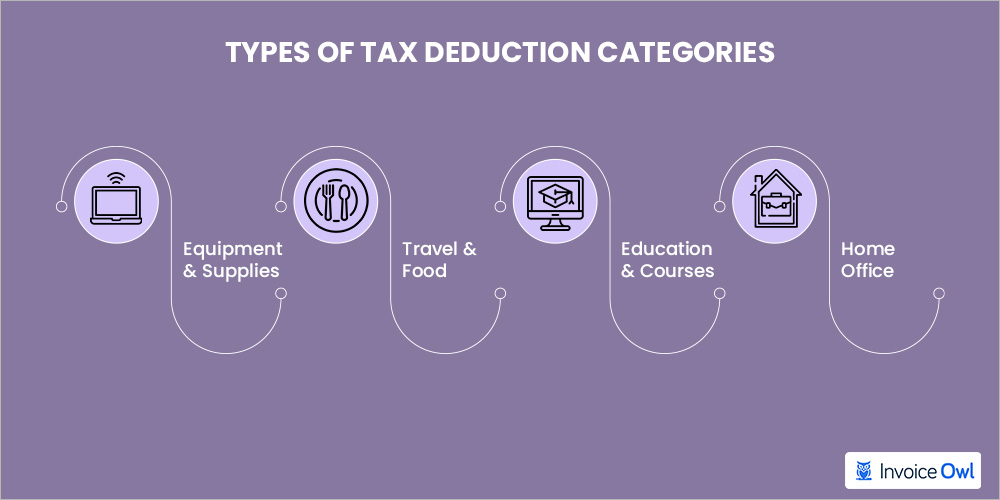 Equipment & Supplies

A salaried employee does not have to buy the equipment and supplies out of his/her salary. For example, a salaried chauffeur does not have to own the vehicle, whereas a cabbie has to purchase the vehicle first.

Since the freelancer has to make expenses like these to run the business, it can be allowed as tax deductions.

However, you should stay away from the grey line. For example, if the cabbie uses the cab as his personal vehicle on weekends, he/she might get into trouble with the IRS. To avoid such scenarios, keep your personal and professional expenses separate.

The best way to keep track of your expenses is by creating purchase orders.

Travel & Food

A freelancer might need to travel to do the job. In such cases, the travel expenses come under the essentials.

For example, a stage performer might need to fly to another state. The travel expenses like tickets and meals on the go are essential for him/her to do the job.

Note:

The travel expense of getting to your office does not count as a deduction.

Travel and meals deduction is one of the trickiest to prove. You need to show convincible evidence that the expense made was crucial for your business. You just can't file your vacation as essential travel for the business.

Education & Courses

To stay on the top of your game, you need to be updated with the new trends and technology in the line of your business.

This requires continuous training.

As they say, "There is no age for learning."

And the good news is that your educational cost may be counted as a tax deduction.

Note:

Write off the cost of certification courses only if it helps you enhance your business skills.

You can not file the cost for learning golf being a market analyst.

Other than the education cost, you can file the costs for applying for licenses and registrations.

Home Office

Most sole proprietors choose to work from home. Thus, the government allows you to file expenses such as rent, utilities, and bills for the home office.

After all, paying your electricity bill is essential for running your business.

Only thing is that there is a fine line. You can not write off the new night lamp you bought as your office expense.

When you claim deductions such as these, you can cut short a large tax bill and invest more in your business.
Frequently Asked Questions
When to file taxes as a freelancer?
All self-employed professionals have to pay a self-employment tax as social security and medicare taxes. If you earn more than $399.99, you have to pay freelance taxes quarterly. The quarterly tax payments are estimated and you can file for a tax return at the end of the financial year.
---
How to file taxes for freelancers?
The Internal Revenue Service (IRS) is responsible for tax collections for the USA. Freelance taxes are no exception. Every freelance business is obliged to pay quarterly taxes to the IRS.
---
Do I need to pay tax on freelance work?
Yes! You should be paying taxes on freelance work. If you earn $400 or more, you need to pay freelance income taxes.
---
What do freelancers need for taxes?
Freelancers need to have the following 6 documents for paying taxes.
Form 1099-MISC
Form 1040-ES
Receipts for Business Expenses
Home office documentation
Mileage log
Financial Statements
---
How much tax do you pay if you are self-employed?
You need to pay 15.3% as self-employment taxes. This self-employment tax accounts for the social security and medicare taxes that a regular salaried employee has to pay half of.
---
Can I pay self-employment tax annually?
As a sole proprietor, you are required to file annual freelance income taxes and pay estimated taxes quarterly throughout the year. And since it is estimated, you have to pay the remaining taxes when you file your annual tax return. Paying quarterly keeps you away from penalties.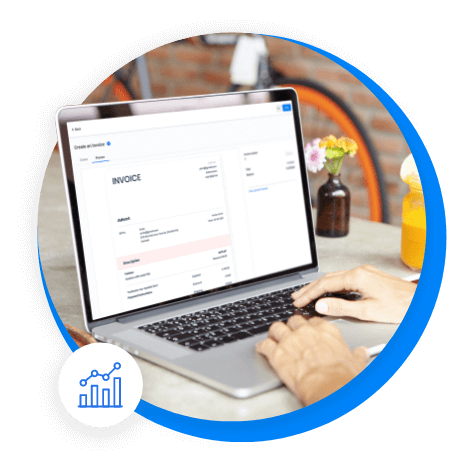 Create Professional Invoices Online Easily and Keep On Top of Your Finances
InvoiceOwl is a feature-rich invoicing app that helps small businesses, freelancers and contractors to create invoices on-the-go and get paid quicker!
Conclusion
Tax filing for freelancers and small business owners gets quite complex as they have to take care of it themselves. It involves collecting tax forms, paying taxes, and claiming deductions. Hence, filing annual tax returns can be overwhelming at tax time.
But we hope this blog has cleared most of the tax basics for you and helped you understand the taxes for freelance income.
If you want to make it even simpler, Sign-up for InvoiceOwl NOW! It helps you collect the tax from your customers and generate annual reports to be ready for tax time.