If you are a freelancer, "Tax season is coming." might be colder than "winter is coming."
Right?
Still, no need to hit the panic button. We are here with the 7 tax tips for freelancers that will help lower the tax bill and simplify the tax process.
So, without any further ado, let's get started.
7 Tips for Freelancers for Paying Taxes
Perhaps what tax costs more than money is time. A self-employed business person has to do all the business operation tasks, such as accounting, marketing, sales, R&D, customer relationship, and the actual job.
Thus, here are the tips that will cut short the time you take in paying taxes and invest it in other essential tasks.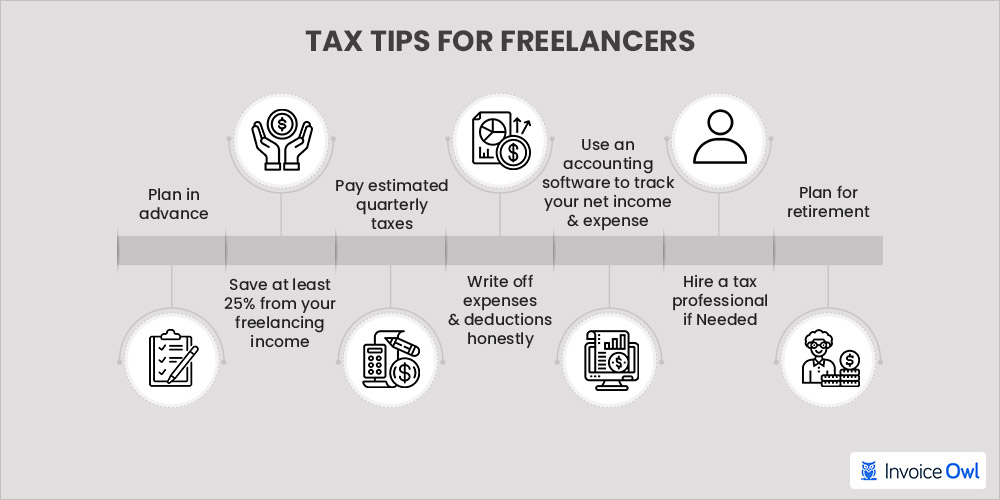 Plan in Advance

As they say: "Precaution is better than cure."

You need to be prepared for tax times.

Filing a tax return can get a lot more complex and time-consuming if you are not preparing it throughout the tax year.

You need to record every expense and freelance income for accurate tax payments. If you have not tracked your income and expenses for the entire year, it might get too hard to recall a transaction made a year ago.

Other than that:

Know what taxes you have to pay as a freelancer. This helps you to plan for taxes and save some cash for the tax time.

This brings us to the next tip.

Try our free online invoice generator today!

Whether your business is in construction, landscaping, consulting, photography, auto repair, or the medical field, invoicing takes way too long. That's why we're here. InvoiceOwl makes your invoicing faster and simpler so you can get paid promptly and without the hassle.

Save at least 25% from your Freelancing Income

Keep in mind that you need to pay taxes from the net profit you earn. Thus, saving a portion of your earnings for tax is a great idea. This will help you be ready with the cash when the tax time rolls.

The best way to keep it aside is to open a separate savings bank account. Keep a habit of keeping 25%-30% of your freelance business income for making estimated payments for self-employed taxes, federal taxes, and state income taxes.

This practice not only helps you pay taxes but avoid unfortunate financial situations too. Get in-detail information on how to manage business finances through advanced tips and tricks.

Pay Estimated Quarterly Taxes

Paying estimated quarterly taxes instead of paying it once a year.

Estimated tax payments are the best way to pay your taxes. You can estimate the total income of the year according to how your freelance business does quarterly. And pay the estimated taxes quarterly.

The 'pay as you go' way is the best for your business as it has nothing to lose. This cuts down the total income tax into smaller estimated taxes that you can pay throughout the year.

Moreover, if you have paid more than what you owe, you can always file a tax return.

Most tax professionals and tax advisors will suggest that you practice it to simplify filing taxes.

Write off Expenses and Deductions Honestly

Ever heard "Honesty is the best policy"?

It is indeed true.

At least when filing taxes.

As a freelancer, you need to know that the tax law allows you to write off many tax deductibles.

For example, you get:

travel and meals
education and certification
equipment
unreimbursed medical expenses
home office deduction

These are some tax-deductible business expenses that you can file for lowering your tax payments.

However, these deductible expenses should be essential to keep your freelance business running. You can not write off your vacation as a deductible expense.

Moreover, the Internal Revenue Service uses a computerized system to detect foul claims. So, if you file an imaginary business expense, it will get you into an IRS audit.

Use an Accounting Software to Track Your Net Income & Expense

What is the basic need to pay accurate taxes?

Tracking your income and expenses accurately.

And this gets way too tedious if done manually.

Therefore, you should consider investing in legitimate accounting software such as InvoiceOwl.

The InvoiceOwl software helps you:

track your expenses
track your income
prepare annual tax reports
set and collect predefined sales tax

These features make tracking your business expenses and income simpler than ever. Other than that, it helps you separate business and personal expenses.

So, if you want to automate accounting tasks such as creating and sending invoices, purchase orders, payment receipts, and generate sales reports, InvoiceOwl is the last software you need.

Hire a Tax Professional if Needed

Many freelancers find tax laws overwhelming to understand. Thus, hiring a tax advisor for legitimate tax advice is a great idea.

As a freelancer, you need to pay 15.3% of self-employment taxes which includes social security and medicare taxes.

Note that this self-employment tax has to be paid in addition to the regular income tax.

Thus, tax experts help you with all the freelance taxes and deductions to file precise taxes. Most freelancers take advice to cut down the tax bill and save money.

And after all, paying an advisor is better than paying tax penalties.

Plan for Retirement

Your retirement can go as long as 30 or more years.

Do you have a financial backup for that?

One of the realities is that no matter how much you love your job, you can not do it forever. So, you need to have a retirement plan. We never know the future, so we should be prepared for everything.

According to Jeff Jones, the good thing is you can contribute to the Internal Revenue Service, which is tax-deductible. This not only helps you lower your taxable income and prepare for your retirement plans as well.
Frequently Asked Questions
How do freelancers reduce taxes?
Freelancers and independent contractors reduce taxes by writing off essential expenses as tax deductions.
Some of the deductible expenses are:
Home office expenses (office supplies, rent, or electricity bills)
Food and travel
Equipment
Education and certifications
Registration and licensing fees
IRS contributions
Unreimbursed medical expenses
These are the legitimate tax savings that self-employed workers can deduct to get the net income.
---
How much should I save for taxes as a freelancer?
Saving your earnings is essential for paying income taxes. Thus, as a freelancer, you need to keep aside at least 25% to 30% of your net income as savings for taxes.
---
What do freelancers need for taxes?
Yes! You should be paying taxes on freelance work. If you earn $400 or more, you need to pay freelance income taxes.
---
What do freelancers need for taxes?
Other than the obvious bank account, all freelancers need the following tax forms for taxes.
Financial Statements
Mileage log
Receipts for Business Expenses
Form 1040-ES
Form 1099-MISC
Home office documentation
---
Does freelance work get taxed?
Yes! It does. If you are making a freelance income, you need to pay the tax on your net income. As a self-employed businessperson, you need to pay an additional self-employment tax, which accounts for social security tax and medicare tax.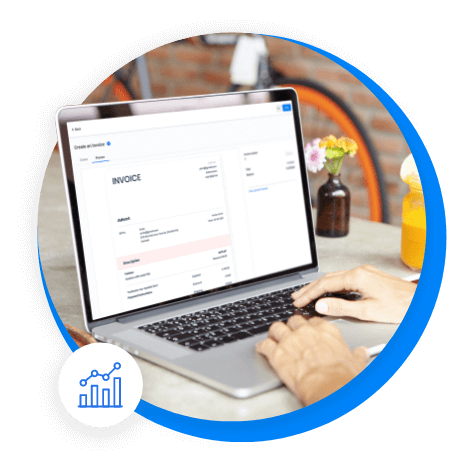 Create Professional Invoices Online Easily and Keep On Top of Your Finances
InvoiceOwl is a feature-rich invoicing app that helps small businesses, freelancers and contractors to create invoices on-the-go and get paid quicker!
Conclusion
Paying your own taxes as a freelance business owner, sole proprietor, or self-employed person can get tricky as you have to do it by yourself. Especially as a beginner, the learning curve is quite steep.
However, we are sure that the tax tips that we discussed in this blog must have helped you pay your taxes more accurately and easily.
If you are having a hard time filing taxes, InvoiceOwl generates annual tax reports just with a few clicks. Moreover, InvoiceOwl lets you predefine a tax and calculates the net amount to be paid by your customers automatically.
So, sign-up to InvoiceOwl for free and make taxes as simple as buttering bread.