Are you still creating invoices traditionally for your customers to get paid? You are wasting your effort and time creating invoices manually once the freight is shipped from source to destination.
How to get rid of such a problem? Well, it is easier than you think. You just need to adopt a shipping invoice template in your business as it includes invoice generator functionality to make invoices with ease.
In this article, we have discussed some basic steps that will make you go through the process of creating invoices. Also, we have highlighted the common invoice types available in the market. Shall we begin?
Breaking the Ice with Shipping Invoice Templates
Shipping invoice templates are nothing but ready-made invoice formats that you can fill and send to your customers, clients, and businesses to get paid faster. If required, you can customize the template as per your requirement and create professional invoices in less than 1 minute.
The primary intent of creating freight invoices is that you can easily send invoices to your customers in a well-defined and organized way. So, it becomes easy for shippers in great demand for more convenient and easy to pay invoices.
If the customers are unaware of a freight invoice, there are fewer chances to pay them on time. So, the freight invoice templates must be designed and created so that it has a better layout and orderly format that makes it easy for customers to read.
Freight invoice templates are available in many formats like Word (.DOC), Excel, (.XLS), .PDF, Google Docs, and Google Sheets to download. Also, it includes the customization options that allow you to keep the template designs and contents as per your requirements.
Shippers are the actual freight invoices as they need to take care of the items that need to be shipped and even the freight charges. On the other hand, the carriers need to issue the appropriate freight invoices for shipments to quickly document shipment information.
Essential Steps to Create a Shipping Invoice
To create a shipping invoice for shipping businesses, you need to follow the steps mentioned below:
Download Free Freight Invoice Template

The first step is to download a customizable template by InvoiceOwl that provides free-to-download online templates.

Fill In Basic Buyer and Seller Details

Once a template is available to you, start entering the basic seller information like the business name, address, phone number, and email address. Also, you need to add the buyer information like shipping address.

Note:- You can contact the seller on an urgent basis if there is any billing address and shipping address differs.

Add Basic Shipment Information

In the next step, you need to add the date, time, origin and destination points, the total number of packages, customer contact information, and other information related to the shipment.

Assign Invoice Number

An invoice number is a must when transferring from one location to another. If you do not have an invoice number, then it becomes difficult for a shipper to track the package. Remember that it should be unique and should not conflict with another package unit. The best way is to apply the sequential numbers to invoices as they come by.

Provide a Customer Reference Number

Along with the invoice numbers, a customer reference number is also mandatory to include. The customers can use this number to check for their status, queries, or to return any items if they have purchased from the company.

Include the Necessary Terms of Sale

It is essential for both the buyers and sellers. Include the basic information related to any obligations, complexities, risks, costs, and other factors that need to be considered as part of the sale of goods.

Terms of Payment

The next essential step is to include the information mentioning basic payment terms and conditions that both buyers and sellers have agreed upon. Also, you need to include payment modes like cash, cheque, card, or net banking in invoicing.

Enlist the Items

You need to include a short description of all the shipped items. It can be:

Container type (either box or envelope)
Containers' gross weight
Product quantity
Unit price

Include the Product Quantity and Measure Unit

You have to enter the details on your line items' total quantity to be included in your purchase list. Also, you need to provide the total net weight and gross weight of every line item that needs to be shipped.

Include Shipment Method

In this step, you need to select the method through which your product will be shipped. It can be in the form of air, ocean, or surface shipping.

List the Price and Value

You need to enter the total amount for the shipment, including the total commercial value. In short, it is the total cost covered to perform shipment.

Include Extraneous Charges

Finally, you can also include the charges that the customers need to pay additionally—for example, insurance service costs, taxes, export transportation & shipping services, and others. So, you just need to calculate the total costs, including the special services charge.
So, these are the essential steps of creating invoices from freight invoice templates available for free in the market.
What are the Types of Shipping Invoices?
Nowadays, in this competitive world, you'll come across many free invoice types of invoices. However, we have highlighted the most common types of freight invoices.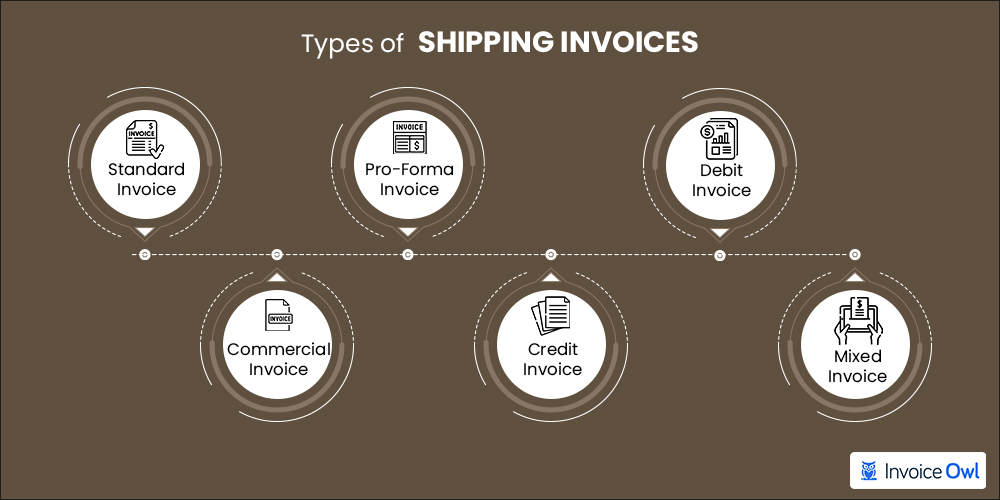 Standard Invoice: This invoice type is the perfect choice for performing goods shipment.
Commercial Invoice: A shopping commercial invoice template that is solely responsible for documenting imported foreign goods. It is used at customs to showcase shipment information, origin country, authenticity declaration, importer signature, and other essential information.
Pro-Forma Invoice: A shipping Pro-forma invoice template enlist the approximate amount for a shipment that has not yet been performed.
Credit Invoice: This invoice type provides you with any available refund or a discount rate.
Debit Invoice: Using this invoice type, you can even charge for particular services.
Mixed Invoice: As the name suggests, this invoice type is beneficial for both billing and issuing a refund or discount at the same time.
Frequently Asked Questions
What is the difference between a shipping invoice and a commercial invoice?
The main role of a shipping invoice is to just move the product from source to destination. On the other hand, the manufacturers use the commercial invoice to bill the consumer for a specific product or service.
---
Does a proforma invoice have an invoice number?
No. There is no invoice number in proforma invoices. The invoice number is only for performing some legally binding values. Once a proforma invoice is finalized, a completed invoice should be created with an invoice number.
Conclusion
So, take your valuable time and download a free freight invoice template by InvoiceOwl for your business and give it a try to make an invoice for your business.
We have highlighted the essential steps to create the freight invoice to save your time and effort in performing manual operations.
If you don't want to create your invoices manually anymore, download the InvoiceOwl app and get your entire invoicing process automated.