As a proprietor, your duty is to ensure all your tenants are comfortable and the buildings you own are well-maintained. While taking care of such things you might not get time to spend on time-consuming administrative tasks, such as invoicing. To save valuable time and efforts, cut down the stress you need to have a rent invoices template for all the tenants. A rental invoice is a simple format that would be sent or emailed or posted to a tenant (business rental, multi-family, or single-tenant) once the tenants agree to all the terms and conditions.
"The national foreclosure suspension leaves out the 44 million households that rent their homes." – Urban
Why Rental Professionals Need To Send Invoices
Whether you give apartments, commercial buildings, or any kind of equipment on rent, through a professional invoice you will be able to provide excellent customer service and a positive experience to your clients. Each tenant is different, so you need to be clear with each of them about the terms and conditions. Also, include those terms and conditions into the invoice and organize the invoice template that describes exactly what you are charging for. This will help you maintain copies of all the documents to ensure you have all the financial records for future business strategy and tax planning. Sending an invoice to renters reflect your professionalism and how much clarity you have for your business. The little things added to invoices for the tenants help them get clear instructions for what they are paying for. Sending an invoice on time will support you build a reputation as a trusted and reliable landlord who provides top-quality living and/or working space along with building engagement with the tenants.
Try our free online invoice generator today!
Whether your business is in construction, landscaping, consulting, photography, auto repair, or the medical field, invoicing takes way too long. That's why we're here. InvoiceOwl makes your invoicing faster and simpler so you can get paid promptly and without the hassle.
Get Started Now
What Are The Benefits Of A Rent Invoice?
As a property owner you just don't rent out the property but you also need to stay up-to-date in the most organized way possible. You provide space to others, especially a home to live in or an office to work, for that you deserve a payment, and to receive a payment you should create a professional rent invoice on time.
For creating an invoice you can choose any format (Use rent invoice template word, Google Docs, rental invoice template excel, Google Spreadsheets, or rent invoice template PDF) that is convenient for you. There are many benefits of using a rent invoice template, some of those are –
Get paid Faster
Organized renters information
Stay up-to-date with the cash flow
Record printer-friendly invoice template
Maintain a professional appearance
Create reminders for non-payment of rent
The easier way to claim a tax deduction
These are just some of the benefits of using transparent and straightforward invoice templates. With a rent invoice, you can be relaxed knowing everything is covered in the invoice templates you have created.
What You Should Include In A Rental Invoice?
You always provide a living or working space for your renters, and you and your property managers work hard to meet their expectations. In such a scenario, invoices play a major role in collecting monthly rent and help you and tenants in understanding why they are going to pay.
You need to download a rental invoice template from the invoice generator or free online tools before adding any information to your rental invoice. Make sure that the invoice template you choose is customizable and fits your business requirements. The template should enable you to have organized renter information and keep running the cash flow. After saving it in your invoice template, you need to fill in the blanks.
Here are a few important steps that you can follow for creating a rent invoice template –
Search for the elegantly designed rental invoice templates that are suitable for your business needs
Select one of the designs that match your branding style
Download the template in your preferred format, such as Microsoft Word, Microsoft Excel, PDF, Google Docs, or Google Sheets.
Customize your invoice template with your business name and details/contact information. If you are providing a special type of rental home (i.e. Holiday home rentals) be specific into the invoice, so people know your specialization.
If you have a logo, website, and email address, highlight it along with the other professional information.
Add a unique invoice number, date of invoice and the payment due date
Add the tenant information, property manager information, property address they have occupied, rental period, and their updated contact information.
List out the monthly rental rates, additional service charges if any (E.g., Utilities, access to internet or cable TV)
Include late fees in case of late payments
Describe the terms and conditions, lease agreement in case of damage to the property
Mention the deposit amount if you are taking damaged deposit or security deposit
Include discounted rates for the long-time tenant, add a small description explaining why you are providing such an offer, so the tenant understands the special rate they are receiving
Calculate the total payable amount, including applicable taxes (i.e. property taxes) and add that amount at the bottom of the invoice
Add payment terms and preferred payment method
Add digital signature if required
Write a personal thank you line at the end of the invoice to tell your tenant how much you appreciate them for their loyalty
Save the invoice
Send invoice or rental billing statement on time or handover the printed copy to your property manager
Many landlords might find it difficult and confusing at first, but creating such documents is actually very simple once you start creating it following the above-given steps. Still, if you find it difficult and you have a lot of information to include in your invoice, let's make it more effortless for you.
Before you download a rental invoice template using an invoice generator, invoicing software or any other tool, make sure you have all the details about the charges that you have charged to the tenant, how much is the total amount, what are the additional services they have opted, when is the payment due date, which tax category they fall under, etc. Then choose the template best suitable for the information you have.
If you have a lot of small services that you need to include in detail so that the tenant knows what exactly they owe for the month, you need to choose or create the template according to the space you need for the additional details.
It will be easier for you to create a good looking professional invoice if you follow the steps properly and add all the necessary details for the tenants. You can also follow some tricks and tips while creating a rent invoice example for better results.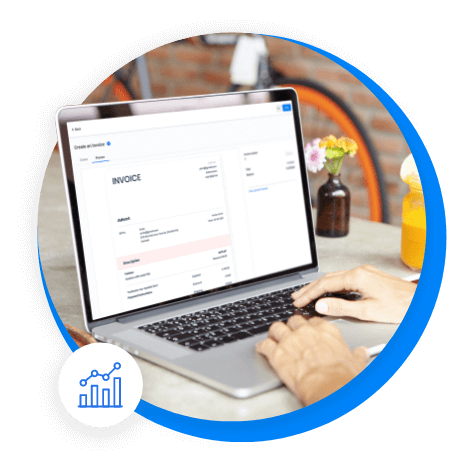 Create Professional Invoices Online Easily and Keep On Top of Your Finances
InvoiceOwl is a feature-rich invoicing app that helps small businesses, freelancers and contractors to create invoices on-the-go and get paid quicker!
Get Started for FREE
Frequently Asked Questions
1. How is the rent invoice created?
You can create the rental bill template following the above-given steps and if you want to use some free online tools you can also do that. The choice is yours and depends on the details you want to include in your templates. The core benefit of ready-made free online templates is you can easily calculate the total, net, and gross amount within seconds, and the operation is completely automated so you just have to add figures and descriptions into it and its done for you.
---
2. Can I customize the rent invoice?
Yes, definitely you can customize any of the templates you choose for your business. You can tailor each and everything in your bills such as bill number format, add your business logo, choose colors and fonts based on your branding style, and add/remove additional details as per requirements. You can also create your own header and footer style and do the branding of your business.
---
3. How do I receive the payment?
Your tenants will find the preferred payment method at the bottom of your bill and according to that they will make the payment transfer. You can also include a payment link in your bill so that it can help them make quick payments. You can also include the steps to follow for making payments to guide your renters and these little things will help you get paid faster.