Is invoicing taking a lot of your time?
You might already know the value of time for a photographer. Since, once a moment passes, it never comes back again.
And your fingers should probably spend more time on the shutter than holding a pen and registers.
So, do you want to cut your time off from invoicing and spend more on other important business operations?
Well, we have good news for you. The all-new InvoiceOwl invoicing app brings you a free photography invoice template, which you can customize and create unlimited invoices in as little as a minute.
Isn't it exciting?
So, let's talk more about the purpose, essential elements, and how to create an invoice using a template. And stick to the blog to know exclusive tips and a free photography invoice template ready to be downloaded.
What is the Purpose of Photography Invoice?
The obvious purpose of creating a photography invoice is to request payment from the photography clients.
But that's not all of it.
A photography invoice serves various purposes that play a crucial role in simplifying photography business operations and tasks.
So, let's talk about such photography invoice purposes that help the business directly or indirectly.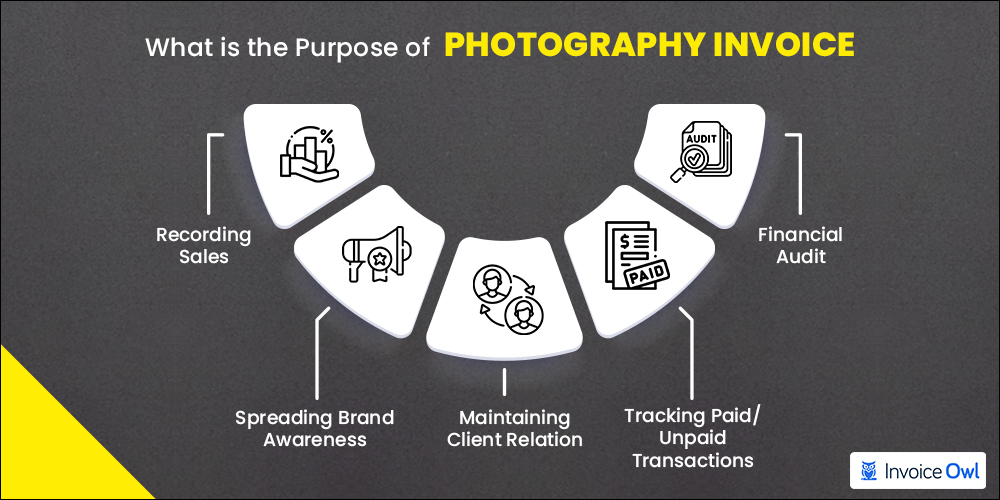 Recording Sales

A photography invoice template automatically records and tracks sales with all the details.

Moreover, if you use the InvoiceOwl accounting software, generating sales reports becomes a matter of a single click.

Spreading Brand Awareness

The photography bill is used to spread brand awareness by customizing the photography invoice templates. In addition, the invoice provides the freelance photographers with a scope of mentioning business name, contact detail, business logo, and licensing information.

Maintaining Client Relation

As the invoice includes the business branding, similarly, it consists of the client information too. The client information such as the client's name, logo, phone number, mailing address, and email id helps to stay in contact and maintain client relations.

This helps the business boost client retention and client loyalty for future work.

Tracking Paid/Unpaid Transactions

A photography company uses the invoice to track all the payments easily by simply sorting paid and unpaid invoices.

Moreover, the invoice automatically records dates of service provided and due dates for every service provided to various photography clients. And a great billing software like InvoiceOwl reminds you and the client of such important dates.

Financial Audit

Suppose you want to audit a transaction done in the past. It would be impossible if you do not use an invoice. Therefore, using an invoice, you can easily refer to it anytime in the future and ensure transparency.
So, now keeping the focus on the purpose of a photography invoice, let's talk about precisely what gear we should keep in our bag.
What Should be Included in Photography Invoice?
Billing for a photography business requires some niche-specific elements to be included in the invoice. These elements help to ensure the client understands the charges for the photography services you provided.
So, let's discuss those elements before creating your professional invoice.
Invoice Date

The invoice date is a must in an invoice. It helps you remember the date of the photography service provided. It has a greater significance in the case of recurring invoices.

For example, a product photography service ties a contract with a business for a photo session every month. Then, the service provided and accounts payable will be the same for every month. In such cases, it helps to differentiate between invoices of two different terms.

Invoice ID

Invoice ID is the unique id assigned to every invoice. This is also known as an invoice number. This helps in sorting and managing multiple invoices.

One of the smartest methods to number an invoice uniquely is by the date. For example, if it is the 3rd invoice in July of 2021, you can number it 07/2021#3.

Tip: Keep all the invoice IDs in the same format to avoid misplacing an invoice.

Line Items

The line item is itemizing all the services rendered to the client with a description. This avoids miscommunications and keeps clients and the photography business on the same page.

Total Price

To notify the payment due is one of the major reasons businesses send invoices in the first place. Therefore, it will not be wrong to consider an invoice without the highlighted total amount as an incomplete invoice.

Due Date

Due date notifies the photography clients about the deadline and reminds them to pay you on time. Moreover, the late fees encourage the client to process the payment within the mentioned date.

Payments Instructions

How to pay is equally important in any invoice. The photography business should let the clients know about payment details such as the available payment gateways, the accepted currency, and the beneficiary bank account.
Alright, we have the purpose and the right gear, so let's create professional invoices and get the job done.
Steps to Create Photography Invoice
Creating professional invoices for a freelance photography business is extremely simple with the invoicing app InvoiceOwl. It lets you create unlimited invoices simply with an explicitly designed photography invoice template.
So, let's get started.
Step 1: Download the InvoiceOwl Photography Invoice Template
The InvoiceOwl invoicing app provides the free photography invoice template. If you do not want to start from a blank page, this free invoice template will save hours of your valuable time and let you create an invoice quickly.
Step 2: Dip it in your Brand Colors
Once you have downloaded the highly customized free photography invoice template, tweak it to make it an integral part of your photography brand. For example, add your business name, contact information, and logo.
Moreover, color it keeping your brand colors in mind.
Step 3: Add the Client Information
Add client information and with a single click. The InvoiceOwl remembers your clients and lets you add client information by just selecting from the client directory.
Step 4: Add Line Items
Add all the services rendered and photographs sold to the clients separately with a detailed description, rates, quantity, and total cost.
Step 5: Mention Applicable Taxes and Discounts
Mention the applicable taxes on the invoice, and if you use the InvoiceOwl app, this is done automatically. You have to define the taxes only once and calculate the taxes every time you create an invoice.
Mention the discounts as per the prior agreement for transparency.
Step 6: Confirm the Total Amount
The InvoiceOwl automatically calculates the total amount, and you just have to confirm it and give it a green.
Step 7: Mention Payment Terms and Due Date
Mention the payment terms and due date to encourage clients to pay you as soon as possible. Generally, it is around 15 working days from the invoicing date.
Step 8: Guide the Client with Payment Instructions
Don't forget to guide the client with the payment. Mention the accepted payment gateways and the beneficiary account number for quicking the billing process.
Step 9: State Payment Policy and Conditions
Last but not least, state your policies and conditions for refunds, cancellation of the purchase order, and late payment fees.
You are done.
Now if you want to get your invoicing right in the first go, have a quick look at the tips for creating the best photography invoices.
Best Invoicing Tips for Photography Services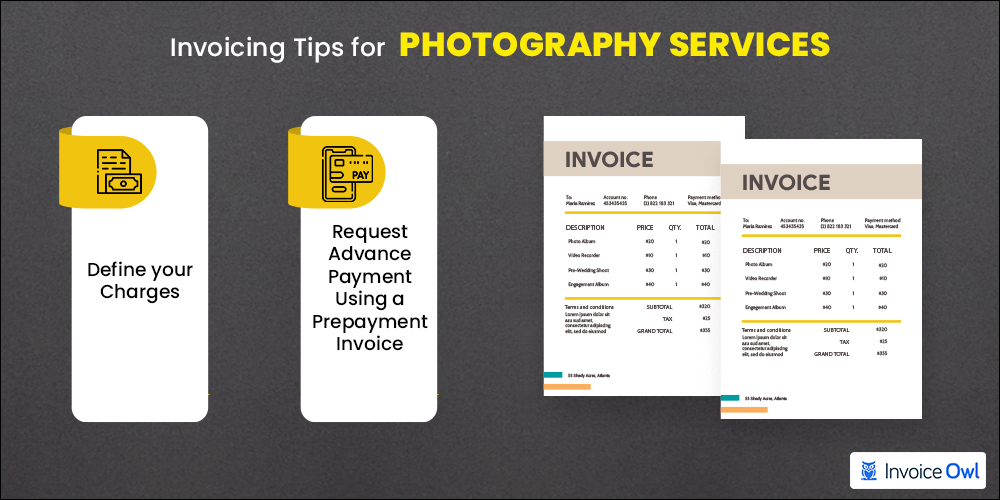 Define your Charges

One of the best ways to get paid faster is by making sure the client understands your charges. Let them know your charging method. For example, do you charge a lump sum amount or an hourly rate for the photography services?

This will leave no room for any confusion and help you get paid faster.

Request Advance Payment Using a Prepayment Invoice

It is a sad reality in the photography freelancing market that sometimes a freelance photographer has to face late payments or even no payments. So, to avoid fraud clients, requesting an advance partial payment or a deposit using a prepayment invoice is a great idea.
Why Should You Use InvoiceOwl Photography Invoice Template?
It does not end at clicking pictures, a photographer has to reach the location, shoot, return to the lab, and edit the photographs. This leaves a small window of time to create an invoice manually from scratch.
Download a Free Photography Invoice Template
Here is the free invoice template for photography in your preferred file format, such as Google Docs, Google Sheets, MS Word, MS Excel, and PDF as well. Download it now and start customizing to get a personalized photography invoice template for free.
Frequently Asked Questions
How to write an invoice for freelance photography?
Writing an invoice for freelance photography services is quite simple. All you have to do is:
Download the InvoiceOwl app
Add your business details (one-time step)
Tap on 'create new invoice'
Add client details (name & contact information)
Add line items
Assign invoicing date & number
Mention taxes, discounts, & shipping charges
State invoice terms and due date
Add payment instructions
Verify the final sum
---
When to give a photography customer invoice?
You can give a photography customer invoice by mailing the hard copy to their address or sending it via email. To make it simple, the InvoiceOwl remembers the customer's email address and sends the invoice with just one click.
---
How to make an invoice for wedding photography?
To make an invoice for wedding photography and event photography services provided, you can download the InvoiceOwl photography invoice template and charge the client a lump sum amount for the service and an additional charge on every photograph sold, depending on the number of photographs sold.
---
What does invoice number in photography mean?
The invoice number is the invoice ID. It is a unique number for every invoice. It helps in sorting, recording, and managing invoices.
---
Conclusion
We hope this blog helped you to create an invoice as a freelance photographer. We covered the purpose, important elements to include, and steps to create an invoice for the photography services provided. And we gave you tips to make extraordinary photography invoices.
Still, if you want to talk about anything in and around invoices, feel free to contact us anytime.
So, what are you waiting for? Grab the free photography invoice template and start creating your professional invoices right now!