Painting Invoice Templates
If creating a painting invoice was as exciting as painting a blank wall, it would be easier for you as an owner of the small painting business.
When starting from scratch, there is room for invoicing mistakes that you should keep away from. So, you don't want to start from a blank page. But as a small business, freelancer, contractor, or self-employed painter, you can not afford those costly alternatives.
Therefore, we have come up with a simple solution — Free Painting Invoice Template pages. Trust us; it makes invoicing as easy as coloring a kid's color book. We know you are eager to read all about it. So, let's start with the basics to be on the same page.
Ready to use our painting invoice template to create your invoice?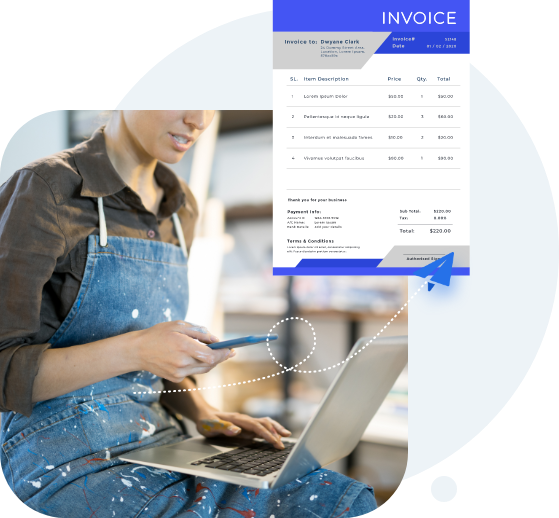 How to Create Painting Invoices?
Creating a painting invoice is not as easy as brushing a wall. It takes a lot of experience in accounting and software, such as MS Word, MS Excel, Adobe Photoshop, Adobe Illustrator, and similar designing tools.
These need a lot of time to get used to, and many painters find them hard to afford.
Thus, we will talk about the simplest alternative — InvoiceOwl, the invoicing app. It helps you create better painter invoice template designs in less time. So, let's get started.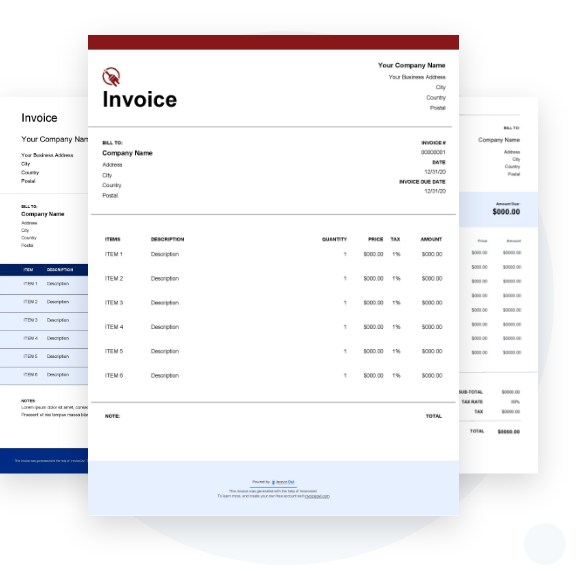 So, here are the steps to create a painting invoice with InvoiceOwl.
Download the InvoiceOwl painter invoice template
Brand it with your painting business name, logo, tag-line, address, and contact details
Make it easy to manage & organize by giving it a unique invoice number
Add all the information about the customer, such as customer name, customer id number, and contact details
Make an itemized bill including all the painting services provided and materials used with description, number of items, rates, and costs
Mention the total amount after calculating the discounts and applicable tax, and state all the payment instructions
Wasn't that super easy? Anyone with or without accounting skills can effortlessly create an invoice.
But what if we give a few quick tips to make your invoice stand out? Are you ready to note down? Let's begin then.
Download Free Painting Invoice Templates
Why start from scratch when you can download a painting invoice template for free?
Yes, you read it right!
The InvoiceOwl invoicing app gives you multiple templates to select from and the best part is you can download it in whichever file format you want. You get them in MS Word, MS Excel, or PDF file format.
If that's not enough for you, these billing templates are fully customizable too. So, get them now and start creating unlimited professional painting invoices effortlessly within no time.
Upgrade Your Invoice Template with InvoiceOwl
What is the Use of a Painting Invoice?
A painting invoice begets plenty of benefits if you know how and where to use it. So, before knowing how to create a perfect painter invoice, let's know where you can use one.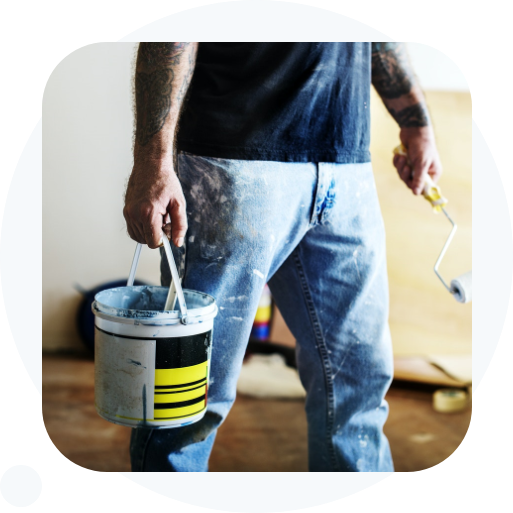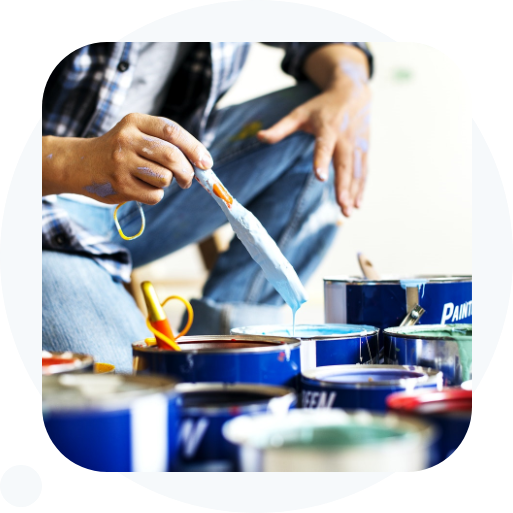 1

Billing Clients

First and foremost, the obvious one. A perfect painter invoice lets you bill clients instantly and accurately. It makes the client pay you quickly without hesitating or delaying due to confusion.

2

Accepting Online Payments

A painter invoice makes it convenient for your clients to pay for your paint job by a simple 'pay now' button. This gives multiple options to clients for the payment methods, such as credit card, debit card, net banking, Stripe, Paypal, and offline payment as well. Moreover, it helps you to account and manage all the payments effortlessly.

3

Tracking Transactions

Keeping track of all the paid and unpaid transactions is difficult for a self-employed paint business. But if you use a painter invoice, you do not have to put any extra effort into logging transactions.

4

Journaling Required Information For Paying Tax

Paying accurate business taxes, a business needs a lot of information which is hard to gather if not used painting invoices. Therefore, if you want to pay the right tax effortlessly, the painter invoice is your solution.

5

Generating Sales Reports

Generating sales reports is a repetitive and mundane task that can be automated. A painter invoice helps you create sales reports by effective bookkeeping. It lets you see overall sales reports for some time or a particular client.
Different Types for Painting Invoice Templates
1
Painting Invoice To Charge For Services Provided
As a painting business, you have to charge your clients based on the different jobs you provide. For example, interior painting, exterior painting, corporate painting, design & staging, or other specialty orders. Generally, painters bill clients based on the area painted or time taken.
2
Painting Invoice To Charge For Products Sold
Not every customer of yours wants to avail your paint services. Some customers need paints and painting accessories. Thus, for those sales, you need a painter invoice template for selling products. This can also attract international clients; therefore, this type of invoice is flexible in mentioning the various tax and accepting payment methods.
Elements of a Painting Invoice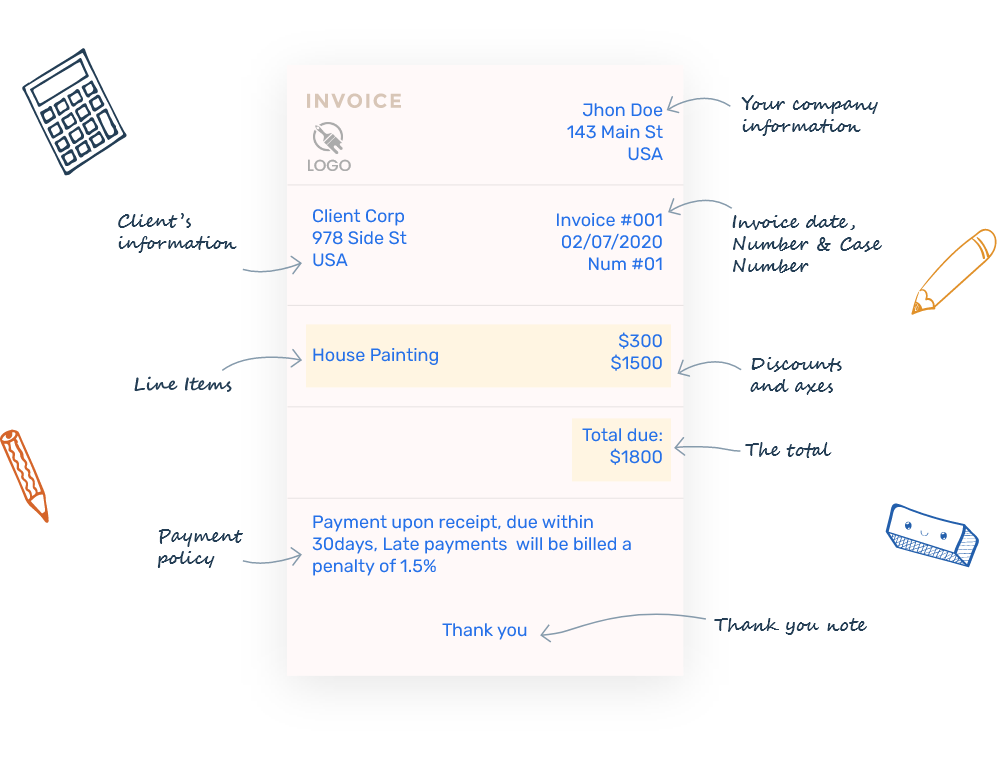 Invoicing Tips for a Painting Company
After talking to professionals working for years in the painting industry, InvoiceOwl has come up with quick tips for creating a painting invoice for you. And here they are:
Explain Every Cost
Explaining the cost of every item with all the details clarifies all the doubts and justifies the total amount to be paid. Furthermore, the same is for the total amount. Show the calculation of the applied tax and discounts that sum up the net payable amount. This makes the customer pay you quickly.
Give It a Unique Invoice Number
Giving every invoice a unique number is most helpful in sorting and organizing the invoices. The easiest way to number them is by the date of generation. You can add the year and the month ahead of the invoice number (2021/09-22).
Always Brand It
Branding is an intricate part of marketing. Thus brand your invoice according to your brand image. Add not only your business information but use the branding colors and watermarks too.
Include Payment Information
Never forget to include all the payment terms and conditions. You must state the method, mode, and the due date of the payment without fail.
Free Invoice Template vs. InvoiceOwl Invoicing Software
Want to know what's best for you? Let's compare the free invoice template and the InvoiceOwl invoicing app and see the advantages the InvoiceOwl app offers you.
Features

InvioceOwl

Starter$0/month

Free Invoice Template

Free

Send unlimited invoices and track them in real-time

Automate reminders for late payments

Issue receipts automatically when the customer pays

Record sales & sales taxes, and generate reports

Save clients with all the client information

Create Your First Invoice Now
Download Template
Frequently asked questions
How do I make an invoice for a painting work?

To make an invoice for a paint-work, you need to charge the client based on the area painted or on time taken to finish the work in addition to the materials used. And to create a perfect invoice without much effort and time, you can make use of free available templates.

Can I create my own invoice?

Yes, you can! The popular invoicing app —InvoiceOwl lets you create your invoice without any accounting skills from your side. Once you have made the invoice of your taste, it lets you download it for free. Moreover, it enables you to send an invoice to your clients by simple swipe gestures.

Which is the best free invoice template generator?

There are thousands of invoice template generators, but I recommend using InvoiceOwl as it is free to use. So, you can try and experience it on your own.
Create Professional Invoices Online Easily and Keep On Top of Your Finances
InvoiceOwl is a feature-rich invoicing app that helps small businesses, freelancers and contractors to create invoices on-the-go and get paid quicker!