Today's marketplace is becoming competitive day by day, not for one particular field but everyone. In this competitive world attracting and retaining clients is much more difficult. In this case, businesses of all sizes need to find out ways to save their time and energy without wasting money on it.
Especially, when it comes to invoicing needs and increasing productivity to scale your billing models becomes essential. To do the invoice process more effectively you need to use the best online invoicing software. Whether you are a freelancer, eCommerce business owner, or a brick-and-mortar retailer, such tools will provide you lots of benefits.
Touching the height in your business might sound impossible, but one of the most important places to start is your invoicing process. Finding a well-organized way to create invoices that can also help you track financial statement, is the most important thing a businessman should find out.
Try our free online invoice generator today!
Whether your business is in construction, landscaping, consulting, photography, auto repair, or the medical field, invoicing takes way too long. That's why we're here. InvoiceOwl makes your invoicing faster and simpler so you can get paid promptly and without the hassle.
Get Started Now
Advantages of Using an Online Invoicing Platform
Let's deep dive into the advantages of using online invoicing software.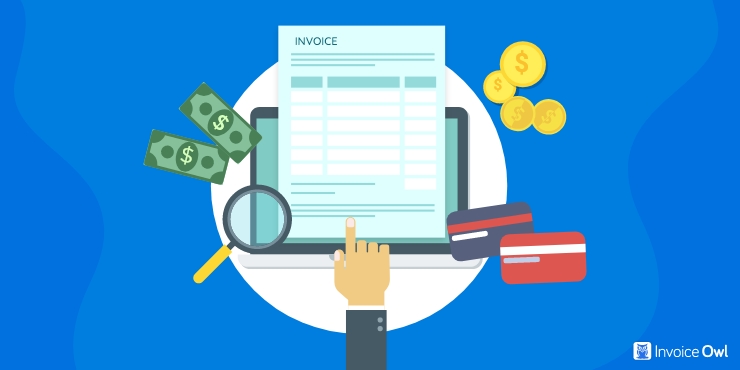 Simple and Quick

You must be using spreadsheets and other tools for paper-based invoices to fill out the invoice details. You must be spending 1-2 hours entering essential information. Adding or writing address, invoice number, and list of line items and services you have provided. That's not the end of creating an invoice. When you do the same task repetitively, it becomes a lengthy and tiring process, especially when you have to generate many invoices in a day.

With an online invoicing platform, you can save your entire client's information using a cloud facility as one of the invoicing features. Such online invoice software can securely store your client's name, address, agreed payment terms, and preferred payment method, for example, credit card or bank account transfer.

You can use pre-loaded information as many times as you want to. All you have to do is log into your invoice account. Then select the client you want to invoice and fill out the additional details such as the number of hours you have worked or list out the products you have provided. You can select the due date (billing software automatically suggests the due date, as per your payment terms), preferred payment method (i.e. credit card, debit card, or business account), click 'send' to invoice electronically to the client. This is a simple process that just takes a few minutes to complete a lengthy task.

In short, online invoice software not only speeds up the entire payment process for small businesses, but it is also user-friendly that everyone can easily use, even if they are having a small business. You just need to get your account set up and start sending invoices to your clients in just a few seconds.

Unlimited Cloud-Storage

As a small business owner, when you are using a cloud facility from an invoicing platform, you never have to worry about losing invoices or missing client's data (i.e. client's confidential credit card information). You do not have face mail problems or pc crash issues amidst data entry. Everything you input into the billing software is automatically saved and stored online. You just need to read their storage capacity before you opt for any invoicing services. Once you are satisfied with their cloud offerings you can immediately start sending invoices to your clients right away.

Automation

Nowadays, as we are emerging into the technology-oriented world in every industry, the greatest advantage is the automation system. Automation is not limited to machinery but it has also become an important part of the software industry. Many tools and platforms also offer automation through their platforms. Online invoice generating tools also offer built-in automation facilities to their clients to automatically perform their invoicing process. That means you can set up automatic recurring payments for your long-term clients. You can also establish a subscription-based business model to speed up the monthly payment cycle.

The automation process also sends payment reminders and follow-up emails for upcoming and overdue invoices. Automating repetitive tasks saves a ton of time and money so that a business owner or a company representative can focus on other essential tasks. Another advantage of having built-in automation through an invoicing tool is you don't have to hire any professional to do such administrative tasks for you. It will keep you away from chasing payments for unpaid invoices.

Ideal for Brand Identity

Cloud-based invoicing software can strengthen your brand's identity. You can add your logo, branding colors, matching fonts, and a professional look that suits your branding style.

When you are taking a step ahead to strengthen your identity, you can increase the chances of getting paid quickly and on time. It's been seen that when you include your brand identity into your invoice it increases the collection of payments by 3 times and helps you get paid on time.

When you are using a digital platform you will have a special place to put your customized messages, such as a "Gentle Thank You Note". You will also be able to up-sell your new or upcoming services. You may also want to add a link to your new webpage.

This facility may seem insignificant for many people, but these tiny things can also enhance your brand value. The brand value will demonstrate the expertise in your field.

High-Level Security

Many old business owners prefer not to use digital invoicing and payments, not because they have an old school mentality or they don't believe in transition, but the reason behind that behavior is security. They ask for additional security of their transaction data, their customer's identity, and most importantly the cost they charge to the customer.

Security must always be a top priority for any business person. Reputable and well-known online billing software always offers high-level security since they have to adhere to PCI Security Standards.

It is not easy to get a PCI Security Standards Clearance. This clearance will help you implement advanced security safeguards against any loss and damages. You can have such safeguards in your billing software as SSL encryption.

Multi-Currency Facility

Fundamentally, we all are 'Global Citizens' these days, thanks to emerging technologies. For example, a freelancer from Canada can bill their client in the UK or a customer from Africa can order a bag from a company located in the U.S.

A few years back it was not possible, but now the entire scenario has been changed and people trust each other without knowing their language and currency. It's just the requirement that matters and it has been possible with the use of the latest technologies.

Because of this technology, cloud-based invoicing platforms nowadays allow users to select their preferred language and currency. This facility makes it possible for everyone to do the business of their choice and customers to pay as per their convenience. Cloud invoicing and payments make it easier for businesses to enter into the global marketplace with much more convenience. It also remove payment barriers and helps them get paid instantly.

Cost Savings

According to the U.S. and European Survey:

Each paper invoice error costs companies $53.50 to rectify.
Accounts payable (AP) departments receive 35 percent of invoices in paper form.
Only quarters (25 percent) of invoices are sent via a fully automated electronic method.

Additionally, there are extra costs that are related to paper, ink, and postage. Digital invoicing software is extremely helpful to eliminate these additional costs. And, the cherry on top, the automation adds additional value to your business, so that you can reduce the cost of invoicing by almost 30%. If your business costs go down, you will be able to charge fewer fees to your business clients, this will increase your chances to get paid on time. We all know that getting paid on time is very important for any business but saving extra costs are equally important.

24/7 Access

Online invoice generating software is usually cloud-based which gives you the ability to manage the client information and billing from anywhere using an application or web-based platform. You can access invoices all the invoicing details 24/7 using your desktop, tablet, or Smartphone.

That means that if you can't go to the office for any reason, you are at home or traveling – you can send and manage your business invoices anytime from anywhere and get paid into every corner of the world.

Simplified Auditing

A cloud-based invoicing solution allows you to save each step of your business invoicing process. It allows you to create invoices, expense receipts, and other invoicing-related documents from one dashboard.

This user-friendly dashboard personalizes a simple and time-saving process when it comes to analyzing financial statements at the end of the financial year. Especially during the tax season, you or your accountant might need to sit together and figure out the eligible tax deductions. At this time of the season, invoicing software eases your work by simplifying auditing.

You can quickly figure out all of your expenses and receipts from one place when you are using a digital invoicing platform to get paid. You can also save yourself in an uncertain situation or if you are audited by the IRS.

Faster Payments

As we have mentioned earlier, it takes just a few seconds to send invoices and get the deal done with the use of online invoice software. They are even faster if you have to create recurring invoicing.

Apart from that, it also allows you to share the link for the payment, so that you don't need to wait till the weeks for a client to receive, review, and return the invoice. Invoices sent faster means the chances are high that you get paid instantly. Clients can instantly pay by using the links provided in an invoice.

Environment-Friendly

Traditionally, businessmen were using paper invoices that are not environmentally-friendly, whereas digital invoicing is more environmentally-friendly than using paper billing. It saves trees and the environment. You can save water and energy, and it also helps you reduce pollution. If you want to check out how digital invoices can reduce your small business's carbon footprint, here is a Paper Calculator created by Environmental Paper Network.

Minimum Human-Errors

Paper invoice processing increases the chances of human errors because it involves several steps. Processing wrong invoicing amounts or sending an invoice to the wrong customer just can't happen anymore.

Any type of error delays the payment process. They can also damage the impression in front of the client and harm customer relationships. Errors and disputes in the invoice process can cost you thousands of dollars. The send and resend will be even more damaging.

Online invoice software calculates the total amount for you to prevent errors. It adds the appropriate taxes and ensures that you are invoicing the right client. When you are making a mistake in creating an online invoice you can fix and resend it within a few minutes.

Modern and Professional

Last but not the list, an online invoicing platform provides a more modern and professional look and feels to your professional invoices. It will have pre-loaded invoice templates that can impress your clients and repeat customers. This will also help you build a brand image so that whenever your client receives your invoice they will recognize your brand instantly. This step will help you avoid delays and barriers in processing payments.

Many businesses want to stay ahead of the competition and provide the best services and solutions to their customers. Traditionally they are already following many things to run their small business but adapting modern techniques will help them grow even more. Being modern and professional at the same time through invoices and getting paid on time is the new key to success.

There are many tools and software available in the market that helps you create professional invoices. In this blog, we have listed the top 5 online invoices generating software that can help you make appropriate decisions for your business invoicing needs.
Top 5 Online Invoicing Software to Follow
InvoiceOwl

InvoiceOwl is developed for professionals, small business owners, individuals, and freelancers. It is mobile-based billing software that offers businesses and freelancers to create professional invoices within just a few minutes.

This is one of the best online invoice generating solutions for all businesses. With that, different industries can create estimations & quotes, purchase orders, invoices, and credit memos instantly. They can manage multiple invoices, add all the customer details, and generate monthly & quarterly audit reports from this single platform.

InvoiceOwl is an all-in-one invoicing application that allows users to generate multiple invoices on the go. You just need to create invoices for the products and services you have provided. You will be able to easily share the invoices with your customers to get paid faster.

From freelancers to designers, contractors to plumbers, service-based businesses to painters, and musicians to electricians, everyone can use InvoiceOwl mobile app for creating invoices on the go using their smartphones.

Key Features:

Invoices: Ability to include billing name, provided services, attach a professional image, payment instructions, additional comments if any. And create a downloadable custom invoice template. Manage both paid and unpaid invoices.

Estimation and Quotes: If you want to send estimation and quotes for the services, generate them with a single click and send them to your customers on their email addresses.

Purchase Orders: Now, you can save an hour on creating purchase orders whenever ordering supplies and products for the company.

Client Memos: Do you send credit memos to your customers? Generate memos in just a few minutes and send them to your customers directly in their inbox.

Clients: You must have lots of customers whom you might be managing in an excel sheet? InvoiceOwl is an all-in-software solution for invoicing, where you can add all the customers details.

Items: You must be providing more than one service and product. Then, manage all the products and services under the item section. Add, remove, and edit on the go.

Reports: Create report monthly, quarterly, and yearly reports to track the paid and unpaid payments, annual sales by client, sales by item, profit & loss, taxes, sales journal, and more.

Real-time Notification: Stay updated and informed about all the updates whether it is about receiving a new payment, purchase order, credit memo, you will stay aware of the updates in real-time.

Price: 14-day free trial + Price upon request

Wave

Wave is a free cloud-based invoicing software, where you can track all of your online payments, bills, and expenses from one billing system. It is best suited for small businesses operating with 1 to 9 employees.

With this free app for iOS and Android, you can send your small business online invoices as soon as your work is done, no matter where you are.

Wave invoice, accounting software, credit card payments, and payroll – all these tools are connected, to each other, so you can update instantly and keep your data up to date. It is very easy to use even for a person from a non-finance field.

Key Features:
Create and send professional customized online invoices, estimates, and receipts.
Automate your billing by scheduling recurring invoices.
Automatic online payment reminder so that your customer gets a reminder to pay on time.
Track the status of multiple invoices and payments online and be up to date about your transactions and save time.
Allow you to accept credit card payments to get paid faster through accounting software.
Track income and expenses, profit, and loss with receipt scanning tools and bank connections in your accounting software.
Pricing: Free
PaySimple
PaySimple offers a set of cloud-based invoice software to help you accept payments, invoice customers, track customer information, set up recurring payments through the accounting program, and accept credit cards. All of them are completely customizable, easy to use, and without requiring any specialized knowledge needed. It will be easy for project management as well.
With this tool, you can analyze cash flow and transactions. Electronic multiple invoices and online payments are automatically connected to customer profiles so you can easily create reports and analyze their patterns like purchase behavior.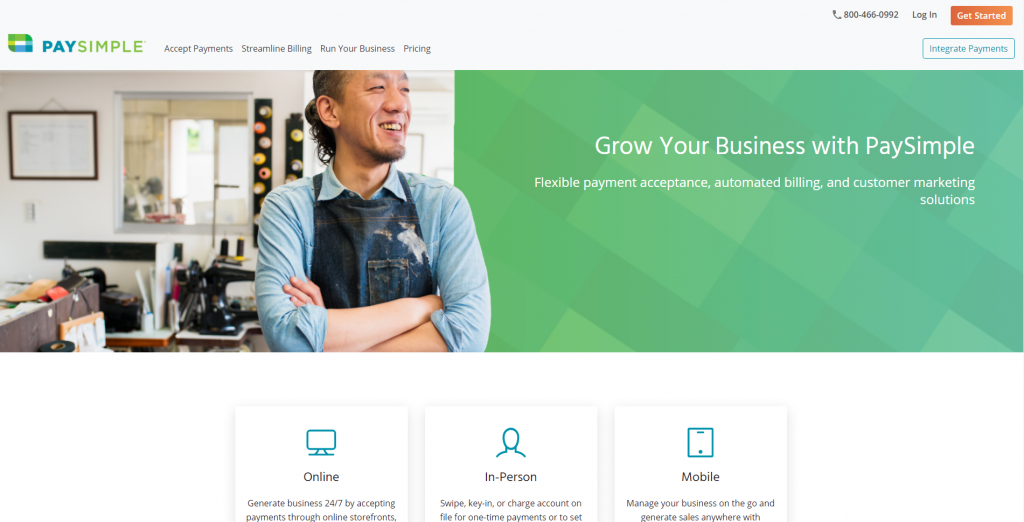 Key Features:
Quickly make and send customized online invoices and recurring invoices.
Include online payment forms including sales tax right through the email invoice template with 'click-to-pay' buttons.
Billing subscription to send professional bills.
A real-time dashboard for invoice tracking.
Automated payment reminders and receipts for outstanding Invoices.
Pricing: Upon request
Zervant
Zervant is an invoice software specifically meant for small businesses, freelancers, and sole traders for their billing process and project management. This platform is designed to be as user-friendly as possible, and no financing or invoicing experience is required to get familiar with the system. It takes a few seconds to create invoices and you can send as many invoices as you want to from one place, it is completely free.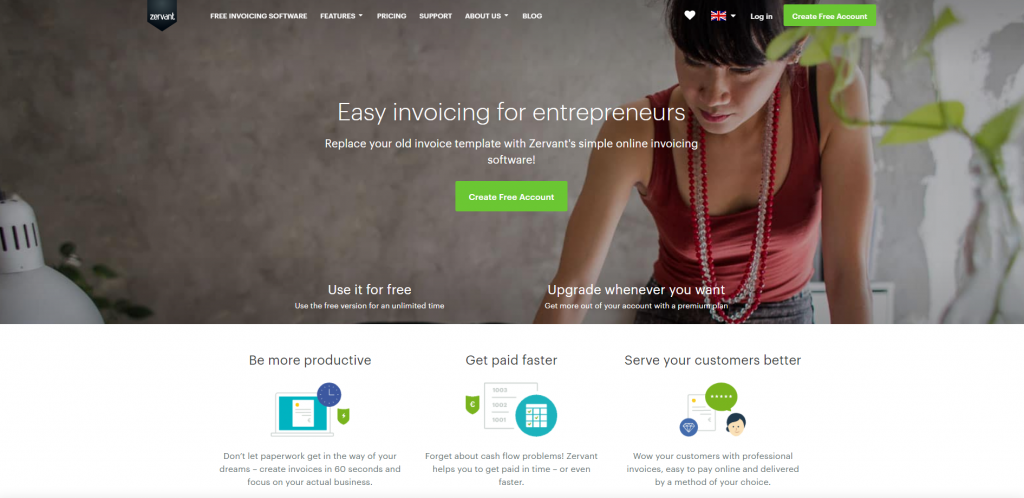 Key Features:
Effortlessly create and send invoices, quotes, and estimations
You can send your invoices anyway: paper, email, or as a PDF attachment
Recurring invoices
Track payments for invoices paid
Credit and delivery notes
Automated payment reminders
Add payment options
Inventory tracking
Receipts
Pricing: Free plans available as well as paid plans from $8 month
Bill.com
Bill.com offers a simple online invoice payment solution to small-to-medium businesses along with custom invoicing services. It also offers unlimited document storage, workflow collaboration, and the ability to access invoices from anywhere around the world via any mobile device without looking for the previous invoice number.
This platform has a calendar feature that indicates when payments are coming in and when payments are due. You can instantly track what is coming in and what is going out.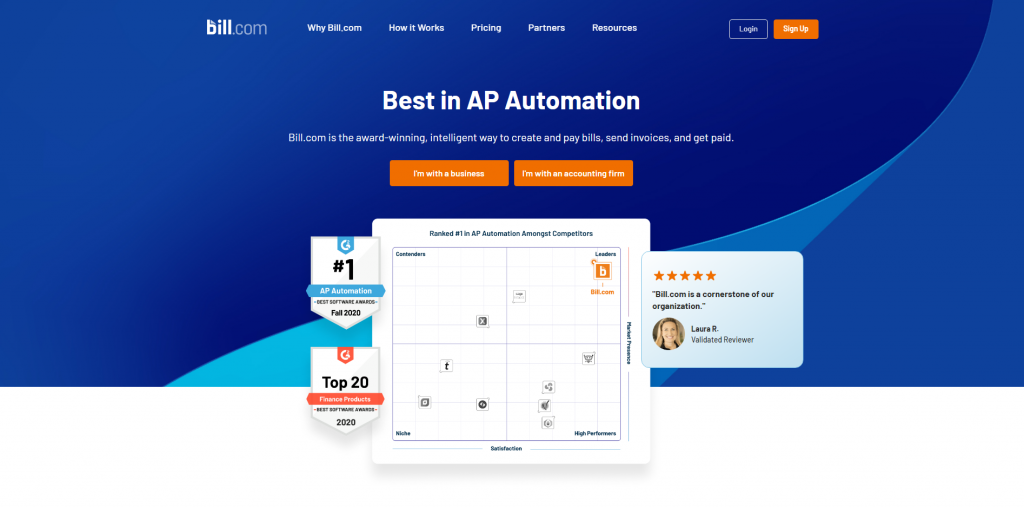 Key Features:
You can have the fast electronic payment method you prefer – ACH or credit card.
Send the invoice electronically or send a paper invoice in the mail.
Clients can view and pay invoices digitally.
Clients will get an email reminder a few days before their due date.
Online payments will go straight into your bank account.
Send out recurring invoices and overdue notices automatically.
Set up automatic payment transfers for recurring invoices.
Unlimited document storage
Pricing: From $39 user/month
Frequently Asked Questions
1. What is online invoicing?
Online invoicing is a web-based or mobile-based solution that simplifies the way businesses generate and manage invoices. It also helps them in receiving, tracking, and processing payments. It also allows them to maintain their accounting processes by saving lots of time and helping you get paid faster.
---
2. What is the best software for invoicing?
It depends on the business owner to decide which invoice software can fulfill their business requirements and help them get paid faster. Ideally, the invoice software that offers the maximum features that can enhance your business process is the reputable online invoicing software.
---
3. How do I send an invoice online?
It is very easy to send an invoice online. If you are using an online invoicing platform you just need to add the client's email address that you want to invoice for your services. If you want to send an invoice in PDF format, you have to download the created invoice in PDF format and send it as an email attachment. Some tools allow you to directly send PDF format invoices from their platform.
---
4. How do I make an invoice for free?
To make a free invoice you can use free online invoice software that allows you to create and send invoices within a few minutes. You can also use Microsoft Word, Excel, Google Docs, or Spreadsheets. These platforms offer ready-to-use invoice templates that you can use free of cost. You just need to fill in the details as per your need.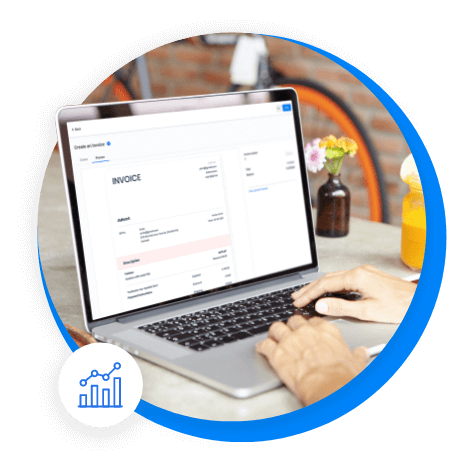 Create Professional Invoices Online Easily and Keep On Top of Your Finances
InvoiceOwl is a feature-rich invoicing app that helps small businesses, freelancers and contractors to create invoices on-the-go and get paid quicker!
Get Started for FREE
Conclusion
Naturally, the choice of online invoicing software depends on your business requirements, workflow, and accounting processes. InvoiceOwl is one of the best suitable mobile-based invoice software that allows you to have professional-looking invoices for getting paid on time. It is the perfect platform that fulfills your invoicing needs and manages your customers' data. Still, you should try and test all the new and old invoicing platforms to get the best deal and invoicing features or everything you need for your business.