Are you confused about which one to use, online invoicing software or invoice templates?
Yes, the basic goal of both is the same, which is to generate invoices quickly and easily. Yet, they have many dissimilarities.
Both have distinct functionalities and address distinct invoicing requirements.
Thus to know which one is apt for your business, here we are with a detailed comparison of online invoicing software vs. invoice templates.
This blog will compare both and help you pick the right option to manage your business finances.
So, without any further ado, let's get going.
Before comparing, we should understand what is an online invoice software and an invoicing template.
So, let's start with defining both of them.
What is an Online Invoicing Software?
Online invoicing software is a web-based program that helps businesses to create customized invoices quickly and easily. It is developed to generate and send invoices to customers. It has various niche-specific features that help the business with the entire invoicing process.
It automates the invoicing process. It needs a computer system to be installed in. It may be a desktop, laptop, tablet, or even a smartphone.
For example, one of the most popular online invoice software —InvoiceOwl helps you not only customize invoices but with creating estimations, quotations, credit memos, payment receipts, sales reports, and payment links with just a few clicks.
What is an Invoice Template?
An invoice template is a pre-designed invoice layout. If you don't want to create an invoice from scratch, you can use invoice templates.
An invoice contains a lot of information that does not change often. Vendors' business information such as name, contact details, and payment instructions, such as accepted payment gateways, payment currency, and beneficiary bank account number remains the same in most of the bills created by a vendor.
So, they come with all such details already mentioned in them. Thus, invoicing templates allow businesses to skip repetitive tasks and help you avoid invoicing mistakes and save time.
Moreover, the predesigned format ensures the invoice layout is effective and accurate every time.
Okay, now that we know the basic definition, let's compare and see which one is the best for your small business.
Comparison Chart: Online Invoicing Software vs. Invoice Templates
A business owner must know the difference between invoice software and invoicing templates. Knowing the differences helps a business owner pick the right invoicing solution for his/her business requirement.
So, let's compare both side-by-side and understand the differences.
| | | |
| --- | --- | --- |
| Criteria | Invoicing Software | Invoicing Templates |
| Helps you create | Invoices, estimations, quotations, payment receipts, credit memos, purchase orders | Invoices |
| Automates | Total cost calculation, invoice scheduling, client billing address, details of line items, invoice number system | Total cost calculation (only in MS Excel & Google Sheets) |
| Extra features | Expense tracker, time tracker, client communication, client reviews & feedback, sales reports | None |
| Payment Options | Online payment option and offline payment option | Limited payment options |
| Connectivity requirement | Needs an internet connection | Does not need an internet connection |
| System requirement | Needs a computer system(Desktop/laptop/tablet/smartphone) | The digital template needs a computer system while the printed template does not need one |
| Data storage | On Cloud | On the system hard drive |
| Training | Might need a basic tutorial | No training required |
| Room for error | Almost none | Less |
| Customizability | High | Moderate |
And the biggest difference is that a professional invoice template can be created by invoice software.
Hence, we can see that an invoice solution is much more beneficial than a template.
Now we know both are different. But, do we know which one is better for your business? For that, we should discuss the advantages of invoice software.
Shall we?
Why choose Online Invoicing Software over Invoice templates?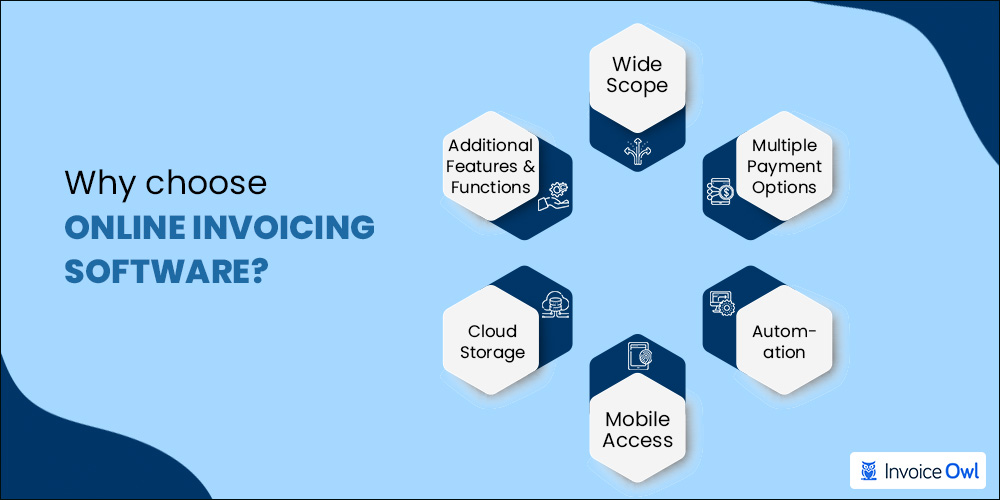 Wide Scope

Invoicing software helps you with the entire invoicing process and more.

Invoicing does not end at the creation of the invoice. Sending invoices, payment reminders, chasing delayed payments, and resolving invoice disputes are crucial areas of invoicing. And invoice software helps you with all of them.

Whereas, a template only lets you create the invoice quickly. Moreover, you will need a distinct template to create estimates, quotations, and receipts.

Multiple Payment Options

Your chances of getting paid faster get high dramatically when you accept payments through multiple channels. Therefore, billing software lets you accept online payments and offline payments too.

With software like InvoiceOwl, you can receive payments through credit cards, debit cards, Stripe payments, and offline payments as well. This helps you maintain a good cash flow.

Moreover, it saves customer credit card data securely so that the customer does not have to enter it every time.

Other than that, it helps the customer with an easy "Pay now" button. This button encourages the customers to quickly pay the accounts payable.

Automation

Small business owners neither have the time nor the resources to manage manual invoicing. Therefore, automation is the key solution for such small companies.

The billing software helps the most with recurring invoices. You can schedule the future invoices and just forget about it. It will automatically send bills to the right customer at the right time.

Other than that, it automatically calculates the final amount and states the invoice payment terms and payment instructions. This helps you cut the time and invest it in other important business tasks.

On the other hand, MS Excel templates may help with calculating the total, but can not remember the right email address of clients, and neither can it schedule the invoices.

Mobile Access

Billing software such as InvoiceOwl lets you download the InvoiceOwl mobile app for free to generate bills. You can access this tool on an Android and an iOS device.

This enables creating invoices on your smartphones anytime anywhere.

Cloud Storage

With the online invoice software, all your data is stored online on multiple servers. This means the chances of misplacing an invoice are nil.

Additional Features and Functions

An invoice software offers you many functionalities other than the new invoice creation. Some of the features in the bonus are

Track expenses
Time tracking
Client communication
Reviews
Reporting

These are the features that make the billing software a better choice than invoicing templates.
The template has no such feature and can only help you generate bills.
Frequently Asked Questions
Which is the best program to create invoices?
Every business has different invoicing requirements. Thus, to say one invoicing solution fits all would not be right. However, InvoiceOwl is one of the most online invoice software amongst small startups and freelancers.
It fulfills not only invoicing requirements but helps small organizations create sales reports to track business finance and accept online payments as well.
---
Which is the best free invoice template?
If you want free invoice templates for small businesses, the templates by InvoiceOwl can be the best for you. InvoiceOwl provides free invoicing templates that are highly customizable. Moreover, InvoiceOwl provides you with templates specifically designed for your industry.
---
Which software is used for invoicing?
InvoiceOwl is a well-known online software used for invoicing. It is a simple and easy-to-use invoicing solution, which helps you right from creating estimates to generating sales reports.
An invoicing/accounting software is used for invoicing. And if you want a complete solution for your invoicing process, download InvoiceOwl.
---
Which is the best free invoicing software for small companies?
InvoiceOwl is one of the best invoicing software for small companies. It lets the user create 10 invoices per month for free and not only that, you can save up to 5 customers with contact details for free too.
Conclusion
Invoice software and invoice templates are two different tools that help you create professional invoices. But, business owners get confused about which one is the best for their company.
We hope this has helped you compare both template and software for invoicing and eventually make the decision of picking one.
If you enjoyed reading this blog, we have a great collection of similar trends, ideas, and tips about invoicing. So, do read them and share them with your fellow business owners.