As 21% of small business owners feel a lack of skills to manage their company's accounting and finances, so the modern invoice template has proven to be a boon.
The most important thing to compete and stay in business for the long run is to keep up with the time. And when you keep updating your products and services, why not update your business invoice template. Therefore, we are going to talk all about modern invoice templates in this blog.
A modern invoice template enhances the look and feel of your professional invoices and the brand overall. Moreover, it also eliminates room for human error and speeds up the billing process. These benefits lead to a reduction in costs up to 75% as you don't need manpower to create invoices.
This especially benefits a freelancer or small business owner who does not have much time and resources for the various accounting processes. And that is why InvoiceOwl has put together a selection of the best free invoice templates to check out.
So, make sure you read the blog till the end because you will not get any invoices just for reading.
Now, let's start and define a modern invoice template first.
What is a Modern Invoice Template?
A modern invoice template is the new age invoice template that helps you to create professional invoices and keep pace with time. As new businesses are developing unique products and providing out-of-the-box services, their needs for invoice layouts can not be satisfied with the conventional templates.
Therefore, InvoiceOwl brings you a free professional invoice template that lets your company not only create an apt invoice but helps establish brand image too. These fully customizable modern templates are easily customizable to fulfill your niche-specific requirements and create a distinctive free invoice for your business.
Try our free online invoice generator today!
Whether your business is in construction, landscaping, consulting, photography, auto repair, or the medical field, invoicing takes way too long. That's why we're here. InvoiceOwl makes your invoicing faster and simpler so you can get paid promptly and without the hassle.
Get Started Now
What is a Modern Invoice Used For?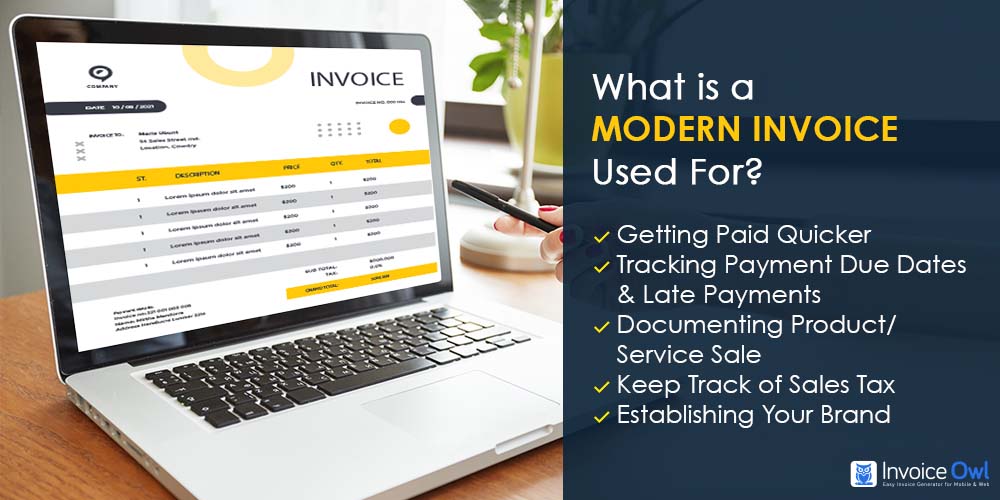 The reason that almost all new-age businesses are exploiting modern invoices is its mere flexibility. It not only allows you to invoice your clients online but makes it easy for them to pay by offering various online and offline payment methods. A modern invoice can be customized for any products or services provided yet maintains a modern and sleek look.
Unlike the conventional invoice, a modern invoice serves multiple purposes and hence simplifies many of the accounting and billing processes.
So, let's talk about a few of the uses of a free modern invoice template that makes your life easy as a business owner.
Getting Paid Quicker

Getting paid on time is something that all businesses appreciate, right?

Well, the free modern invoice template helps you with the same.

Where a conventional invoice would take days to reach your clients through offline means, a modern invoice reaches your clients online within a second of you clicking send. This makes your clients pay you quicker. Other than that, it establishes you as a professional no matter how small your business is or even if you are a freelancer.

As it is quite simple to create, you do not have to put in a lot of hard work to generate an invoice. You are enabled to hand it to your customers as soon as it is created with a simple click.

Moreover, its sleek and clear design lets your customers understand all the figures easily and hence it encourages them to pay you on time.

Tracking Payment Due Dates & Late Payments

Tracking payments and billing get hectic when a client is not able to pay your charges on time. And no business wants to create the same invoice over and over again. But this is not the case with the modern invoice. It can automatically create a new invoice by considering late payment charges (if any) as per your wish in a single click.

And if you choose InvoiceOwl for a free invoice template package, you get detailed reports on all the payments which you may download as excel or PDF file formats.

Documenting Product/Service Sale

Most of the small businesses and freelancers do not have the dedicated manpower to handle documentation and thus, modern invoice proves to be a helping hand. With every invoice having a unique invoice number, it gets easy to document all the sales. A modern invoice updates the excel files for documenting every sale information without making you walk an extra step.

Moreover, it is not just for sales, but it is used to register financial logs, automate bookkeeping for debts & debtors, and record customer/client contact information. This way a modern invoice saves the business owners from hassle.

Keep Track of Sales Tax

It is understandable for an artist to not know how to calculate taxes, but as a business owner, you can not get into limbo. However, you should use a modern template to make things easy. It assists you to calculate the total price of product/service and applicable taxes based on a pre-fed formula.

Establishing Your Brand

Branding is something that establishes you as a professional and that modern invoices help you in the best way possible. Modern invoices are highly customizable. It lets you display your business name and logo. Moreover, you may use your brand colors as the color scheme. The vast color variations that it comes with are astonishing and include all the colors in a color palette that you can imagine.

This wide range of color options lets you pick the most attractive and appropriate color scheme for your professional invoice.
Types of Modern Invoices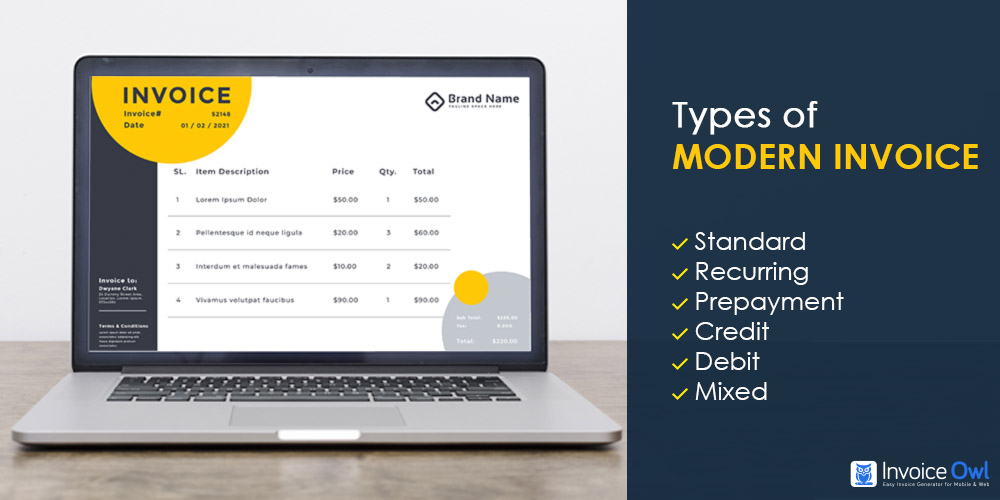 As it has different uses, it has different types too. And the key to ace the invoice game is to know when to use which type.
Standard

The standard invoice is an invoice with clean and minimal designs. These professional invoices are to-the-point and straightaway list out the line items and their charges. These types of invoices are generally created with Google sheets, doc, MS word, or excel sheets. But if you want to create a standard yet modern invoice, try InvoiceOwl as it provides your clients the option to pay you online.

Recurring

A recurring Invoice is to charge clients at a regular interval. For example, if you have projects with your client for providing your services for one year, instead of billing them a lump sum amount at the end of the year, you may want to charge them monthly or weekly. This monthly invoice is known as a recurring invoice.

Prepayment

A prepayment invoice is used to collect deposits or down payments before service commencement. The businesses also use the prepayment invoice to collect partial payment before the total amount is due.

Credit

A credit invoice comes into the picture when businesses have to refund clients. This type of modern invoice is more like a receipt as it notifies the customer of the transaction and has no options for payment. It also shows the credit balance in the client's account.

Debit

A debit invoice is an invoice to communicate an amount that clients owe. Generally, it is used to notify clients about increasing the payable amount or inclusion of post-due-date payment charges.

Mixed

As the name makes it clear, a mixed invoice is a mix of both credit and debit invoices. It includes a detailed list of charges and the credit balance of the client and gives the net amount. The mixed invoice may also be termed as an account statement.

Yes, it is a win-win situation for any small business owner to use a free modern invoice template. But are you wondering how to actually create a modern invoice?

Don't worry, we got you covered. Let's talk about that too.
How to Create a Modern Invoice?
There are many options when you want to create an invoice conventionally. You might use tools like Microsoft word, excel, Google docs, and Google sheets to create simple invoices. But these are not so easy to use tools to create outstanding invoices.
Other alternatives that designers use are software like Adobe Photoshop PSD, Adobe Illustrator, and Canva. These can create a great invoice style but the limitation is that you need to have basic training to use them. These are used by professional designers and hence it would take time to master the skills.
And you probably are facing the same issue, right? You want something that helps you create modern templates with the least hard work. And therefore, the InvoiceOwl is what you all need.
You can create extraordinary modern invoices and impress clients within a few minutes using InvoiceOwl —one of the most popular invoicing software.
Are you already interested? Then, let us mention the simple steps to create a modern invoice with InvoiceOwl invoicing software.
Select the Invoice and the preferred template
Upload or customize your company logo
Enter the details of the client you are invoicing
Setup title and unique invoice number
List out products sold/services provided with rates and charges
Add tax and discounts, to sum up, the payable amount
Mention payment terms
And lastly, add personalized notes as well
Note: If you get stuck in the process, the InvoiceOwl comes with a help file with simple instructions.
Once done, take out print to mail or send directly via email as a PDF file format.
Modern Invoicing Tips for Self-employed Professionals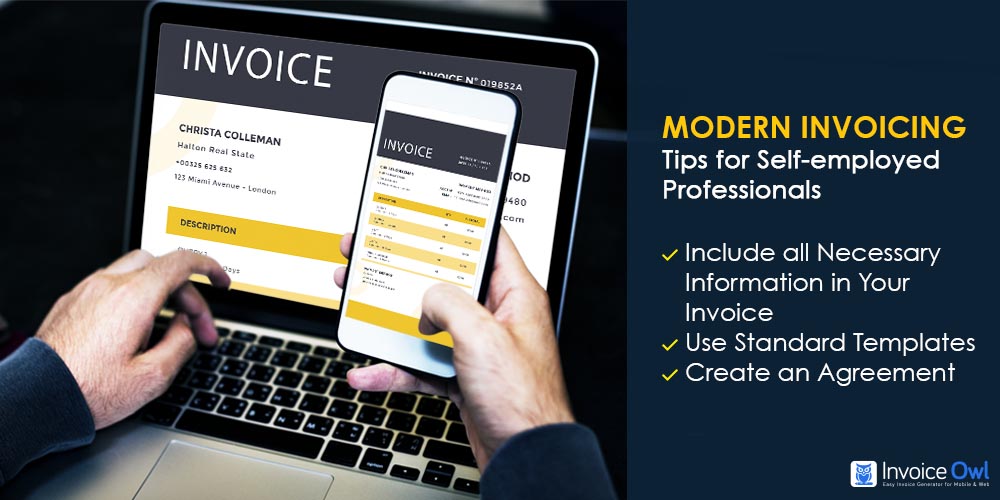 Include all Necessary Information in Your Invoice

Most of the time, self-employed professionals experience payment delays because they do not mention all the relative information in the invoice, such as client contact information, business name, business contact information, and terms & conditions. The lack of information confuses your clients and it causes your payment to be rejected.

Use Standard Templates

Being creative always works but it does not mean you should go too out-of-the-box with your invoice style. An invoice should be as clear and minimal as it can be. And if you are finding it difficult to design, InvoiceOwl has many predefined templates that are ready to use.

Create an Agreement

Unfortunately, it is not very uncommon to experience late payments in the business world. And sometimes the client may vanish when it comes to payments. Thus it is always advised to get it in writing whenever you collaborate or finalize a deal with your clients. This establishes you as a professional and puts you in a much secure place.
Download a Modern Invoice Template for Free
Are you in a hurry? Or just don't want to spend much time creating perfect invoice designs? Well, neither of these cases means your invoice design quality should suffer.
InvoiceOwl invoicing software brings you the best modern templates that impress clients and that too for free. So, download these fully customizable templates and start customizing them right away. Any invoice template that you choose will never ask you to work with complex invoicing software like Adobe Illustrator or photoshop.
So, what are you waiting for? Download a template and create the best invoice design without hiring a designer.
Frequently Asked Questions
Where can I design an invoice?
InvoiceOwl. To create a modern invoice that serves multiple purposes and gets you paid quickly, InvoiceOwl is the best solution. You get to customize the predefined templates with unique logo options, color options, and designs.
---
How do you create a good invoice?
A good invoice includes the following things:
Clean and modern invoice structure
Branding
Readable fonts
Highlight the total amount
Mention due date and payment terms
Therefore, make sure you check these basic invoicing tricks off the list.
Can I get invoice templates for free?
Yes, InvoiceOwl provides you free invoice templates that you can download in PDF file format. So, get your hands on InvoiceOwl and get a modern invoice today!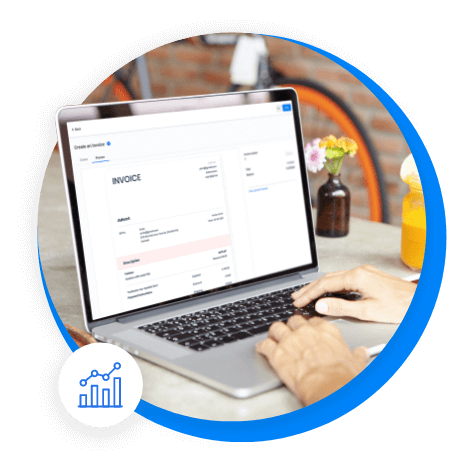 Create Professional Invoices Online Easily and Keep On Top of Your Finances
InvoiceOwl is a feature-rich invoicing app that helps small businesses, freelancers and contractors to create invoices on-the-go and get paid quicker!
Get Started for FREE
Conclusion
Modern invoice system is revolutionizing the way of invoicing and this trend is here to stay. And if you have still not boarded the ship, it is high time you should.
Therefore, get an InvoiceOwl modern invoice template right now and start getting your payments effortlessly and on time.
We hope this blog has inspired you to take advantage of a free modern invoice template and if you have any queries regarding the InvoiceOwl web/mobile app, check out our website and feel free to contact us. We would be happy to help.