Every time you make a sale, whether it is a laptop or a pair of shoes, you must get paid. In certain scenarios, if you do not get paid for those items at the time of the sale, you need to make an invoice to notify your clients that payment is due for the services you have provided and get paid faster (I'm sure you want to). And For that, you need to learn how to make an invoice effectively.
"27% of SMBs (Small and Mid-sized Businesses) admitted that they have a hard time creating and sending invoices." –HubSpot Research
If you are already a master in creating a template of invoices and getting paid easily, that's great. But if you do not have any idea about it, you must read our previous blog post explaining, What Is Invoice Definition? General Difference Between Invoice And Billing.
Now that you know the difference between Invoice and Billing, and decided to move on with the invoice, which is the simplest way to collect money.
So, what is the next thing you should do?
First of all, you need to understand why you are creating sample invoice templates, for whom, what impact they can have, and how you will get paid. For that, you need to understand all the basics of making an invoice.
Invoicing Basics: The Things You Need to Understand
The invoice should speak on behalf of you and explain to the client about the jobs or services you have provided to them and the amount they are being charged for.
Now that you are clear with your thought before creating invoices, you need to think about their look and feel.
Why?
Because the look and feel of the template will create a huge impact when it comes to branding and the message you want to deliver to your clients. Preparing your legal and business documents with a crystal clear look & language will shape your branding to stand out from the competitors and will get you paid faster through the professional invoice templates.
Try our free online invoice generator today!
Whether your business is in construction, landscaping, consulting, photography, auto repair, or the medical field, invoicing takes way too long. That's why we're here. InvoiceOwl makes your invoicing faster and simpler so you can get paid promptly and without the hassle.
Get Started Now
How Does a Standard Invoice Look Like?
The standard invoice template should match your letterhead, tagline, and combine your website theme colors. Apart from that, your invoice should outline what services you provided, how much the client owes you, and where and how they can send you the payment before the due date.
Generating templates is not rocket science, you just need to follow some general elements and rules while creating professional templates so that you do not have to send frequent payment reminders later on.
Now, let's give it a professional makeover to your invoice together following some very simple steps.
Invoicing: A Step-by-Step Process
Branding a Business
The Client You're Invoicing
Invoice Number and Title
List of Products/Services
Charges and Taxable Amount / VAT
Payment Terms and Conditions
Personalized Note
How to Create an Invoice Template using Excel
Now that you are sure why you need to choose customizable invoicing templates for your customers, let's start making invoices template free using Microsoft Excel. Here are some simple steps that you need to follow for the best results –
Open Microsoft Excel
Click File Menu
Select new
Write invoice into the search bar
Check out all available template of an invoice
Download the template
Hit the "Create" button to open the Excel template in a new window.
Customize the details as per your needs
Add logo, if you have one
Your business contact information (Name, Business Address, Phone number, and Email)
Client's contact details (Name, Mailing Address, Phone number and Email, Department)
Date
A unique invoice number (Invoice number should be in the same sequence no matter which format you choose)
The payment due date and total payable amount
An itemized list of product information and services with a description
Hours worked
Quantity of the line items
The rates of the services/products
A subtotal for each service/product (Add formulas to calculate)
The total amount with taxes (Add formulas to calculate Sales tax, VAT, GST)
Payment terms
Preferred payment methods or payment links for payment instructions
Thank You note
Save the template with a unique name
Send the completed invoice to your clients using email or by mail. You can also send a cover note along with your invoice to highlight the important details, like why it's important for you to have a business with that client as a sweet gesture. You can also inform your client about the invoice due date and the total amount they need to pay along with your payment terms.
How to Create an Invoice Template using Google Spreadsheet
So, if you want more advanced features such as invoices to store online with an autosave option to save details in the cloud, Google Spreadsheet is the best suitable option where you can insert the essential information in sequence with the invoice number and get the automatic calculation. Here are easy steps to follow while designing a template with Google sheets –
Log in to Google
Open Google sheets
Go to Template Gallery
Under the Work category, you will find "Invoice"
Open the template you choose
Start editing an invoice
Edit your company details (Business Logo, name, address, phone number, email address/website)
Add client's details in Invoice for section (Concerned person/company name, department address, contact details)
Give a unique invoice number
Add line items/service and product information
Insert quantity, unit price, and total price
Check the auto-calculated total price and subtotal
Add price after discount or any advanced amount in adjustments
Include thank you note in this template by creating a separate section
Insert payment terms and condition and payment link
Microsoft Excel or Google Sheets: Which is The Best?
If you are using Excel or Google Sheets instead of Microsoft Word or Google Docs, considering the automatic formulas, it is a good choice. Now, let's see which one is the best for your business and which provides the features that help you do quick tasks and serve a client in a professional way.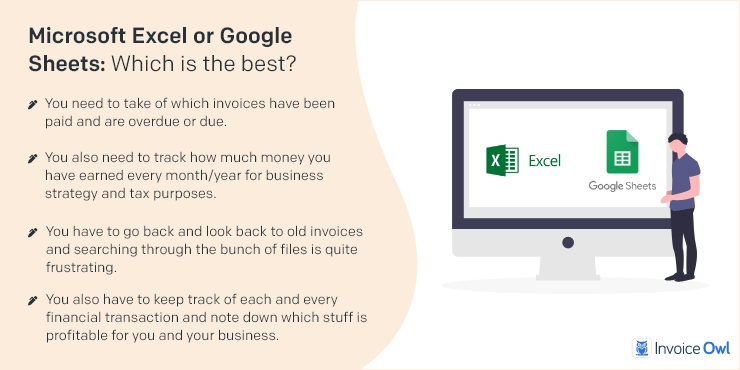 Microsoft Excel is quite difficult because you need to add up appropriate formulas on your own for the totals and calculate taxes. On the other side, with Google Sheets, you will get a readymade template that has auto formulas for calculations. With both Google Sheets and Microsoft Excel, you can set up a table with your product information and formulas with minimum effort.
However, Excel falls short when it comes to visuals. It is very difficult to make the invoice look professional when you use excel. Even, another drawback is that it is quite hard to adjust column width in Excel without affecting the entire document. With both Excel and sheets you won't have more styling options such as color, fonts, font size, etc. that you usually get with Word or Google Docs.
If you are not sure which one is suitable for your business, you need to check what your business requirements are and which are the features you are looking for. If you don't have internet connectivity or facing internet connectivity and going to use printable invoices Microsoft Excel is the best choice for you. If you are serving many clients and you usually misplace the invoices, online invoices are the best feature that you should look for, in which Google Spreadsheets is the best thing for you.
If you are running a successful business, you need to always look at the wider picture. With invoices, it is not just about creating and sending the invoice itself. For example:
You need to take which invoices have been paid and are overdue or due.
You also need to track how much money you have earned every month/year for business strategy and tax purposes.
You have to go back and look back to old invoices and searching through the bunch of files is quite frustrating.
You also have to keep track of each and every financial transaction and note down which stuff is profitable for you and your business.
Excel and Google Sheets both are helpful when it comes to the above tasks. You can also use invoicing software for creating various invoices. We at InvoiceOwl provide all the necessary invoice information related to invoicing and all the latest tips and tricks about invoicing processes, with our latest blog posts.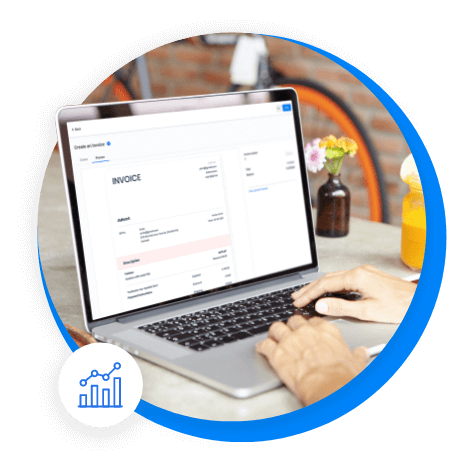 Create Professional Invoices Online Easily and Keep On Top of Your Finances
InvoiceOwl is a feature-rich invoicing app that helps small businesses, freelancers and contractors to create invoices on-the-go and get paid quicker!
Get Started for FREE
Frequently Asked Questions
1. How do I make an invoice?
Everyone has different ways of creating bill templates. It completely depends on the business requirements and the features businesses are looking for their invoices. According to their needs businesses have to decide which is a suitable format for creating a new invoice. Once you have decided, you need to look for the template for an invoice from invoicing software and/or create one from scratch. You can follow the step-by-step process for creating an invoice to get paid faster.
---
2. How do I create an invoice template on my own?
By following the above given step-by-step process for creating a professional invoice templates you can easily create plenty of invoices on your own. If you don't want to do follow this process and you still find it difficult in making invoices, you can choose any online invoicing software or free invoice generator and create/customize your invoices.
---
3. Is it easy for a customer to download an invoice?
It is completely hassle-free for your customers to download and print the invoice as most of the invoices are sent via email and/or link from the software in a specific format that you choose. The client just needs to click on the "Download Invoice" button and have a free invoice template of their choice.