Are you tired of getting paid late by your clients?
As a landscaper, you might have the patience to water a lawn for months to see growth, but when it comes to accounting tasks, we don't have months to wait for payments. Especially as a small business startup.
Therefore, the only solution to avoid late payments from clients is a free landscaping invoice template. And today we are going to talk about just that.
Brief About Landscaping Invoice Template
A landscaping invoice template is an invoicing layout explicitly designed for billing landscaping services. It takes care of all the niche-specific requirements, such as listing materials used and the time taken of particular landscaping work.
Try our free online invoice generator today!
Whether your business is in construction, landscaping, consulting, photography, auto repair, or the medical field, invoicing takes way too long. That's why we're here. InvoiceOwl makes your invoicing faster and simpler so you can get paid promptly and without the hassle.
Get Started Now
What is the Use of Landscaping Invoice?
The landscaping invoice serves multiple purposes and benefits a business in various direct and indirect ways. And here are a few of the many uses of a landscaping invoice.
To stay updated on payment status
To keep a track of projects done
To record and maintain client information (for example, name, address, and contact information)
To make filing tax easy
Invoice Types for Landscaping Companies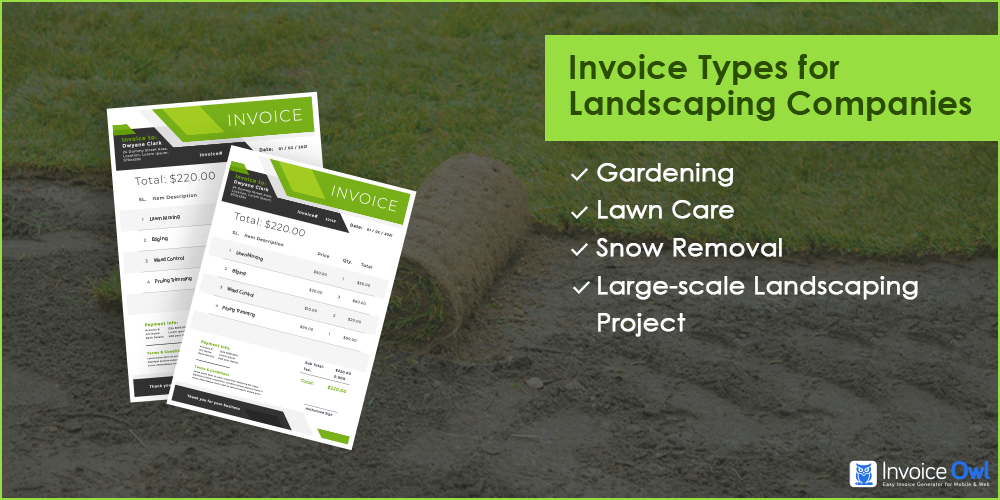 Landscaping work is full of diversity. Thus, a landscaping company needs various types of invoice templates.
So, let's discuss them right here.
Gardening

Gardening services need to bill clients based on the area of land of work, number & types of plants planted, and all the maintenance work done. A dedicated landscape invoice template for gardening lets you issue a perfect invoice for any kind of gardening work.

Lawn Care

Lawn care involves seeding, watering, fertilizing, and mowing to keep the lawn perfect. And maintaining a lawn is an iterative process. Thus, a landscaping company should get the lawn care invoice template specifically designed for lawn care services and save a ton of time.

Snow Removal

Snow Removal is one of the landscaping jobs that are not as simple as you think. Generally, landscaping companies take contracts for such jobs. Hence, they need a template that lets them collect the payment before the work starts.

Large-scale Landscaping Project

A large-scale landscaping project, such as constructing a lake, large-site landscape design, redirecting river flow, constructing a reservoir for a dam, maintaining the lawn of a stadium, and building retaining walls. These jobs need complex invoices that take days if created manually. Therefore, such an invoice template takes care of all the minute details and makes your invoice quickly and accurately.
How to Create an Invoice for Landscaping Work?
Creating an invoice for landscaping is quite a tedious job if you start from scratch. No matter whether you use Google Docs, Google Sheets, MS Word, or MS Excel. Creating an invoice takes a lot of time even if you are experienced.
However, this can be easily solved by using a pre-designed invoice template. And InvoiceOwl provides you a free landscaping invoice template that can be downloaded in almost any format including the PDF.
Therefore, let's see how to create an invoice with an InvoiceOwl invoice template for landscapers.
Download the invoice template in your preferred file format
Add your company name, logo, phone number, and address
Make it an intricate part of your brand by customizing the color scheme and watermarks
Add every line item one by one with all the information, such as the description of materials used, price, and cost
Explain the charges (for example, charging a flat rate or on an hourly basis)
Add details like discounts, sales tax, and mention all the payment information and terms & conditions
Display & highlight the total amount to be paid, due date, and other payment instructions
Wasn't that simple and easy?
As we discussed, creating invoices is child's play with InvoiceOwl landscaping invoice templates. But, if you want to create outstanding invoices that make your customers pay you happily, we have got some exclusive tips and tricks for you.
So, have a look!
Invoicing Tips for Landscapers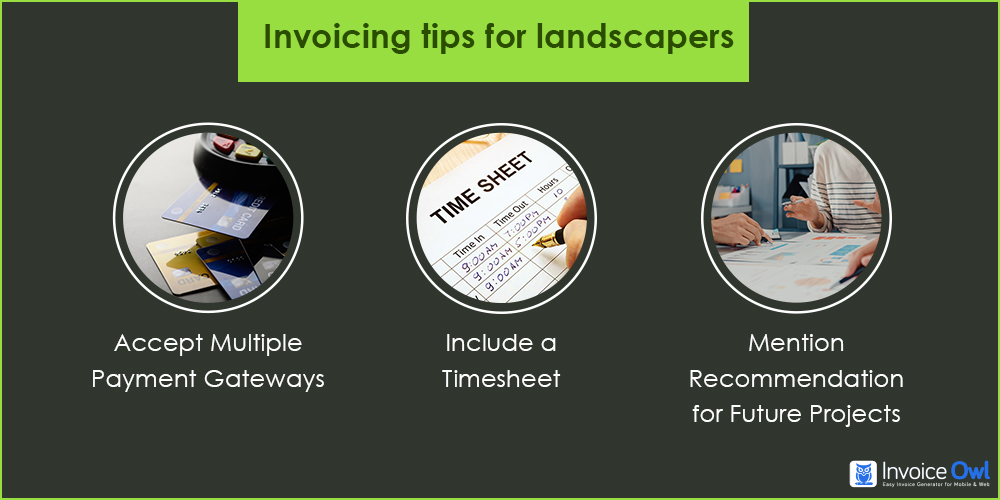 We know you are an expert landscaper. But, you might need a few tips and tricks to make extraordinary invoices and avoid landscaping invoicing blunders.
So, read the following tips & hacks, and your landscaping business will never look back.
Accept Multiple Payment Gateways

Not being flexible with the payment gateways makes your customers procrastinate on paying you. Therefore, you must accept payments via credit card, debit card, Stravia, Paypal, Stripe, and various online & offline payment methods. Accepting multiple payment methods makes it more convenient for your customers. This is the best way to get paid quickly.

Include a Timesheet

Many of the landscaping services are billed at an hourly price. Hence, including a timesheet of the entire work lets the client know about the time spent on particular landscaping work in detail. Other than that, it justifies the total amount you charge for your services and helps in winning the client's trust.

Mention Recommendation for Future Projects

The invoice provides the landscaping business a great opportunity for marketing their brand. Thus, mentioning and recommending your other landscaping services raises the chances that the client will choose your brand for the next project too. So, if you want to maintain a great customer relation and boost customer loyalty, don't miss the brand awareness opportunity.
Download a Landscaping Invoice Template for Free
Want to download a landscaping invoice template for free? InvoiceOwl brings you the best landscaping invoice templates and that too for free. You get the option of downloading the templates in as Ms. Word, MS Excel, or as a PDF document.
So, what are you waiting for? Download a landscaping invoice template for free right now!
Frequently Asked Questions
How do you write a landscaping invoice?
Writing a landscaping invoice is made simple with the InvoiceOwl invoicing app. InvoiceOwl is one of the leading invoicing software that lets you create unlimited designs for your own invoice. And not only create, but you can download it too.
---
How do I make an editable invoice?
All you have to do to make an editable invoice is download InvoiceOwl app. You can download an invoice template and customize them according to your branding.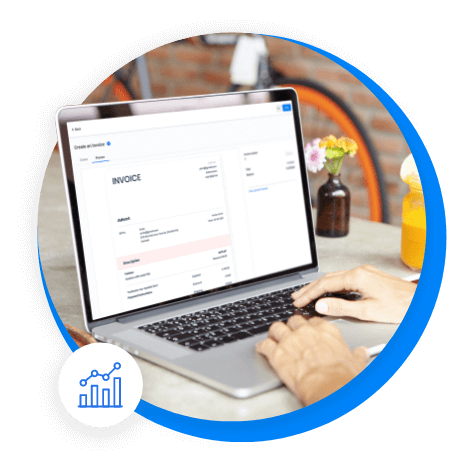 Create Professional Invoices Online Easily and Keep On Top of Your Finances
InvoiceOwl is a feature-rich invoicing app that helps small businesses, freelancers and contractors to create invoices on-the-go and get paid quicker!
Get Started for FREE
Conclusion
Invoicing is a tedious task for someone not having experience in accounting. Therefore, InvoiceOwl is a perfect invoicing app (web + mobile) for landscapers.
In other words, create invoices as stunning as the landscapes you design with the InvoiceOwl. And it comes with a dedicated customer care team, So feel free to contact us and resolve any issues regarding creating invoices.