Are you taking too long to invoice your clients?
Invoicing is a repetitive and mundane process that can be automated in an easy way. But as a small business owner, you must be thinking that e-invoicing might break your budget.
For all those beginners and freelancers, we have shortlisted the top five invoicing software for small business requirements.
So without any further ado, let's begin!
Why Should You Use Invoicing Software?
Before committing to invoicing software, let's first know why you need invoicing software.
An invoicing tool simplifies the daily invoicing process and makes your life easier than ever. It has a lot of direct and indirect benefits to your business. Here are some of the major benefits of invoicing software.
It saves time by automating the invoicing process
It helps you to create and send invoices to multiple clients at once
It helps you manage and organize all the invoices
It helps you in sending invoices on-site to get paid quicker
It helps you access invoices from anywhere
It allows you to offer multiple payment gateways
These are the major benefits of invoicing software that one can get after adopting it for their daily invoicing process.
Moving ahead, let's check out the 5 best invoicing tools for small businesses. We have selected this software on the basis of its unique features, ratings, and popularity.
Try our free online invoice generator today!
Whether your business is in construction, landscaping, consulting, photography, auto repair, or the medical field, invoicing takes way too long. That's why we're here. InvoiceOwl makes your invoicing faster and simpler so you can get paid promptly and without the hassle.
List of 5 Best Invoicing Software for Small Business
Alright!
Are you excited to check them in detail? Then what are you waiting for?
Let's get started.
InvoiceOwl

InvoiceOwl is one of the best invoicing software for small business owners and freelancers. It helps to create professional and modern invoices instantly and get paid quickly.

The InvoiceOwl software covers the entire invoicing process, from creating an estimation to recording and generating sales reports.

This feature-packed invoicing software helps to create estimates, quotations, purchase orders, credit memos, and obviously unlimited invoices. Not only that, businesses can now track the issued invoices in real-time to get paid faster. It sends a real-time notification when clients receive the invoice and when they open it.

Other than that, InvoiceOwl helps the users in enhancing their invoicing process by providing rich feedback right from the client. This feedback can help you locate some issues and also gives you out-of-the-box ideas to improve the invoicing experience.

This invoicing software for small businesses remembers your client information, such as name, and contact information. This speeds up the professional invoice creation as you can now add the client details with just a single click. Also, it reduces the scope of a typing error.

Moreover, you can download the professional invoice created in your favorable file formats, such as Google Docs, MS Word, MS Excel, and PDF.

Furthermore, the InvoiceOwl software lets multiple businesses accept payments through various channels. Be it to accept credit cards, debit cards, or online payment options, the integration with Stripe payments ensures safely secured business transactions every time.

This encourages the customers to pay promptly and choose to purchase your service/product in the future boosting customer loyalty and customer retention rate.

And the cherry on the cake is if you don't want more than 10 invoices per month, InvoiceOwl is the best free invoicing software for you. The enterprise plan of InvoiceOwl allows you to create and send invoices for unlimited users.

It comes in both a free version and a premium version as well. You can create 10 free invoices per month and save up to five clients in the basic plan. Whereas in the premium version, it lets you create and send unlimited invoices for multiple users and save unlimited clients.

Core Features

Easily create customizable invoices

Quotations
Estimates
Purchase orders
Credit memos
Client management
Real-time invoice tracking notification
Payments
Reports
Reviews

Pros
Cons

All in one invoicing software
Real-time tracking
Multiple payment gateways with Stripe
Easy to use

Only ten Invoices & up to five clients/month for free

Zoho Invoice

Zoho Invoice is one of the most popular billing and invoice software for freelancers and small businesses. In addition, it is considered the best overall invoice software for small business owners. Many freelancers are using this invoicing and billing software to simplify the invoicing process with the use of a pre-designed invoice template.

It has plenty of additional features to help you automate the invoicing process and save a lot of time for other business operations. These more advanced features make it the right invoicing software for medium-sized businesses and large companies too.

If you are looking for an invoicing solution that takes care of silly invoicing mistakes, Zoho Invoice is an appropriate option for you. As it automates most of the invoice creation process, it narrows down the possibility of any invoicing mistake.

As compared to other software options, it comes with basic functions like a contact database & employee database so that you do not have to keep a separate directory. These databases help you include correct details promptly.

Moreover, as it saves all the invoices on the cloud, multiple authorities can work on the same invoice simultaneously. This increases the efficiency of the accounting team. This also means that you are never going to misplace any invoice. All the invoices you ever create would be safe on the cloud to be referred to any time, anywhere.

The distinctive feature that the Zoho Invoice bags is expense tracking. With its expense management feature, it allows you to record all the bills you pay to run your business. Therefore planning a budget is no more guesswork. Also, it adds transparency and integrity to your business accounting solution.

But what if you deal with international clients?

It is not necessary that you and your client speak the same language, therefore; to bring down the language barrier, Zoho Invoice is compatible with 14 different languages.

Core Features

Automatic time capture
Contact database
Expense tracking
Time tracking
Employee database
Multiple mobile apps
Cloud-based invoices

Pros
Cons

All in one invoicing software
Compatible with 14 Languages
Working hours tracker

Quickbooks

Quickbooks is the best invoicing software for self-employed businesses. The biggest issue for single employee businesses is time management. Thus, this invoice software helps you save time for other important business chores.

With the accelerated invoicing, business owners get to ride the invoicing express. It helps you create multiple invoices faster than ever. QuickBooks is a small business accounting software that lets you design a customized template for your invoices. This way, you can easily deal with bulk invoicing.

Suppose you have a long-term contract with your client for which you have to invoice them every month. This makes you create similar invoices every month and there are chances that you forget to invoice the client for a month of service.

So in such a case, all you have to do is schedule an invoice for every month. Now you can forget about invoicing the client, and send recurring invoices on autopilot.

It also keeps and accounts for all the clients by creating a separate account for each. Then, it provides you with financial information like a client's account any time you want. This way, you and the client can keep a close eye on the amount to be paid and the amount paid previously to stay away from any misunderstanding.

Moreover, Quickbooks has another feature that makes it stand apart from other invoicing solutions, which is progress invoicing. This feature helps your client by making the payment process a breeze with the QuickBooks payments, which eventually gets you paid quickly.

This has made manually calculating the cost a thing of the past. All you need to do is add the line items and you'll get an accurate total cost automatically.

The good part of this invoicing software is that it provides custom pricing.

Core Features

Backorder Management
Cost Tracking
Time Tracking
Customer Accounts
Channel Management
Barcoding/RFID
Alerts/Notifications
Demand Forecasting

Pros
Cons

All in one invoicing software
Excellent Bookkeeping
TurboTax Compatibility

Occasional bank account syncing issues

Square Invoices

Square Invoices is not only one of the best tools for invoicing but for invoice processing too. If you want to create and send invoices, this invoicing tool is completely free. You only have to pay processing fees when you accept e-payments. Accept cash and checks, and it won't ask you any transaction fee.

Speaking of online bank payments, it allows credit card payments, debit card payments, mobile wallet payments, ACH payment processing, gift cards, and even payment gateway. Whereas for offline payments, the customer can opt for cash, checks, or other bank transfers. Thus, this best free invoice software is popular amongst many small businesses.

This best free invoicing software makes sure to send payment reminders automatically to get you paid on time. Now, you don't have to keep up with the calendar or stick a thousand notes. The auto reminding features reminds you about the upcoming due dates and the unpaid invoices.

Moreover, you can track invoices in real-time. This software allows you to check the status of any invoice from anywhere. Is it paid, overdue, or unpaid? And since it stores all the data on the cloud, you can get this information from your laptop, tablet, or even smartphone with the mobile app.

This feature never lets you misplace any invoice. Other than that, if you want to set your recurring invoice generation on cruise control, just schedule the invoice, and voila! You are done.

Furthermore, this software helps you to strengthen the client-business relationship as it lets you import the client information, such as client name, logo, contact number, email id, and billing address. So that you can keep in touch. And it auto-fills all the details in the invoice by just selecting the client with one click.

Core Features

Auto reminders
Track overdue invoices
Recurring billing schedules
Customer information storage
Itemized billing
Standardize tax & discounts
Online payments 24/7

Pros
Cons

All in one invoicing software
Well organized interface
Email & text receipts

Multiple currencies support missing

Invoice2go

Invoice2go is another great software from the pool of small businesses invoicing software. Although it is basically for creating invoices and compared to other accounting software, it has a wide range of additional accounting features.

Is it hard for you to manage and link your bank accounts with accounting software? In that case, this accounting software is the best for you. Invoice2go lets you create a bank account completely free.

You don't have to pay anything for banking or any additional fees. So not only makes your banking hassle-free but secure too. And if you are wondering about bookkeeping, this full accounting solution automatically matches the invoices and helps you in creating estimates at the time of payment. Therefore you get off the basic bookkeeping duty forever.

Moreover, you get an Invoice2go debit card to be used at any in-store or online purchase. And if you want to cash in your hand, just swipe it in any ATM across the nation.

But, banking is just one necessity of a business, another necessity in this highly competitive market is the business website. Well, Invoice2go accounting or project management software helps you with getting a professional website instantly.

It creates extraordinary websites for your online presence and lets you find new businesses online.

So, create multiple invoices, estimates, and financial reports with this accounting software that helps you keep your entire team on the same page. In addition, it lets you deal with unlimited projects and allows you to work using project management tools that small-scale enable multiple employees to work on and give limited access.

Core Features

Client communication
Instant website
Project management
Bank account
Billing hours tracker
Quickbooks integration

Pros
Cons

All in one invoicing software
Unlimited storage
Great customer service
So, these are the top five invoicing software for a small-scale business.
Did we get you in a catch22 moment? Let's bring you out by telling you the tips to pick the right software for your business.
How to Choose the Best Invoicing Software For Your Business?
If you want to put a finger on the best one, you need to ask yourself a few questions.
And the questions are:
How long are you planning to use it?

To pick the right tool, know how long you are planning to use it. If it is just for a few times, investing a lot is not considered wise. In such cases, you should use software that supports a free plan. And if you are planning to use it for a long time, make sure it is scalable.

Does the client require it too?

Not all clients would agree to install the software to pay invoices. Such requests could delay the payment. So make sure how practical it is from the client's point of view.

Is it compatible with the tool you already use?

You might be already using a tool for invoicing. In such a case, make sure the new software that you want to bring on the board easily integrates the current tool. Or you might lose valuable data.

Can you afford it?

As a small business, you might be on a strict budget. So, according to that, you need to pick software that is well within your budget. And if you are willing to push the envelope, make sure the additional features and benefits are worth it.
Frequently Asked Questions
Which is the best invoice app for small businesses?
Here are the best invoice apps for small businesses:
InvoiceOwl
Zoho Invoice
Quickbooks
Square Invoice
Invoice2go
Freshbooks
Bookipi
---
Which is the best program to create an invoice?
The best program to create an invoice differs from company to company, depending on the needs and objectives of the company. However, InvoiceOwl is one of the best software to create modern invoices promptly.
---
How do I make an invoice for a small business?
To create effective invoices efficiently, use the InvoiceOwl invoicing app. It lets you generate invoices quickly with the help of an invoice template. By automating the entire invoicing process, it makes you ready with the invoice, even on your mobile devices as soon as the project finishes.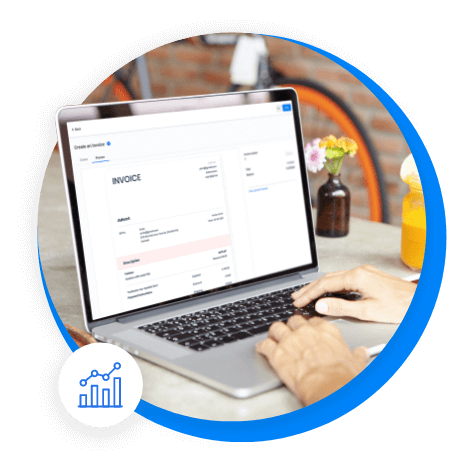 Create Professional Invoices Online Easily and Keep On Top of Your Finances
InvoiceOwl is a feature-rich invoicing app that helps small businesses, freelancers and contractors to create invoices on-the-go and get paid quicker!
Conclusion
Did you find "The one"?
Let us know which one you find the best for your business requirements.
And if you are still on the fence and looking for easy-to-use software, then simply download the InvoiceOwl app. This invoicing software is specifically designed for small businesses, startups, freelancers, and self-employed companies for creating unlimited invoicing without any hassle.
Moreover, the software comes with many other useful invoicing features, making your entire invoicing work simpler and help you get paid faster.
Sign up now for InvoiceOwl and create your first invoice.