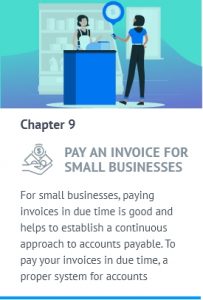 Chapter 9
How to Pay an Invoice for Small Businesses
Best Ways to Pay an Invoice as the Business Owner
For small businesses, paying invoices in due time is a good option, and it helps to establish a continuous approach to accounts payable. Herein, we will discuss how to pay an invoice in due time, and how to select a proper system for accounts payable.
To keep the relationship between small businesses and vendors waxing strong, and also to avoid paying extra charges, small businesses must pay up outstanding invoices on time.
In this section, you'll see how to make a payment for the invoice as the business owner.
For small businesses, paying an invoice can be ensured by adhering to the steps mentioned below:
Select Your Preferred Payment Method
When you receive an invoice, it should come with the due date, payment terms, and all the payment methods the vendor accepts, maybe PayPal, through the bank account, check cash, or card transaction. Choose a preferred invoice payment method and make sure you have added all payment details that are essential so that you can easily make payment.
Include the Invoice in Your Payment Schedule
Tracking all due dates for your invoices is key to properly manage your expenses. On a spreadsheet or online accounting software, add a schedule for all upcoming payments and all other payment confirmation details along with the contact information. When you schedule to pay the invoice, double check your added bank account or credit card details. 
Online accounting or invoicing software or the person from the customer service or help center will keep you notified as the date draws near. Your invoice payment may be scheduled on a weekly or monthly basis. It depends on how many invoices you have to pay.
Keep Records of Payment Confirmation
After paying an invoice for your firm, ensure that every proof of payment or confirmation of payment is kept. Payment details such as a number assigned to you after making an online credit card or debit card payment or some other stuff. It is important to have payment records because your vendor may get confused about whether you have paid or not. 
Depending on how you run operations, you may be sent different forms of invoices at a time. This section of the article will help you get familiar with different invoices.
Organizing Accounts Payable
For small businesses to step up the account payable process, it is crucial to organize payments. With these steps, your company can get it right in simplifying and improving accounts payable methods:
Establish a Consistent System
In every company system, consistency is needed to organize payments effectively.  To establish a consistent system, you should create a standard method of paying your invoice, right from the moment you get an invoice to the date you make the payment.
You should file all your invoices in a way that it doesn't take your time to look for one. Filing invoices can be done through a digital means or physically.
It is good to set reminders always, so you don't miss out on a payment. Reminders should be set for every invoice your company receives after filing. You can set reminders with a digital calendar or with alerts when the date is almost due. With this, you won't skip a payment or pay a fine for overdue payments. It also helps you be at peace when you don't have unexpected payments coming.
Keep Every Detail of Your Vendor Information
When you have to make payments, and you're confused with the billing structure, or when you want new orders, you can easily reach your vendor when you store their contact details. You can keep all your suppliers' information in a centralized location online or offline.
When you purchase from some vendors, they may indicate some dates when you pay and receive a certain discount. This means that making early payments gives you a discount. If this is common to your vendors, make sure to plan before receiving the invoice, so you can pay a discount price.
To organize your accounts payable properly, you need a budget for your business. With a detailed budget, you'll know how much you have to pay each month and how much money you'll have left. To have a detailed budget, compare your past invoices and how much you spend each month on invoices and other expenses.
Small business owners know how hard it is to run a successful company when the business cash flow is interrupted. You should learn the habit of always saving, so you can have a backup in your bank account when you are short on cash for running the business, rather than using a credit card.
For records purposes, it is easy to change or lose paper invoices. Going paperless is a good idea for you as a business owner and your vendor. If you are aware that your vendor uses online software, always request digital invoices and online paying methods or a direct debit facility to pay from the bank account. With online invoicing, you as the business owner can receive an invoice through email and document them in your cloud storage.