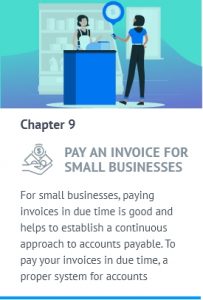 Chapter 9
How to Pay an Invoice? [10 Easy Tips to Follow]
Sep 6, 2021
10 Best Ways to Pay an Invoice
To establish a consistent and streamlined approach to accounts payable, it becomes of prime importance for customers like you to pay an invoice on time.
Obviously, there exist many strategies that you can apply to make the payment for invoices you receive from the service provider. But, we've highlighted the best tips on how to pay an invoice on time.
Make a Proper Analysis of Goods and Services

The first step that you need to take is reviewing all the invoices that you receive from the service providers and it's just to maintain accuracy.

You need to check whether all the goods and services are billed accurately and are received from service providers.

But, how to maintain accuracy?

It is done by reviewing:

Orders that you received;
Received orders to check whether it is aligned correctly as per your order;
The cost mentioned in the invoice matched perfectly with your initial agreement with the service provider.

Take a Note of Your Payment Due Date

The invoices that you receive from your vendor must clearly specify the payment due date. Tracking all due dates for your invoices is key to properly managing your expenses.

The service providers will include any late charge. So, if you are not paying on time, then you need to be ready to pay a late charge.

One of the best recommendations is that you can make note of the payment due date in your digital calendar or any other software you use to track your expenses.

On a spreadsheet or online accounting software, add a schedule for all upcoming payments and all other payment confirmation details along with the contact information.

When you schedule to pay the invoice, double check your added bank account or credit card details.

Your invoice payment may be scheduled on a weekly or monthly basis. It depends on how many invoices you have to pay.

Select Your Preferred Payment Method

When you receive an invoice, the essential thing that you need to perform is to make payment.

To pay an invoice, you can opt for the common payment methods like PayPal, through the bank account, check, cash, or card transaction.

Choose a preferred invoice payment method and make sure you have added all payment details that are essential so that you can easily make payment.

Keep Records of Payment Confirmation

After paying an invoice for your firm, ensure that every proof of payment or confirmation of payment is kept.

Payment details such as a number assigned to you after making an online credit card or debit card payment must be available with you for future purposes. It is important to have payment records because your vendor may get confused about whether you have paid or not.

Depending on how you run operations, you may be sent different forms of invoices at a time.

Establish a Consistent System

Consistency is needed to organize payments effectively. To establish a consistent system, you should create a standard method of paying your invoice, right from the moment you get an invoice to the date you make the payment.

You should file all your invoices in a way that doesn't take your time to look for one. Filing invoices can be done through digital means or physically.

Set Timely Reminders

It is good to set reminders always, so you don't miss out on a payment. Reminders should be set for every invoice your company receives after filing.

You can set reminders with a digital calendar or with alerts when the date is almost due. With this, you won't skip a payment or pay a fine for overdue payments.

It also helps you be at peace when you don't have unexpected payments coming.

Keep Every Detail of Your Vendor Information

When you have to make payments, and you're confused with the billing structure, or when you want new orders, you can easily reach your vendor when you store their contact details.

You can keep all your suppliers' information in a centralized location online or offline.

Seek Discounts

When you purchase from some vendors, they may indicate some dates when you pay and receive a certain discount.

This means that making early payments gives you a discount. If this is common to your vendors, make sure to plan before receiving the invoice, so you can pay a discount price.

Have A Detailed Budget

To organize your accounts payable properly, you need a budget for your business.

With a detailed budget, you'll know how much you have to pay each month and how much money you'll have left.

To have a detailed budget, compare your past invoices and how much you spend each month on invoices and other expenses.

Build A Cash Reserve

Small business owners know how hard it is to run a successful company when the business cash flow is interrupted.

You should learn the habit of always saving, so you can have a backup in your bank account when you are short on cash for running the business, rather than using a credit card.
Go Digital
For records purposes, it is easy to change or lose paper invoices.
Going paperless is a good idea for you as a business owner and your vendor. If you are aware that your vendor uses online invoicing software, always request digital invoices and online paying methods or a direct debit facility to pay from the bank account.
With online invoicing, you as the business owner can receive an invoice through email and document them in your cloud storage.