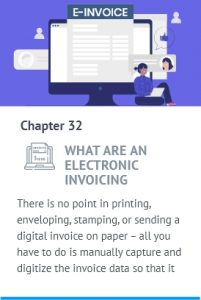 Chapter 32
Things You Should Know About e-Invoicing
Oct 9, 2020
What is an Electronic Invoice?
There is no point in printing, enveloping, stamping, or sending an invoice on paper – all you have to do is manually capture and digitize the invoice data as e-invoicing so that it can be booked and paid for easily. Manual invoice processing is expensive, complicated, and environmentally unfriendly (transport, paper, etc.). Because of this, the German legislation made the electronic invoice on an equal foot with the paper invoices (the first of July 2011). Since that time, electronic invoices can be sent through an email address without any electronic signature.
After the European Directive 2014/55/EU, e-invoices were defined ( in the Act to promote electronic government E-Government Act) as follows:  
An invoice is electronic if: 
It is forwarded, transmitted, and received in an electronic format (not paper-based) via the email address

The format allows the invoicing process to be processed electronically and automatically
Sending invoices as PDF Files doesn't meet the requirement since they cannot be processed automatically in PDF format. Instead, recipients require e-invoicing with a format that is structured and can be easily understood and not a PDF.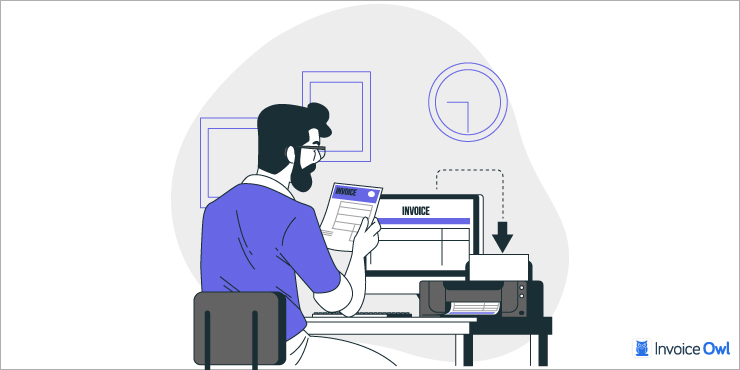 Structured invoicing formats in their pure form, sometimes called the EDI data (Electronic Data Interchange) cannot be read by humans. The recipients need to visualize the electronic invoices for verification, release, and subsequent archiving.
Hybrid invoice formats eliminate this disadvantage by combining the human-readable visual representation with the machine-readable structured format. This is usually achieved by embedding an XML file in a PDF format. For example, a ZUGFeRD invoicing contains a readable PDF combined with structured data in an XML format.
Why are e-Invoices so Important?
E-invoicing is now a common trend in the business universe. Digitized invoice processes have helped save cost up to 60 to 80 percent compared to the manual invoicing methods. Some of the benefits of switching to e-invoicing include shortened processing times, reduced entry errors, and a positive increase in cash discounts. E-invoicing is starting to become a legal obligation (e.g., the European Directive 2014/55/EU). 
But what is an electronic invoice, what does it entail, the challenges involved and the components required of an invoice electronic solution. The section below answers the questions about invoicing electronically, electronic data interchange, and how you can move away from paper-based invoices. Paper-based invoices are not bad but it's essential.
Digitalization with E-Invoicing
With various evidence in place, it is only a matter of time before electronic invoicing or structured invoice replaces paper invoices on a global scale. It is evident at this point, and the European Commission is already taking all necessary moves on how to promote the use of electronic invoicing in order to eliminate paper invoicing ultimately.
Although, electronic invoicing will most likely become a norm in many countries, and business partners or trading partners are therefore advised to adopt digital solutions for e-invoices or structured invoices before it becomes mandatory. 
From July 2011, invoices can be sent by E-invoicing or mail without an electronic signature. Digital signatures can also be used by trading partners. Although it is obsolete. Electronic invoicing and paper invoice is treated the same way under the same respective local VAT law.
What is Electronic Invoice Used For?
Is your company active? Do you supply to the public sector? If your answer is 'yes' to these questions, you'll likely need to send invoices electronically now or in the future.
Apart from the enormous potential and cost savings capabilities of the E-invoicing system, the government still stands as the driver of E-invoicing.
However, electronic invoices differ from unstructured electronic invoicing within this directive. 45 to 65 percent of all businesses in a country supply to the public sector, the EU standard is envisioned to be the driving force on E-invoice. This is why electronic invoices with structured data are required for trading partners to a public-sector customer. 
The demand for E-invoicing is becoming more rampant: the reason behind the growing number of E-invoicing regulations is trifling: Governments are exploring creative ways to enforce their tax laws to increase VAT. The VAT GAP Report of 2018 indicated that EU member states evaded up to 147.1 billion euros in 2016, which is a whopping 12.3% of the expected VAT. 
Meanwhile, the predicted VAT and the collected VAT dropped by around 4.4 billion since 2015. 
The slowing economic growth and the backdrop of a tight national budget will motivate most EU member states to find ways to collect more of the expected tax. 
One of the easiest ways to do that is by enforcing neighborhood companies or trading partners operating within their national border to make all their structured invoices electronically. This is already the case in a lot of countries – they are required to report the entire invoice or the VAT information it contains electronically to the proper tax authority.
What Are The Advantages of E-Invoicing?
The electronic invoicing process has many benefits. One of them is undoubtedly its cost savings potential. Electronic invoicing helps to eliminate shipping and printing costs; it reduces human error and helps to deliver invoices faster. An E-invoice can be automatically booked with the use of an order reference. 
The use of the electronic invoicing process helps to increase the liquidity of the supplier by reducing the time from invoicing to payment. In this case, it also helps to improve a customer's chance of getting a trade discount that might have been previously agreed upon.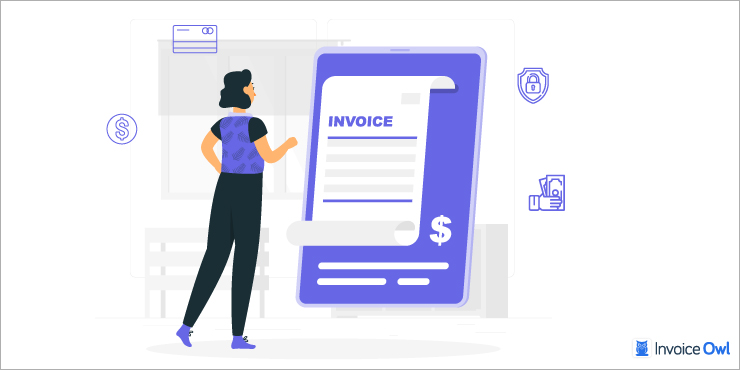 The use of electronic invoicing helps to increase the liquidity of the supplier by reducing the time from invoicing to payment. In this case, it also helps to improve a customer's chance of getting a trade discount that might have been previously agreed upon. 
Advantages of E-Invoicing in a list:
Cheaper costs & quicker RoI:

Electronic invoicing process helps to reduce up to 60 to 80% of your process cost per invoice number created. 

More efficient processes & higher compliance:

It promotes adequate compliance with legal requirements by ensuring transparency and efficiency in the processing of invoices. 

More security:

Invoices can be exchanged safely in encrypted transmission channels.

Better cash flow:

Quick delivery of invoices through accurate accounting software or applications helps to reduce payment time and therefore increases cash flow and a customer's chance of getting a discount.

Complete transparency & fast booking: E-invoicing created through accounting software ensures transparency and faster booking due to the automated processing of incoming invoices compared to paper invoices.
E-Invoicing for Outgoing Invoices
Manual delivery of paper invoices is highly inefficient and error-prone for suppliers. These paper invoices sometimes lead to some human error, cause high costs, and subsequently results in late payments. 
The use of electronic invoices or structured invoices helps to optimize various internal processes, increase its transparency, and also save administration costs. It also helps the environmental footprint of the company with the cooperation of accounting software with various versions. This helps to secure market opportunities, competitive advantages, specifications, and even customer loyalty. 
Digital invoice or structured invoice delivery processes can be divided into four simple steps: Preparation, Input, Portal, and Export/Transfer.
Preparation:

The received structured invoice data is transformed into the desired format. 

Start:

After creating an invoice with an ERP system and collecting invoice data, the outgoing invoice will be transferred automatically through an interface directly to the E-invoicing solution for an outgoing invoice.  

Portal:

The portal application allows the audit-proof archive to be connected and the outgoing invoice book to be viewed centrally

Transfer/Export: The last step involves the E-invoice to be sent to the recipients. For example, it could be submitted as a secure download link or an attachment. Another common approach is via a connection of e-invoice recipients through EDI (EDIFACT).
Using an e-invoice solution for outgoing e-invoices helps to eliminate manual outgoing invoice processes of the customer and also reduces the time for an invoice to become due since they are delivered immediately.
E-Invoicing for Incoming Invoice
E-invoice allows an incoming invoice to be processed by the customer in an automated and continuous process: right from collecting incoming invoice data to booking them. 
The step involved in processing digital invoice receipts can be divided into three:  Receipt, Preparation, and Processing. 
Receipt:

Invoice templates are automatically acquired through various input channels like invoicing software.

Preparation:

This is the part where the invoice content is converted into an internal standard. Electronic invoices with structured invoice data are converted too. PDFs and scanned paper invoices are extracted using the OCR/text recognition invoice software. This will also help in collecting structured invoice data and electronic data interchange.

Processing:

The structured invoice data is embedded with order and Master data from the ERP system to perform electronic data interchange. It automatically checks for quantity, order reference, and county-specific rules, web forms, or price deviations. The invoice can also be automatically transferred for posting through web forms or invoicing software. The others are routed to an approval process or an integrated classification process. 
The system logs every confirmation process that the invoice status goes through. The content of the invoice needed for booking is automatically transferred to the customer's enterprise resource planning system. The invoice data, conversation, and editing protocol, and the attachment in the editing process must be archived according to the specific national requirements.
Global E-Invoicing
The government regulations forced most internationally active companies to send all their invoice electronically. Although, every country has specific legal regulations and conditions. E-Invoicing regulation now exists in more than 65 counties, and it won't stop there.
The different laws and regulations of various countries with their multiple regulations made international E-invoicing a very complicated invoice processing. 
Although there is a global regulation in almost 65 countries, they are still different in various aspects, like how electronic data must be collected, what kind of electronic data must be collected, and the requirements for the digital signature. Although there are two basic types of rules for E-invoicing, they are; post-audit and clearance.
These rules specify a minimum amount of time for which e-invoice to be kept for possible automated verification. This procedure is used in most parts of the European Union with few exceptions.
This regulation implies that the invoice to companies in a respective country should be settled through a regulatory authority therefore real-time controls should be possible. An example of real-time controls includes digital signatures. The clearance rule is applied in countries like Brazil, Hungary, Spain, Portugal, Turkey, and Mexico.
Which Operating Model is Optimal for Your E-Invoicing?
The mode of operation used is the first decision to make when introducing electronic invoices. We will answer three strategic questions in advance:
Hosting:


Should the operation be outsourced to a data center operator, or will it be located in your very own data center for collecting electronic data or data interchange?

Operating mode:

Should the solution be operated as a cloud service with a pay-per-use basis or as a licensed product on-premises?

Standards and formats:

Which electronic invoice standards and formats do I need currently to resolve all purposes and possibly in the future?
The standard license-based on-premises installation is your best option in accordance if your're looking for maximum control over your settlement and invoicing processes. However, a cloud solution will give you the greatest possible flexibility for data interchange.
Cloud-based processing has other advantages: simple integration, less workload, high operational reliability, and fast implementation opportunity. Make sure your cloud provider or invoice software provider can provide solutions to scenarios out of a single platform and can deliver solutions for every relevant country.  
The flexible cloud operation, the implementation, and technical support, including the acquisition costs of invoice software and hardware, are just the beginning of the on-premises operation. The value of maintaining on-premises E-invoicing solutions and personnel should not be underestimated. 
One of the common problems of internationally active companies is being able to process and support various international e-invoicing standards. The People access point is the solution to that problem if it works out. The use of a cloud-based E-invoicing solution helps to cope with the continually changing regulations of e-invoicing.  This will allow simplicity for the management of the service.