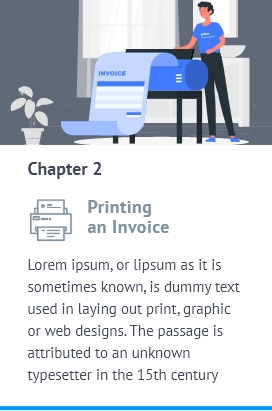 Chapter 2
Printable Invoice Template
Oct 25, 2021
Printing an Invoice: Step-by-Step Instruction
You might have to print the invoice at times. Thus, printing the invoice is something you always should be prepared for.
But wait!
Have you created an invoice?
It's obvious that you need to create an invoice free first to print it out. And InvoiceOwl can help you with that.
Now that you have an invoice to print, let's first discuss: should you?
Should you Print an Invoice?
Businesses all over the world are going paperless. And paper-free invoicing is a brilliant way to reduce the use of paper in your business. Reducing paper in day-to-day business operations has various benefits, such as less business running costs, less pollution, and less space requirement for storing paperwork.
Thus, generally speaking, businesses should avoid invoice printing as much as they can.
Having said that, some businesses and scenarios are such that you need to print invoices.
So, let's learn about the scenarios where you might need a hard copy of an invoice.
When do you Need to Print an Invoice?
It's true that businesses should go for paperless invoicing, but you have to print an invoice in some situations. So, give a quick look at those situations mentioned below.
The customer does not have access to the internet.
The customer demands a hard copy of the invoice.
You want to store it physically.
The invoice is challenged in court.
The invoice has to be handover in person.
These are a few of the cases when you need to print an invoice.
Therefore use free printable invoice templates by InvoiceOwl that help you generate an invoice and provide an option for printing an invoice effortlessly. You just need to download it and click the 'Save Button', and it will be ready to send.
OR
You can use the InvoiceOwl online accounting program, which provides various features, such as:
records of receipts and expenses
tax calculator
client's information database
automatic unique number assigning
customize the new template for invoice
ability to print or email an invoice
InvoiceOwl offers the corresponding app versions that will provide you free invoices to print, and help keep track of your data on a smartphone anytime.
Moreover, they let you gather feedback from your customers too.
How Can You Print an Invoice?
Follow these simple steps for printing an invoice:
Save the invoice document by pressing the save button from the file menu
Prepare your printer
Open a full view of the invoice, and verify the page layout
Click on "File" on the upper menu bar and select "Print"
You will be directed to the print screen where you can choose the number of copies you would like to print.
Follow this process for all sorts of laptop models, mobile devices, tablets, even if you're using an Apple computer or a Desktop.
Now that the save button has helped you save all the invoices, you are ready to use the perfect printer-friendly invoice for your business and the client.
Best Free Printer-Friendly Templates
We have done all of the hard work for you, so you can quickly create and use the perfect free blank invoice template for your business.
Here is your list of different types of printer-friendly invoices that you can use according to your business requirements.
Download Free Blank Printable Invoice Template
A free blank printable invoice template is a printable billing document that is easy to customize. This type of blank printable template does not contain colors and fields that make things more difficult in the invoice. It gives the freedom to modify the structure of the invoice and allows you to add fields, logos, and colors of your choice.

Download Free Printable Invoice Template in PDF
A free printable invoice template in PDF is a professional invoice that can be customized easily. You can edit the PDF invoice, add your business details and send them to clients through the mail, or email in a few clicks. These free printable invoice templates PDF files are customizable and easy to use. It's a simple solution for you to spend more time doing what matters most for your business.

Download Free Printable Service Invoice Template
Service invoices are particularly useful for businesses who need to add itemized invoices and those who deliver specialized services to their customers, such as :
Freelancers
Consultants
Legal service providers
Medical Services
Accountants
Constructors
Free printable service invoice templates are created specifically for service-based businesses. Such templates include highly customizable features like salesperson, payment terms, products, quantity, and sales tax. Moreover, they are also printer-friendly.
Download Free Printable Child Care Service Invoice Template
If you are running an in-house daycare, child care service invoices help you bill parents simply and consistently. With a free printable child care service billing template you can quickly invoice for the services you have provided.
Just download a template and fill in the blanks and edit the necessary information.
After that, just go through the tiny details such as the child's name, parent's name, payment due, and conditions. You can also specify the extra services if you have provided any.

Download Free Printable Construction Invoice Template
The construction invoice template is used by contractors so that they can provide a detailed bill to a company or an individual for which they have provided services or supplied the material.
This is quite different from the other types of free printable invoices as it includes supplies provided, mutually agreed hourly charges and/or flat-rate fees, and the contractor's terms of payment under one drop-down menu.
Contractors need to use such invoices because they don't fall under any company's payroll system. Therefore, to receive the payment for the services, a free printable construction invoice template will be the best suitable template for them.

Download Free Printable Contractor Invoice Template
Contractors execute various tasks within different durations. Thus, contractor invoices are generated to define and describe the hours and amount of work spent on the specific task of the work. Free printable contractor invoice templates help you add any kind of contract works such as photography, content writing, carpentry, etc. You can save and print a copy of the contract after creating the invoice and signing it.

Download Free Printable Catering Invoice Template
The printable catering invoice will support both the clients and the caterer in the payment process. The caterer will collect the advance amount using such an invoice and the client will get notified about the full payment date. The printable blank invoice template will also include all of the other pricing and information regarding the extra costs, apart from that you can include:
Food items
Itemized costs
Total amount
Payment methods
Terms and conditions
This will help you maintain all of the client's payment information for accounting, payroll, and taxes.

Download Free Printable Sales Invoice Template
The free printable sales invoice template is a document that the seller sends to the buyer. It is also known as a commercial invoice or purchase invoice. The main objective of such invoices is to mention details about the product that has been ordered, the date it was dispatched, and the total amount of money owed. It is considered a legal requirement for any business to keep accurate records for tax purposes.

Download Free Printable Auto Repair Invoice
If you are from the auto repair service and looking for a budget-friendly solution for invoicing your customers, you can use a free printable template for auto repair invoices. It will help you add the information including total and tax calculations.

Download Free Printable Business Invoice
When you run a business you will need to send a bill to your customers for the services you have provided or the products they have purchased. Using a free printable business invoice you can specify what service or products you provided, an invoice number, remaining amount, and payment terms and conditions.
To use such a template, you just need a blank invoice to print and edit with your business branding, download, and print it out, and/or send the customer via email or store it for your accounting purpose.
Download Free Printable Commercial Tax Invoice Template
Commercial tax invoices should be prepared by the seller and must have the right information. A commercial invoice does not provide buyers the rights of ownership of the goods or merchandise until and unless a receipt for the total amount of payment is attached.
In most cases, the seller provides the original invoice to the buyers and he keeps the printed or online copy for himself.