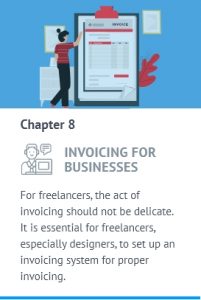 Chapter 8
Guide On Graphic Design Invoice For Freelancers
Jun 18, 2020
How to Invoice as a Freelance Designer
For freelancers, the act of invoicing clients should not be delicate. It is essential for freelancers, especially graphic designers, to set up an invoicing system for proper invoicing, ideally, they should have freelance graphic design invoice templates. No doubt, the clients will have a little idea about the approximate cost of the services they are going to get but still, they should know all the details about the service they got and the final amount they need to pay before they pay. The freelance designer invoice is the one and only place for your requirements. Let's see how such invoices can ease your invoicing.
Let's see how invoice templates for freelancers can ease invoicing.
To set up a professional invoice, start by first knowing what is a free graphic design and then moving on to selecting a preferred free graphic design invoice template or design a new template and follow these useful steps to ensure that the graphic design invoice examples look professional and presentable to every customer.
What Is a Graphic Design Invoice?
There are many graphic designers working on various projects and clients, to getting paid on time, they need to bill the clients on time. You must have discussed payments and the terms and conditions before taking the project. But, to justify the services and cost you need to send them invoice designs that help them know exactly how much the project costs and how much the clients need to pay.
A free graphic design invoice template freelance is a type of invoice that includes a breakdown of the services, prices, payment methods that ensures the designers getting paid on time.
What Is a Graphic Design Invoice Used For?
Using various kinds of invoices can be confusing for the clients especially when it comes to managing more than one project in one billing process. Billing is not at all a fun task; in fact, it is the most necessary task to keep clients informed in detail about the services they are getting including all the information so that you get paid on time and support your professionalism.
Graphic design invoice templates are one of the easy solutions that can be used to give the special touch of the brand that can be streamlining your business process.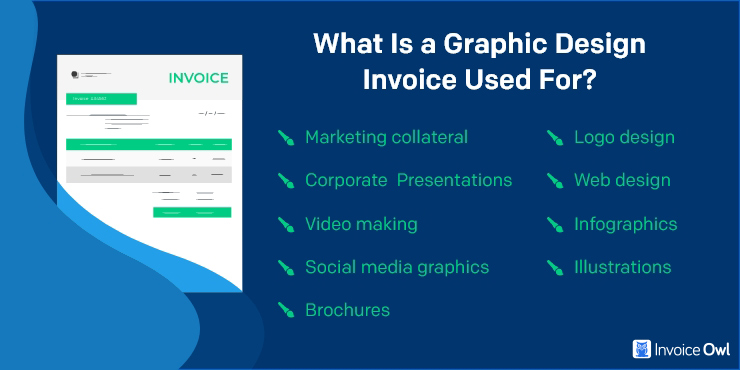 A graphic design freelance invoice can be used for a wide range of projects and services like:
Marketing collateral

Corporate presentations

Logo design

Web design

Video making

Infographics

Social media graphics

Illustrations

Brochures
It does not matter what type of services or product (e.g. web design) you are providing to the clients and what graphic design projects you are working on, using appropriate graphic design invoice templates that ensure you are able to invoice your services straight away. That is the reason it is necessary to understand why it is important to have a graphic design invoice for your graphic design project or web design work.
Why It Is Important To Invoice for Graphic Design Work?
As a professional, you should have adjustable paying options for a collection of payments that are streamlined and customized for your businesses. This will be also helpful in keeping the graphic design projects and work you do and accounts organized and will keep you headache free when it's time for income tax returns. That is why it is very important to choose any of the free graphic design invoice templates that can fulfill all your specific needs and includes all the necessary information.
Many graphic designers use some tools/ platforms to get paid instantly, but this type of platform may charge them some additional charges to use the tool. These tools can be sometimes difficult to use, include heavy charges and might be confusing for your business finances. So, be very careful when you look for the best suitable graphic design invoice template and make sure it is customizable, easy to send, and does not have any hidden fees.
Things to Keep In Mind Before Designing Self Employed Invoice Template
To make the billing process simple, solutions like InvoiceOwl are packed with different template designs and other excellent features to help your freelance design invoice template look good and help you in getting paid quickly.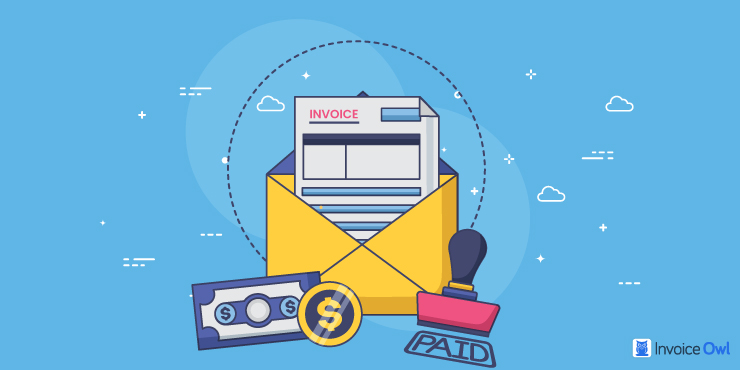 Here, we'll look into:
Selecting a template for invoice

Consider an upfront payment

Check essential details with a customer

Filling up necessary details

Following up the invoice

Selecting a Template for Invoice
Choosing an excellent looking graphic design invoice template or layout requires you to pick an invoicing software or invoice generator. For freelancers, there are ways to draft graphic design invoice templates, maybe through Word document, Google Docs, Excel, PDF, as well as other offline programs. InvoiceOwl has lots of online templates that will interest you.
As an artist, showcasing your ability isn't bad. Always add your brand logo or a clear header. Selects a visible font and background color that rhymes with your brand logo to avoid a color riot. Every invoice design you draft to a client should be clear and understandable.
Consider Upfront Payment
While you're with new customers, do not hesitate to ask for an upfront amount before you start your graphic design projects or job. If you're waiting to get paid after completing the task of your graphic design projects, your payments may be delayed, or you don't get paid at all.
Some invoicing software can allow you to include your paying policy when you download the template maybe demanding up to 50% advance amount of the total project cost before commencing the project. This policy is not new in the design industry.
Let the customer be aware of your payment policy beforehand for getting paid on time; sometimes, invoices are due after 30 days. It is left to you to extend or reduce your invoice due date, depending on how you run the business.
In some cases, you have to exercise patience because of the customer's paying cycle. Some large firms can only pay you the total cost after about two months, for instance.
Check Essential Details with a Customer
It is very important that you do not mistake or guess any of the customer's detail. Make sure you ask the customer for the right details so as to avoid a delay in payment. Customers are always watchful of any information that is unclear on an invoice, and it gives them an excuse to pay late.
You can ask the customer what name they want to appear on the invoice, when a customer sends you a purchase order, ask where you'll be sending the graphic design invoice to. You can also ask what name they want on the invoice, whether they want the business name or client name printed on it. Ask how they want to receive the invoice, maybe by electronic mail or other means.
Filling up Necessary Details
As a freelancer, you should try including your business name and address, your customer's company name and address, fax number, invoice number, and other essentials. The inclusion of a tax number is only advisable if your state allows you to collect sales tax. You shouldn't forget other details like:
Customer's P.O. number
Client name and telephone number
Full descriptions of services offered and price
Payment terms and policies, including the date amount, is due
Late payment penalty, if applicable
The word "invoice."
Necessary bank details if you're receiving payments check
Indicate if you've received upfront payments
The total amount you're collecting from the customer.
If you have included all those details, your graphic design invoice is ready to be sent.
Following Up The Invoice
Once you receive payments from a customer, record them. To ensure that you follow up and set up a reminder for unpaid invoices, delayed invoices, or avoid any invoice related issue, You must have invoicing software to help you simply and execute the tasks. It will be stressful and awkward always to chase customers before they can send in payments.
When you set a due date, and you don't get paid, you should start reminding the customer of their debt. Send invoices in an email to keep them notified on an outstanding amount, after some time, and you have not heard from them, call them on the phone to ask when they'll be paying you, or reach an agreement.
How to Freelance Graphic Design Invoice?
Just like any other invoices, your graphic design invoice should look clean and easy to communicate. It should not contain overloaded information that clients get confused, but it should have all the information that is essential for the client to understand your charges. Apart from that, you also need to pay attention to the layout and have to be clear in your thoughts about the details you are going to include if you are creating it from scratch.
So, now you must be thinking of how you can create a free graphic design invoice? Here are the steps to remember while creating a professional graphic design invoice example for your clients.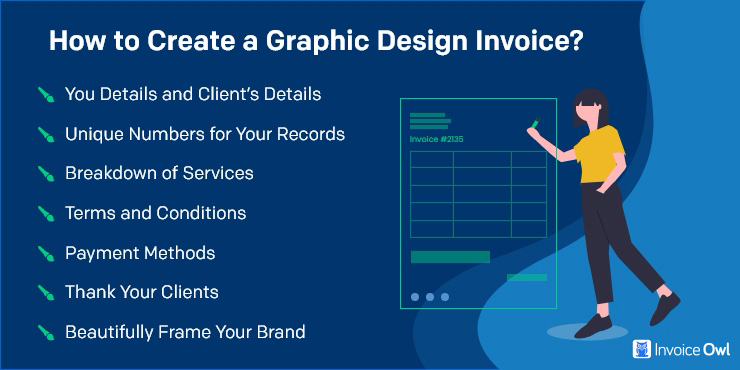 Your Details and Client's Details
This is one of the important sections of your invoice. You need to make sure that you are including your business details in a way that the client recognizes that it is your brand and whenever they want to communicate they can easily communicate. Apart from that, you also need to include the right client's name and the individual's name who handles the particular department.
When you are sending a free graphic design invoice to a small company, it is easier to communicate with the individual who is handling the payment process, but when you are dealing with large organizations, there are high chances the invoices get misplaced, especially, when you are dealing with more than one project for the same client. So, whenever you are preparing your free graphic design invoice template, you must include all your business information (e.g., At the top, your business name, business logo, address, phone number, email address) and the client's details (e.g., client's company name, department, contact person, contact information – phone number, address) accurately. So that if anyone from the client-side or the graphic designers gets stuck for the graphic design invoice-related query they can reach out to each other.
Unique Numbers for Your Records
The next thing you need to have is a unique invoice number for the work you have done which will help you out in tracking the invoice. For example, you are working on a different project for the same clients, and you need to send two different invoices you need to have two unique numbers so that you can easily track both the invoices. So, always make sure that whatever number format you choose for invoice number should be systematic, constant, and chronological and remain the same whenever you make invoices.
The core reason behind sending an invoice is to get paid for the services or items you have provided. The most important thing to include in the invoice is the breakdown of the services with a detailed description to tell them exactly for what they have received an invoice: for example, in project title- "Brochure Design", "Design of two-page brochure", Descriptions – "These are brochure designs for products or items with pink floral design", Rate – "$75 per hour". Just be as specific as possible as you can. Such a breakdown will help you and the customer both are clear about the invoice issued, no one will have the confusion. Along with the service breakdown, you also need to have a breakdown of prices and then include the total payable amount at the end of the breakdown and highlight the total amount with bold letters so it is clearly visible to the viewer reading your invoice design.
The invoice conditions play a more important role when it comes to understanding the payment method. By reading your requirements clients will be sure about when the deadline is and what will be the late payment fees or interest charges. It is advisable to include all the terms and other conditions regarding the money into the invoice and make sure the clients clearly know about the clear business terms and others to pay before they pay. One advantage will be there for both of you and clients because it will be on a paper trail in case of any kind of dispute.
Many designers miss this chance to include the payment methods in their invoices and they assume that the client will pay by cheque or cash. But on the other side, the client may not find it suitable to pay in that way. So, it is better for both the client and artist to have the preferred payment method clearly mentioned in the graphic design invoice template.
For example, if you want to get paid through a money transfer, you need to clearly mention your bank account details required for the money transfer, it is ideal if you use your business bank account. Some people may not find it suitable to pay in that way so you should give an alternative way. In case, you want to get paid through the cheque, you have to make sure your address is right. You can also communicate with the client in advance to avoid any kind of conflict.
When it comes to money, it becomes a very touchy subject for both the artist and the client, so as an artist you need to be very polite while closing your invoice with a sweet and polite thank you note that also highlights your business brand. You need to thank your client for the money they are paying for and let them know you appreciate it once you have completed your design part. Along with this thank you note, (you design or write) you can also invite them to contact you in case of any queries and questions they might have. Not only this, but you can also offer discounts for the next business, so it will be a good opportunity to grab the next project with the client.
In this thank you section, some people also ask for feedback which a great way to know the opinions of the clients and this will also help you get good/bad feedback from the client for your improvement.
Beautifully Frame Your Brand
Let's imagine you went to one of the five-star restaurants and everything was so perfect, the food was excellent, the service was outstanding and one of the best in ambiance but when you receive the bill printed on cheap paper with low-quality, what will you remember at the end? It's human nature the bad impression remains in mind quickly. That is the reason people spend their money on timesheets and the number of hours on website design, brochures, business cards, etc., to build a great impression on the clients. As a graphic artist, you must design the invoice that shares the attention to detail followed by your branding and style which is indicated a the top of the page. By having such a creative, beautiful, and clear graphic design invoice template you can have the chance to get future work based on your design elements and the design that is easy to tailor to your business needs.
Quick Tips to Skill Graphic Design Invoices
Now that you are following all the above-given steps to create professional-looking stylish graphic design invoice templates to bill your clients and want to get paid on time. Here are some more tips that you can follow along with the steps you are going to take while creating an invoice.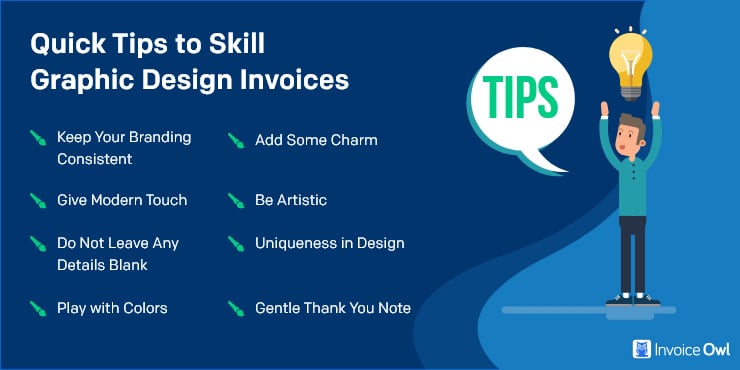 Keep Your Branding Consistent
Whenever you choose graphic design invoice template PDF, Excel, Word, Google Doc, or Google sheets, you need to make sure that your branding style is consistent. Take the extra time to add the right brand color combination and fonts that you use for your branding, which most of the platforms offer whether it is Google Doc, Google Sheets, PDF, or any other platform. This little tip can help you take an extra step of professionalism.
By default, people think that small businesses and financial documents are a bit boring. But as a graphic designer, you have the chance to prove them wrong. So, why not add some charm to your invoice with some creativity? Well, you can try adding some creative characters or beautiful nature elements into your invoice template. This tiny addition will highlight your graphic design work skills and help you get paid for your work, and might also make someone happy by seeing your creativity.
Well, every designer has different thoughts, some believe in simplicity and some follow modern trends for their designs. But, it is important to add some modern touch to your invoice along with the simplicity because it will help you prove that you know about all the modern trends and technologies. When you first look at any document the first thing you will notice is the appearance and then you will focus on the details. If the client has chosen you for the graphic work, the first thing he/she will notice the design you have presented through the invoice.
A combination of modern and simple yet creative invoices can drag the attention of the clients. You need to think outside the box when it comes to being artistic. For that you can play with your font size for easy readability and also you can play with colors combinations for clear vision. Use your scale, positioning, and right elements to justify the invoice design. If you feel that you can be more artistic, who don't you try to bring some vintage charm introducing some texture and warm look for a vintage-inspired design look? Once you select the right texture and elements pairing with warm tones, it will really evoke the vintage feeling.
Do Not Leave Any Details Blank
Whenever you are creating an invoice template, make sure to not leave anything blank whether it is about the specific company handle, the client you are addressing, their designation, or any terms and conditions that the client needs to know. This may sound a lot to include but when it is included in a nice way, it adds specific details to the graphic design invoice.
If you really want to show your design skills through the Invoice you are sending, you need to take it to the next level which clients might not have seen before. For that, it is essential that you add uniqueness in your invoice template maintaining the main purpose of the invoice which the easier way to style and design. The design should just stand out and be the voice of your brand maintaining the excitement and confidence for the work you have done.
Remember, a personal touch goes a long way. It is good to keep in mind that your invoice design is the only voice that will help you get the money paid on time.
Colors play the most important role in human life, so does your professional life. Whenever it comes to money-related matters, everyone gets scared no matter who that individual is whether it is a service provider or it is the person who is taking the services. That is the reason invoices play a maximum role in professional life. And on the customer side, they notice every tiny thing in design because they are going to pay for the services.
You need to make sure that the invoice design template is as appealing as possible. In this case, colors will help you get the maximum attention you want and make people notice. You need to play with your branding colors to make the sample invoices' look more elegant. When the clients will find the graphic design invoice interesting it will be a real kicker for you and if you get successful in getting the attention it is more likely to get paid early. Not only this, you have to make sure that the printing paper color also matters when you print and send invoices.
As a designer, you know that you cannot grow your business without having projects. So, it is always best to include a short but gentle thank you note at the bottom of your invoice design template to show your gratitude.
No matter what method or tip you follow, you just need to remember that you are a designer and your clients pay for the designs you make for them. So, it is very important that you also show your graphic skills through your invoice too, because your invoice or billing will help you justify the work you have. It will be a great opportunity for you to illustrate your marketing collateral.
We, at InvoiceOwl, help you out creating invoice templates using top picks according to your business needs and keep updating you about the latest happenings in the invoice processes. You can contact our experts in case of any queries and questions.