When you are running a business, you cannot afford to bear extra expenses and mistakes, as it might turn into a heavy penalty. That is why it becomes important to take the necessary steps to minimize such expenses and mistakes to run your business smoothly. The best way to minimize the expenses is to create invoicing expenses. In this blog, we are going to cover all the details that you should know about invoice expenses.
Many business owners, especially freelancers and small businesses do not charge their clients for certain types of expenses. There are times when you have to make payment for the expenses out of your pocket just to make sure the project is completed on time. For instance, you are going to travel for the project work then initially you have to bear all the travel expenses. But, this is just one example of miscellaneous expenses that you might need to pay on behalf of your customers and at the same time, you have to manage the cash flow.
These expenses may increase due to the client's project requirement, so it is essential that you charge them for those expenses. If you find that you are spending more than you are earning that means you are on your way to make a loss. In this case, you are facing the same issue then you must check out the client-related expenses. But how can you recover these expenses? Well, here is your answer.
What is an Expense Invoice?
An expense is defined as the spending of money or assets in a form of payment for a line item or a service. When these expenses are covered in an invoice it becomes an expense invoice. Usually, the expenses are borne by a company, which will payout to the supplies for the products or materials whenever it is necessary. These expenses will be related to the cost of business operations that should be included in the company's records. As one of the main aspects of running a successful business, you need to manage all the expenses to maintain your company's financial health.
In other words, expenses ultimately are the dollars that companies spent in order to grow the operational functionality of a business income. In a technical way, an expense is a type of event where an asset is used for a liability.
Try our free online invoice generator today!
Whether your business is in construction, landscaping, consulting, photography, auto repair, or the medical field, invoicing takes way too long. That's why we're here. InvoiceOwl makes your invoicing faster and simpler so you can get paid promptly and without the hassle.
Get Started Now
What is a Billable Expense?
There are various types of expenses that businesses usually do. But not all the expenses are billable, some of them are just non-billable. These depend on the nature and size of the business. However, there are costs that are general for all kinds of businesses such as:
Raw material costs
Extra employee wages
Office rent (if needed)
Interest expenses
Travel costs especially for the business meetings
Stationary costs such as paper, ink toner, pens, etc.
Electricity and internet charges
Marketing and advertising costs
These are some of the expenses that you can include in your invoice. It will be easier if you make a list of expenses that you may want to include in your invoice.
Why Should You Include Expense in Your Invoice?
Many businesses might need to spend money out of their pocket to buy raw materials, labor charges, or sometimes travel expenses while executing a client project. In most cases, expense tracking helps in simplifying the end results of the work. In many cases, the charges are impossible to project accurately until and unless they are there.
To include reimbursable expenses into your invoice is to record the charges and then once all the work is done add them into the invoice. But, before you add those expenses make a list of expenses that you want to reclaim from your client. You can refer to that as reimbursable expenses. For example, if your project involves frequent traveling, you can ask the client for fuel charges or ticket charges. You can record all the miscellaneous expenses in your invoicing software or in an excel sheet.
How Do You Add Expenses to an Invoice?
Most of you track the expenses and follow the time tracking you have made for the particular project. But, do you know how you add those reimbursable expenses to your invoice? Let's take an example if you are offering construction services and you have to buy material to complete the project.
In that case, you should not include the material cost separately. Ideally, you should calculate the overall cost of your services as a single invoice; this looks much more professional than having a separate cost. This will make your accounting less confusing. However, if your client asks for separate costs then you must need to have a detailed itemized list of costs that you have made during the project execution.
To include costs in your invoice or in a client's account, first of all, you need to calculate all the reimbursable expenses or the money you spent when entering into the bill. As we discussed earlier you need to make a list of your billable expenses for your own records. When you include those expenses for the customers, you need to include all the details including payment terms in your income account very carefully to get paid quickly.
One more thing, when you are invoicing any client in the future, you have the option to add which expense account you need to include and which you will include directly in the bills. In some cases, you can assign multiple line items at the same time to different customers.
No matter what expenses you include in your invoice, always make sure that you confront a client about your additional expense before you make any additional cost. So, that there is not any confusion or conflict at the end of the project work.
Frequently Asked Questions
1. Can I include the expenses on top of the invoice?
No, it is ideal to have an invoice at the bottom of all your main service charges, and then you can add them as miscellaneous charges in your accounting. So that clients know exactly what they are paying for.
---
2. How do I include the billable expenses?
When you start any project, the first thing you need to do is make a list of things that you might need to purchase or book in advance. Meanwhile, keep adding those expenses to your list. Then at the end of the project, shortlist the billable expenses and include them in your invoice.
---
3. How can I monitor the expenses?
During the project, many of you might need to travel, while traveling if you want to monitor the expenses, you can use invoicing mobile apps (Android, Windows, iOS). With such apps, you can easily create and track expenses from anywhere, anytime.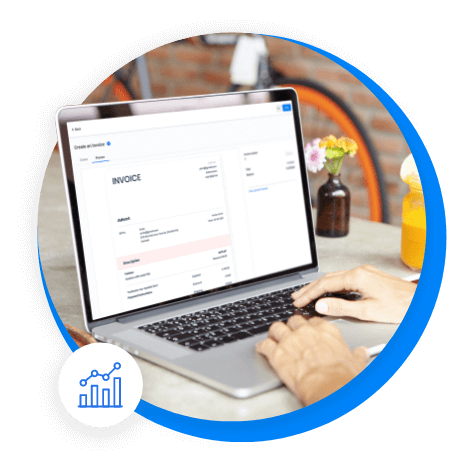 Create Professional Invoices Online Easily and Keep On Top of Your Finances
InvoiceOwl is a feature-rich invoicing app that helps small businesses, freelancers and contractors to create invoices on-the-go and get paid quicker!
Get Started for FREE
Conclusion
When it comes to getting paid from the client, many organizations struggle with the process of invoicing. As a business owner, you must be hesitant to ask for what you have paid on behalf of the client at the time of the project. The most important thing that you need to remember is to make the note of big and tiny expenses and do not hesitate to ask for them.
However, with the right tools, you can monitor each expense and include them in your invoices. Invoiceowl/MixBit offers a wide range of tips and tricks to get paid on time, you can watch out for the blog section regularly to get more information on invoicing, invoice software, invoice templates, and many more.