ESTIMATE and INVOICE TRACKING SOFTWARE
Get Real-Time Estimate and InvoiceTracking Notifications
To stay updated on your estimates, invoices, and payments.
Not only does InvoiceOwl simplify your invoicing, most importantly, it provides notifications to keep you updated on when estimates and invoices have been received, paid, and much more.
Not all small businesses have secretaries, but with InvoiceOwl's real-time notifications, it will alleviate those tedious administrative duties as if you've hired a personal assistant.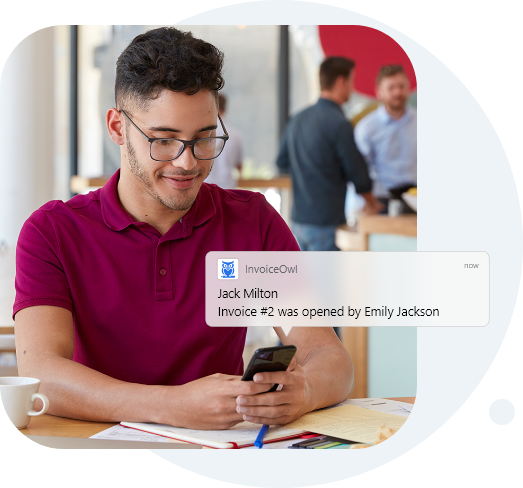 How Real-Time Notifications Can Save You Time
Here are some of the tracking notifications you'll receive to help you save time and stay on top of your business
Read Receipt
You will receive a notification when a client receives and opens an invoice or an estimate, so you no longer have to worry about spending time sending follow-up emails and phone calls to find out if your invoice has been received.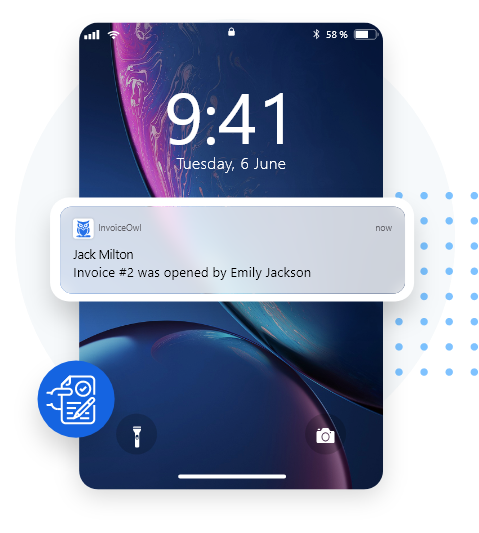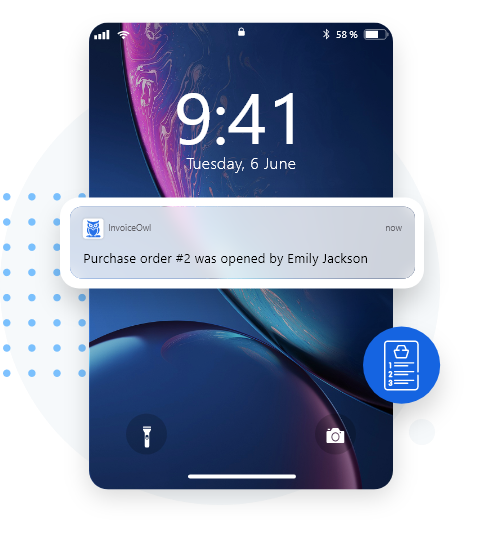 Purchase Orders and Credit Memos
These notifications help you eliminate the need to call customers to find out if a memo or purchase order was received.
Customer Payment Tracking
The most important part of any job is knowing when you get paid! Therefore, if you use InvoiceOwl's inbuilt payment feature, whenever a customer pays it online, you'll be notified through the app, so you don't have to keep checking your bank account. That's why it is the best way to keep track of client payments.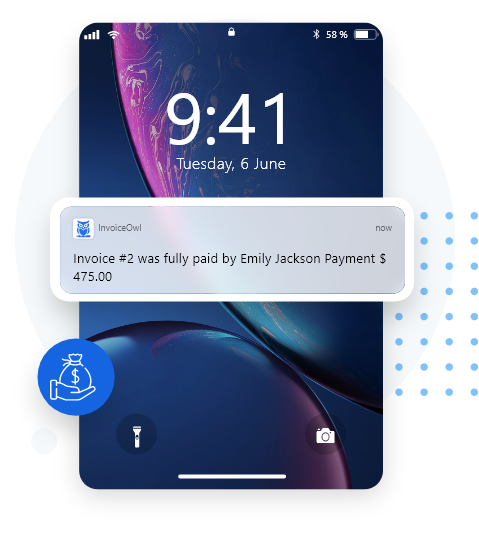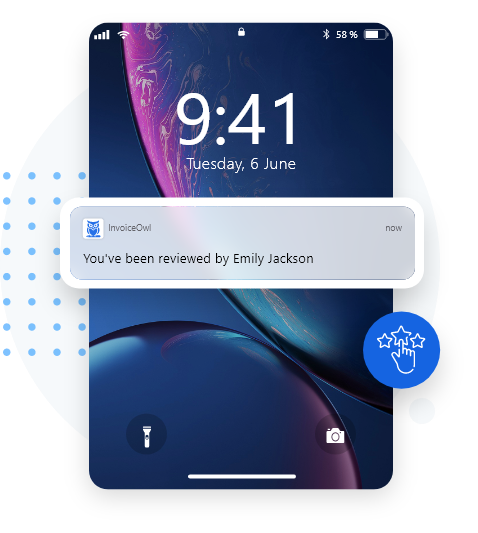 New Business Reviews
Your reputation is vital as a small business owner. With InvoiceOwl, you'll be notified whenever someone reviews your business, so you can respond appropriately.
Frequently asked questions
How Do InvoiceOwl's Notifications Work?

InvoiceOwl's notifications are generated in real-time, meaning that you'll be notified immediately on all of your invoicing needs via intelligent tracking methods.

What Will You Receive Notifications For?

InvoiceOwl has a lot of helpful features for small business owners, and the notification feature is one of the most useful. Our notifications will help you track invoices, estimates, credit memos, purchase orders, payments, and reviews.

How do I keep track of payments received?

InvoiceOwl's customer payment tracking feature has revolutionized how to keep track of payments received. It automatically drops a notification about the received payment. You do not have to call or email for follow-up or check your bank statement, again and again, to be updated.
What our happy clients say about InvoiceOwl
Really like the way I can customized each estimate then invoice it.
My experience with InvoiceOwl has been great so far. I really love the app and the support I get each time I have a challenge. Thank you for making our lives easier with InvoiceOwl.
I use InvoiceOwl for my pest control business and it's made my life so much easier, as I can invoice the customers on-site straight after completing a job.
D
Danny Hutchinson, PreventiPest
Lending a Helping Hand to Small Business Owners
Part of running an efficient business involves how well you use your time, and our notifications can help you spend less time on administrative tasks. As your business grows, so will the number of invoices you're responsible for – and with InvoiceOwl's real-time notifications, you can be confident that you'll stay ahead of your bills and invoices.