Many people are doing various kinds of businesses from small to large businesses. Well, medium-sized and large-sized businesses are already established, and they know what works best for their business. But what about small businesses? Here in this article, we are going to cover some important invoice tips for small business owners that will help them throughout their invoicing process.
An invoice is an important document for all the business owners who sell and buy things. It is one of the legal documents from which business owners can inform the clients about their purchases made and the total due amount. Invoicing is an important activity for any kind of business. Let us see why a small business should use invoice templates in detail.
Why You Should Use a Small Business Invoice Template?
As a small business owner, you are responsible for every decision you make from handling operations to managing finances, looking after staff to making your customers happy. To manage all the tasks alone might not be possible for you hence you will not have time for official tasks like invoicing. Here is where invoice templates will help each small business.
Invoice templates help businesses create invoices within a few seconds. You can look for a great selection of professionally designed small business invoices that you can customize as per your need. Make sure you choose the template that provides the elegant design and the most relevant information that you need for your client to know.
You must have a different client base and each of them might have different requirements. That clearly means you will need an invoice template that is flexible enough to fulfill the needs of each customer. At the same time, you need to make sure the invoice templates you choose are clear and easy-to-understand so that your customers know what they are paying.
As a small business owner, it is also important that you come out as a professional and experienced. The only way to reflect this impact is through a well-organized and attractive invoice that can help you illustrate your brand image and outstanding reputation as a small business owner in front of the customer.
You can choose templates in Word, Excel, PDF, Google Docs, and/or in Google Spreadsheets. Such invoice templates help small businesses in saving additional time and avoiding miscellaneous tasks they can focus on other essential tasks to boost their business.
Try our free online invoice generator today!
Whether your business is in construction, landscaping, consulting, photography, auto repair, or the medical field, invoicing takes way too long. That's why we're here. InvoiceOwl makes your invoicing faster and simpler so you can get paid promptly and without the hassle.
Get Started Now
What Needs to Be Included in an Invoice for Small Business?
There is not any particular format for creating a small business invoice, but there are some essential details that you should have in your invoice. In this section, you will find all the relevant information that you should include in your invoice.
Your Small Business Name and Contact Details
The first thing you should include in your invoice is your business logo, name, address, e-mail, phone numbers, and website (if any). These are the important details that clients might need to discuss regarding any business correspondence.
Client's Name and Contact Details
It is mandatory to have the client's name and contact details in your invoice (or at least have the concerned person's contact details if it is a large company). You need to list down as much information as you have about the client on the invoice.
Unique Invoice Number
Whenever you create a new invoice you should have a unique invoice number so that it can be easily referred to whenever it is required. You can choose any format to generate a number of recurring invoices but the only condition is that it should be unique. Once you have decided the format you need to stick to that format only. For example, if you have named your invoice as #001 then you need to follow the same pattern, i.e., #002, #003, and so on.
The PO (Purchase Order) Number (if applicable)
Some large companies include a PO (Purchase Order) number in their invoice so that customers can match the details with the purchase order. As a small business, it is not mandatory for you, but it may benefit you on a larger scale in the future.
The Invoice Generated Date and Due Date
You should include the date you have generated an invoice and as per your terms and conditions, you need to mention your due date. For example, if you and the client are agreed on Net 30 that means your invoice due date will be 30days after the invoice generated date.
Products and/or Services Provided
You need to list a detailed description for each product or service that you have provided to the client. For products, you need to list down each time with its price and quantity and for services you need to describe your service, total hours worked for a particular service, and rate per hour.
Total Amount Due
Once you have listed out the products or services, you need to total up the due amount. Make sure you include applicable taxes in your total amount, then you add the final amount underneath.
Payment Terms and Conditions
Specify all the agreed terms and conditions in your invoice, so that customers know when and how you are expecting payment. One more important thing, you should mention your transporting terms in this section to avoid any misunderstandings.
Special Notes
In this section, you can mention a special for the client, maybe a quick "Thank You Note". For example, you can mention, "We are glad to serve you, avail 10% discount for your next purchase/service." Make this special message as per your branding style and show gratitude to your customers.
Invoice Tips for Small Business Owner
Now that you know what is mandatory for an invoice, you need to keep in mind certain tips that can help you get paid on time. Sometimes you will get even before the due date if you follow the below-given tips.
Clarify the Terms Before Starting A Project
Clarifying the terms and conditions before starting work means there is no confusion left for upcoming days. It also helps small business owners in setting up the client's expectations before they start the project work.
Keep Detailed Records of Time or Quantity
Many service providers sometimes forget to track their time and at the end of the project they end up manipulating the actual hours and sometimes they add fewer hours rather than adding the actual hours. This situation will cause a loss for the service provided. So, it is ideal to keep detailed records of time and track the quantity while providing a service or sending out the product. With this tip, you can also inform the client about the over-budget or you are going to have more hours, instead of sending an expensive overloaded invoice.
Make Easy-To-Understand Invoice
Some businesses overload the information in their invoices, which customers cannot even understand, and it creates more confusion for the invoice. You need to list the details of the work or products in a way that clients can easily understand. It is also good to personalize your invoice with essential information. It will help you carry on the professionalism of your expertise and working policy.
Send an Invoice Immediately
As a business owner, you must be expecting to get paid on time. But did you send an invoice on time? No? Then why are you waiting? Well, you need to start preparing your invoice as soon as you start working on the project. So, that you can send the invoice on time at the end of the project. It clearly means that the client will receive the invoice when the project is fresh in their mind. The sooner a client receives an invoice the sooner you will get the payment. You can also take the help of any accounting software that lets you create professional invoices and streamline the invoicing process.
Keep Talking to Your Clients
When you send an invoice to the client, somehow if the client cannot pay the invoice it becomes overdue. When things become overdue you need to send reminders, monthly statements, or sometimes need to make calls to get the payments. Business owners at times hesitate to talk to the clients. But instead of avoiding the client you should discuss the invoice and find out the reason behind the delayed payments. If you are still feeling hesitant, then you can set up a reminder process in your accounting software.
Do Not Hesitate Add "Late Payment" Fees
If you have clearly mentioned your payment terms and conditions in your invoice, still the client has ignored them, you need to charge them late payment fees or transaction fees as per the industry standards. But, be prepared for robust feedback from the client, as no one likes to pay additional charges. You can revise the charges once you know the customer's patterns.
Well, these are not just tips, these are the important lessons that will help you in each step of your business. As a business owner, you should be clear about all your business terms and conditions and have a professional attitude before taking up any new project.
These are the tips that help you save time while creating a small business invoice template and end of the day you will have free invoicing. Following these tips, you will be able to provide excellent customer service and get paid on time.
Why You Should Consider Invoice Software for Small Business?
Many business owners nowadays think that they should not invest their valuable time and money on administrative tasks like invoices. But when they consider investing in invoicing software it eases their invoicing tasks.
Today may be your firm is small and you might not need to invest in additional services but as a business owner of a small firm, you may opt for free invoicing software for the initial stage of your business. As soon as your firm grows it will get complicated to manage multiple clients and invoices. Therefore, investing in an invoicing software solution is ideal as you will learn to operate such services at the initial stage of your small business.
Sometimes many business owners or their staff members make mistakes in calculating the amount, but invoicing software or accounting software can help you avoid human-errors as they are mostly designed to give accurate results. So, it is better to leave important invoicing calculations on the software. There are many invoicing solutions available in the market that can fulfill your small business needs.
Not only this, but an invoicing software will also be able to store historical data and real-time data of your valuable customers. Customers these days love to make payments online, invoicing solutions not only send invoices but also allow clients to make payments online through credit card or debit card within a few clicks using payment gateways. With payment gateways, the business invoicing process will be easier where clients can pay quickly and businesses will get the payment in their bank account. Using such a solution business owners can access the invoices anytime anywhere using their mobile device.
Essential Features of Invoicing Software for Small Businesses
Most problems businesses face are that their invoices are not regulated and there is not any set pattern for making an invoice. This leads to differences among the template with all the essential information such as contact information like business logo, address, name, etc. Basically, the invoicing software you choose should allow you to have all the important features to make a payment and to get the payment. Moreover, it should allow you to add your terms and special notes as well so that businesses do not have to worry about anything else.
When you are operating small businesses, most of your employees need to play multiple roles. So, in this case, to handle your invoicing process you must have invoicing software but what are the essential accounting features of invoicing software that you should look for? Well here are some essential invoicing features that you can look into an invoicing software :
Create invoices faster and easier.
Has options for adding payment links, shipping details, and discounts.
Allow you to add your small business logo and keep your branding style.
Feature notifications to track payments.
Store invoices in the cloud so you can use them later.
Allow debit or credit card payments.
Provide secure access across all kinds of devices.
So, now you know everything about invoicing, make sure you choose the best suitable invoicing and accounting software for your small business. Such software should also fulfill all your small business requirements. Moreover, the invoicing software helps small businesses keep track of each and every invoice and send notifications for the pending invoices to the client. Not only this it also analyzes the detailed financial reports at a faster speed.
Frequently Asked Questions
1. How do I make an invoice for a small business?
Making an invoice for a small business is as simple as creating an invoice for a large business. To make an invoice as a small business owner you need to add the essential information that the client may have asked for.
---
2. What is the best invoicing software for small businesses?
There is plenty of best invoicing software for small businesses in the market. InvoiceOwl is one of the best invoicing software that fulfills all the invoicing needs of any business type.
---
3. How do I make a simple invoice?
To make a simple invoice you need to follow the basic invoicing templates. You can also use basic invoicing software that allows you to customize the basic details through their ready-made templates.
---
4. How do I make an invoice for free?
Many invoicing generators allow businesses to create invoices free of cost. You can also look for customizable free small business invoice templates that can help you create professional-looking invoices and you can also send unlimited invoices free of cost.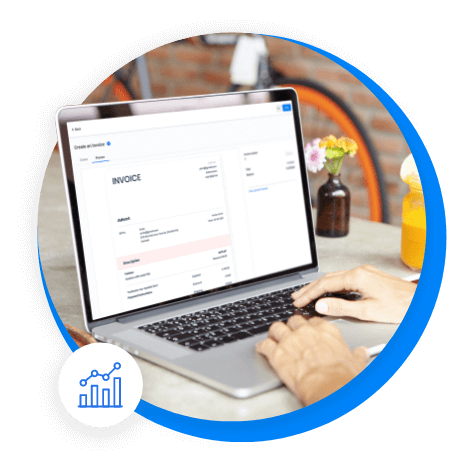 Create Professional Invoices Online Easily and Keep On Top of Your Finances
InvoiceOwl is a feature-rich invoicing app that helps small businesses, freelancers and contractors to create invoices on-the-go and get paid quicker!
Get Started for FREE
Conclusion
The invoicing process has to be easy for each and every small business. You need to follow the problem-solving strategy while adapting any invoicing solution as small business owners. There are many options for small business invoice templates that can help you create professional invoices for your smooth invoicing process.
Still, you need to make sure you cover all the essential information in your invoices following the above-given invoicing tips. This will also help you reduce the turnaround time of invoicing cycles and improve the communication between the team members and sales departments.
Apart from this, the above-mentioned tips for small businesses will help you manage the invoicing process more smoothly. We at InvoiceOwl provide the finest way to manage your invoices. If you want more information related to invoicing process you can keep looking for our blog section for upcoming invoicing articles.