Do you know which is the best way to monetize your business's unpaid invoices?
It's invoice financing.
It helps you get paid immediately, especially in need of a short-term cash injection. So, you do not have to wait for days/weeks to collect payment from the customer. You need to pay a 5 percentage (standard value) of your total invoice's value to a third-party (finance company).
Generally, invoice factoring and invoice discounting are the two essential types of invoice financing however, both the terms are somewhat similar and distinct too.
Let's get started with the basic information of invoice discounting, advantages, and steps to implement it.
What is Invoice Discounting?
Invoicing discount is a financial term that allows you to gain access to money in your customer's unpaid invoices (Know more about strategies for dealing with unpaid invoices)
In a simple term, a process where you sell your invoice to a third party (often a finance company) is known as invoice discounting.
An invoice discounting is a form of short-term borrowing against your unpaid invoices.
The discounting company will lend your business a percentage of the money listed in the accounts receivable ledger. In effect, it's like having an overdraft invoice finance facility that's secured against your accounts receivables.
Once you sell your invoice:
You will get a small percentage of the total amount billed to your customer.
The financing company will take over the total amount.
An invoice discounting help your business in
Getting quick access to cash.
Improving the business's working capital and cash flow.
Maintaining the responsibility of sales ledger, payment chasing, and even payment processing.
Try our free online invoice generator today!
Whether your business is in construction, landscaping, consulting, photography, auto repair, or the medical field, invoicing takes way too long. That's why we're here. InvoiceOwl makes your invoicing faster and simpler so you can get paid promptly and without the hassle.
How Does Invoice Discounting Work?
The process of invoice discounting is very simple as it is related to the normal invoicing process.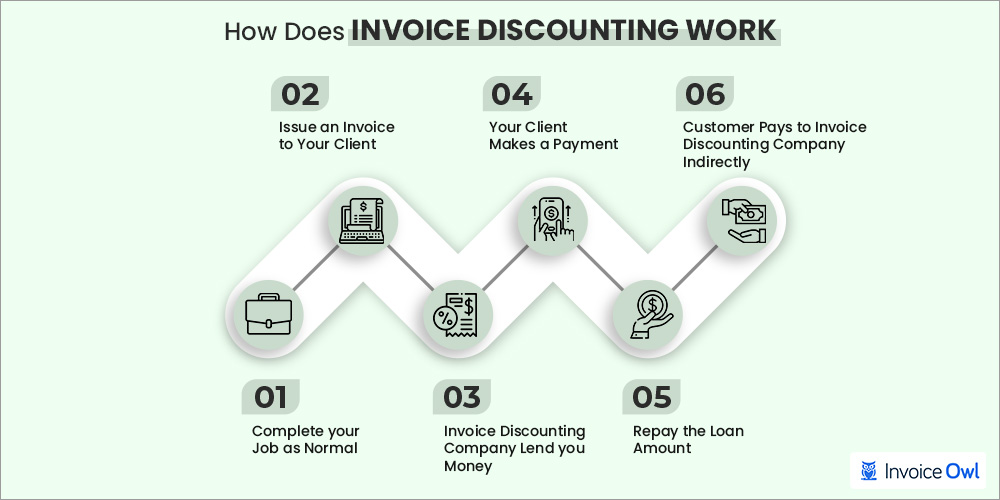 Complete Your Job as Normal

The invoice discounting process usually starts when you sell your goods and services to your client. First, you need to create an invoice for all such goods and services offered to your client.

Issue an Invoice to Your Client

Once the job is completed, you will raise an invoice for the goods and services offered and send an invoice to your client.

Invoice Discounting Company Lend You Money

Once the invoice verification is completed, invoice discounting companies provide you with the money as a loan of the raised invoices, minus a small percentage.

Your Client Makes a Payment

Just as per your normal payment terms defined in the invoice, your client makes a payment. You are only the sole person, or we can say credit controller, to deal with chasing late invoice payments.

Repay the Loan Amount

Once you receive payment, it's time to repay the loan to the invoice discounting company, including an agreed fee (between 1% and 3% of the total invoice amount) to cover costs, risk, and interest.

Customer Pays to Invoice Discounting Company Indirectly

In some cases, your customers pay into a trust bank account in your business name but are actually controlled by the invoice discounting company. This reduces the risk of non-payment by you to the lender yet maintains confidentiality.
Steps to Implement Invoice Discounting
Below is a step-by-step guide that will help you to implement invoice discounting in your business.
Step 1: Select for Either Whole Turnover Invoice Discounting or Selective Invoice Discounting
First, you need to understand the two important terms of invoicing discount:
Whole turnover invoice discounting: To discount your entire accounts receivable ledger.
Selective invoice discounting: To discount only a few particular invoices.
It's almost impossible for small businesses to use a selective method as many invoice discounting companies prefer to spread their risk as widely as possible.
So, large companies prefer to use the whole turnover discounting method.
Step 2: Contact Your Invoice Discounting Provider
The next step is to select your best provider from multiple invoices discounting providers. It is made possible by comparing the services and fees of different providers.
You can even contact their customers to know about the provider's feedback. So, it plays a vital role in deciding the perfect company.
The best recommendation is to consult your accountant first before making your final decision as they might have the correct advice.
Step 3: Finally, Grab the Best Guidance from Your Provider
Once you've signed up with your chosen invoice discounting company, they will guide you through the process.
This includes
Setting up payments to you.
Arranging a trust account for customer payments (if required).
Linking into your invoicing process so that you get paid as quickly as possible.
The good part is that all of this can be done online. And it's by using online invoicing software.
Invoice Discounting vs Invoice Factoring
While the concepts are relatively similar, there are a couple of key differences to getting your head around.
| | |
| --- | --- |
| Invoice Discounting | Invoice Factoring |
| Loan secured against your outstanding invoices | Invoice factoring companies buy unpaid invoices, which in turn help them with credit control. |
| You get to manage your own sales ledger and collect payments yourself. | The finance company takes over the management of your sales ledger and credit control process. |
| It's a loan and not a sale. So, your money must always be repaid. | If you sell the invoice to a factoring company and your customer is not ready to pay, you won't be obligated to repay the money yourself. |
| Discounting companies will not run credit checks on your customers before agreeing to purchase your invoices. | The factoring company will run credit checks on your customers before agreeing to purchase your invoices. |
What are the Advantages of Invoice Discounting?
Invoice discounting help you in many ways like:
Improving Cash Flow

You can effectively convert up to 85% of the total amount into instant cash with the help of invoice discounting. Moreover, it helps you to deal with shorter working capital cycles.

It's obvious that you'll receive your cash from invoice discounting providers much quicker than banks. Also, they are actively responsible for assessing the lender's viability.

Invoice discounting has significant speed advantages over traditional finance as it allows lenders to generate cash in no less than 48 hours.

Getting Quick Cash

As compared to taking loans from banks which is a time-consuming activity, Invoice discounting is a faster method to procure cash.

Once an invoice is issued, invoice discounting provides you with liquid cash ASAP. Such cash injection helps you in many ways like increasing sales, pursuing growth, capital investment, and repaying critical debts.

Releasing Locked Cash

Invoice discounting helps you in releasing locked cash of customer invoices.

The primary role of invoice discounting is just to convert your account receivable (debtors) into liquid cash. Such cash can even be used for emergencies.

Maintaining Confidentiality

In the case of invoice discounting, confidentiality can be maintained by the discounting houses.

Remember that neither suppliers nor customers are aware of the company's borrowing against sales invoices. In fact, the agreement between the financier and you/your business is not disclosed to your customers.

Dealing with Win-win Situation for Businesses

The invoice discounting takes care of both the borrowing company and customers.

The borrowing company obtains the cash quickly.
Customers are directly provided with the credit period.

This creates a win-win situation for the company and the company's customers, which helps build a healthy relationship with customers.

Short Turnaround Time

Invoice financing is one of the fastest ways that you can opt to get a business loan.

Once you become a trusted partner of an invoice financing NBFC (Nonbank Financial Companies), you can permanently reduce the collection period of your invoices by submitting them for invoice financing.

No-Risk to Assets

Invoice financing offers unsecured business loans instead of your invoices and hence does not pose any risk to your company's movable assets.

No Effect on Business Relations

Invoice discounting helps you maintain the business relations between the seller and buyer.

Discounting companies have no contact or correspondence with the buyer.

Hence, the buyer is sure that he would be liable to the seller, not to other parties.

Boosts Credit Sales

Since invoice discounting can help convert credit sales into cash, it helps in quick growth and exploitation of new opportunities for an SME.
After going through detailed information on invoice discounting, we've answered a few questions in the next section.
Frequently Asked Questions
What is confidential invoice discounting?
A process that allows you to continue dealing with customers yourself as usual — your customers won't know you're using a finance provider is called confidential invoice discounting. The downside to this is that you'll still have to chase invoices yourself, unlike invoice factoring.
---
What is an invoice discounting example?
If you finance an invoice for $10,000 with an invoice factoring company.
They will usually advance you 80% of the invoice amount that is $8,000 when the invoice is allocated to them.
You will then get the remaining balance of $2,000 (because it is done minus the fee charged by the finance company) back when the customer recompenses the invoice.
In this complete invoice discounting process, Rs. 2,000 can be seen as a discount.
---
Is Invoice Discounting a good idea?
Yes. Invoice discounting is a good idea as it provides you with a great investment option while protecting yourself against market volatility while reaping high returns.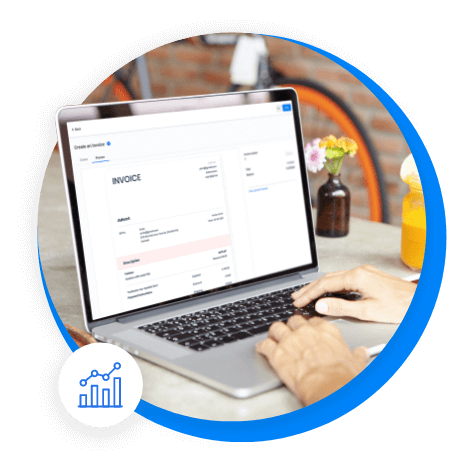 Create Professional Invoices Online Easily and Keep On Top of Your Finances
InvoiceOwl is a feature-rich invoicing app that helps small businesses, freelancers and contractors to create invoices on-the-go and get paid quicker!
Conclusion
Invoice discounting and invoice factoring are two significant types of invoice finance.
Invoice discounting helps you receive a percentage of the total from the lender when you invoice a customer or client, providing your business with a cash flow boost.
In short, invoice discounting help you in many ways like:
Improves your business cash flow.
Providing flexibility in getting quick cash.
Save your valuable time.
Maintains confidentiality.
Enhance your credit sales.
To deal with invoice financing in your business, the best option is to adopt online invoicing software like InvoiceOwl. InvoiceOwl provides you with the perfect solution in creating and sending invoices to your client quickly.
Moreover, it helps you to make your business finance management easier than ever. Sign up for InvoiceOwl now to create your first invoice and share your experience with your friends and colleagues.