Invoicing is the most essential skill for independent contractors to master because it's the only way to get paid on time and remain competitive. You must be constantly managing various projects that may have diverse billing terms and conditions. To send accurate invoices, independent contractors need to track their working hours and create a detailed independent contractor invoice as soon as they are done with the project. A professional contractor invoicing is the key to maintaining effective financial accounting for small businesses owner.
Why is Invoicing for Independent Contractors Important?
Independent contractors frequently perform various services under the contracts they have agreed upon with an individual or a company. This situation can often make it confusing when it comes to collecting payments, managing accounts, and keeping business finances accurate. That is why it is important to have an invoicing solution for independent contractors.
To invoice your clients, you may have hired an accountant or using online expensive accounting software. However, such solutions can be complicated and even you might have to pay a huge amount for getting a premium version. But, fortunately, there is a better solution. That is independent contractor invoice templates.
The templates for contractor invoice can be used by:
General Contractors
Electricians
Plumbers
Construction Companies
Painters
HVAC
Carpenters
Roofers
Landscapers
Interior Designers
Pest Controllers
Home Inspectors
With the general contractor invoice template, you can create detailed invoices free of cost in just a few clicks. So, you can spend most of your time on what you do the best and make sure that clients pay you for the services you have offered. Now, let's discuss how you can invoice as a contractor to request payment.
Try our free online invoice generator today!
Whether your business is in construction, landscaping, consulting, photography, auto repair, or the medical field, invoicing takes way too long. That's why we're here. InvoiceOwl makes your invoicing faster and simpler so you can get paid promptly and without the hassle.
Get Started Now
How to Invoice as a Contractor?
Contractors need to create detailed invoices that can justify all the important information related to the services they have offered. Such as deadlines for payment, an itemized list of services, labor costs, additional costs if any, and the amount the client owes. Here is detailed information on how to invoice as a contractor:
Justify the Document as an Invoice

It is quite obvious for many of your clients to acknowledge the document you are sending as an invoice. But it is important that you visibly label (use large and bold fonts) the document as an "INVOICE" in the header itself. So, the client will have a clear idea that the document they are looking at is an invoice.

Add Your Company Details

In your header, you need to list out your company details. You can include your business logo, your company name, address, phone number, email address, and contact information of a concerned person from the accounting department whom a client can contact in case of any query.

Include The Client's Contact Details

Just below the header section, you need to add your client's contact information (Client's name, address, phone number, and email address). Whenever you are signing a contract with any new client, make sure you ask for the correct billing address and a concerned person to whom you can send the invoice before you take up a project. In many large companies, there is a separate billing department and a point of contact for invoicing which you can include in your invoice.

Allocate a Unique Invoice Number

Every invoice you create should have a unique number for an invoice allocated to it. You can follow the easiest patterns for assigning invoice numbers sequentially, for example, you can start with Invoice #001, then Invoice #002, and follow the same order.

These patterns will help you manage the invoices. Not only this, but it will also help you in record keeping. It also makes things easier when any issue ever arises related to payment, you can easily refer the number for an invoice to the client for more clarity.

Have the Invoice Date

Write the date you are sending an invoice in the top section or the side of the header. This is important to have in your high quality invoice because based on this date you and/or the client can calculate the remaining days for the payment as per your terms and conditions.

List out the Details of Your Services

Next, you need to create a table to include your services. This table will have an itemized list of your services. In the first column, you need to include a brief description of the specialized services you have provided, in the next column you need to include the quantity or the number of hours worked, the third column should list your rates and in the final column, you need to include the subtotal for each service.

Mention Payment Terms

Add your payment terms and conditions just after your services section. In your terms and conditions section, you can include your preferred payment method, credit card processing fees (if any), and due date. You can also outline the details of your late payment policies if you have already decided.

Write the Total Amount Due

In the bottom section of your invoice, you can write the amount owing to the services you have provided, including applicable tax. Ensure this section is highlighted so that it stands out on the invoice document and becomes the most important part of your invoice. You can use large fonts, bold letters, or different font colors

Include the Payment Deadline

Write the deadline for the payment in bold letters and that is easy to read. You need to be as specific as possible as you can while mentioning the payment due date. Write out the full date so that customers can easily understand, for example, you can write: "Payment Due on December 30, 2020" rather than using vague terms of payment, such as "Your Payment is Due in 30 Days", this can lead to confusion and might cause delayed payments.
Types of Invoices for Contractors
Depending on the contract you have agreed upon with your client, you may want to use a particular type of invoice that helps you get paid online in the right way and at the right time.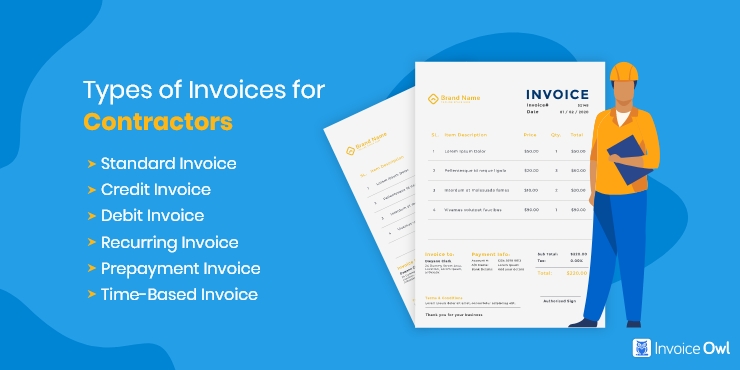 There are various kinds of invoices that you can use as an independent contractor and all of them can be customized according to your contracting business requirements. You will find these types of invoice template layouts that are most suitable for your business, where you are working as a contractor in the US, Canada, or the UK.
Standard Contractor Invoice: A standard contractor invoice is a simple invoice that indicates how many services you have provided and how much the client owes you.
Credit Invoice: You can use credit invoice templates whenever you offer a refund to the customer and/or there is a plus balance on the client's account.
Debit Invoice: As a contractor, you can use a debit invoice to notify the client that you owe you a given amount of money.
Recurring Invoice:  You can use recurring invoices to accept ongoing payment requests from your clients.
Prepayment Invoice: A contractor can use a prepayment invoice to request payment in advance to start a project.
Time-based Invoice: Most of the contractors use this type of invoice to charge based on the hours they spent on a particular project.
How to Use an Independent Contractor Invoice Template?
Now, you know what kind of invoice is right for your work, let's discuss how you can save time using customizable contractor invoice templates rather than creating them from scratch with Google Docs or Google Sheets. Many online platforms offer professional contractor invoice template designs. You just have to simply download the online invoice template and edit it according to your need. InvoiceOwl offers free contractor invoice templates for Windows and Mac that can be tailored according to your specific contract needs. You can edit the document that suits your branding needs and start online invoicing your client right away without wasting your valuable time.
Let's see how you can edit the independent contractor invoice template.
As we said earlier, first of all, you need to select the suitable blank invoice template from the free invoice template section, and then download the free, customizable template as a Microsoft Word, Microsoft Excel, or PDF doc. The next step is to fill in all the essential details. Follow the instructions given below for creating a more effective professional contractor invoice format.
Download the free contractor invoice template from InvoiceOwl
Label the document as an "INVOICE"
Add your business information with company logo, name, and contact detail
Fill in your client's name, concerned person's name, mailing address, and contact detail 
Add an invoice number, invoice date, and expected payment date
List out the description of services rendered 
The price for the services
Calculate the total cost and include the net amount at the bottom of your professional invoice
Note down the terms and conditions and late payment fees
Mention the preferred payment option
Send an invoice to your clients via email
The InvoiceOwl contractor invoice makes it easy to have a customized billing process for your contractor services. You can use an independent contractor invoice template to bill customers for a range of services, to keep the financial transactions organized, and to keep clean records of your income as tax documents.
You may also like: Learn to Invoice as a Consultant: Accounting Tips and Tricks for Consulting Services
Mistakes to Avoid As a Contractor
Once you have created a bill, there are certain contractor invoicing mistakes that need to avoid, some of those mistakes are:
Forget To Track Your Working Hours

It is important to set up something where you can track your hours as soon as you begin your project as a contractor. Most of you must be charging your customers per hour. You need to keep track of your hours manually or using any time tracking software, you can also simply write the starting time and end time of a specific project in an excel sheet. You can also include a brief description of the contracting work or a task you have completed so far. The ideal is using a cloud-based time-tracking solution to keep track of your hours, with such a solution easily tracking your time you will be able to streamline your time and won't forget to track your working hours.

Failing To Send Invoices Immediately

Most of the contractors fail to send out your invoices as soon as they complete the project. That is the biggest mistake they make. It is said that the faster you send out your invoices to customers, the faster you will receive the payment. 

So, as soon as you complete a project within a given time frame, you need to start creating a contractor invoice and send it along with the final work. If you are sending a bill along with the last project work, the project will be fresh in your mind, and you won't forget to bill for it afterward.

Not Formatting Invoices Consistently

As a contractor, you must be constantly working on different projects with a variety of tasks and services. So, you have to fill out different designs of invoices from job to job, which sometimes wastes your time, and sometimes it looks less professional in the eyes of your clients. 
That is why you need to create a contractor invoice template that works for all your invoicing needs and matches your branding requirement. Once you create it, you need to stick to it until you need some improvement in that template.
Frequently Asked Questions
How do I invoice as an independent contractor?
You can invoice as an independent contractor using an independent contractor invoice template. You just need to simply follow the steps that should be included in a contractor invoice. You can choose any type of invoice template that is suitable for your business requirements.
---
How do I write a contractor invoice?
To write a contractor invoice you need to include some specific details into your invoice. Such as your small business details, clients' details, description of the services you have provided, the number of hours you have worked, the total amount due, and the terms and conditions. You just need to make sure you are including accurate details into your invoice to collect payments quickly.
---
How do I create a self-employed invoice?
A self-employed invoice is an invoice that a freelancer or contractor creates for their freelancing business. Such invoices are not different from the regular invoice, it is the similar way that you create an invoice for any of your clients as a freelancer. You can use free online freelancer contractor invoice templates and edit them according to your needs.
---
How do I make an hourly invoice?
To make hourly invoice templates, first of all, you need to track the hours you have worked for the particular project. You can use Microsoft Excel or any other online time tracking tools to track your freelance working hours. Then you can include those hours and your rate per hour in your hourly invoice templates. But make sure your clients agree to pay by hourly based rates for the project.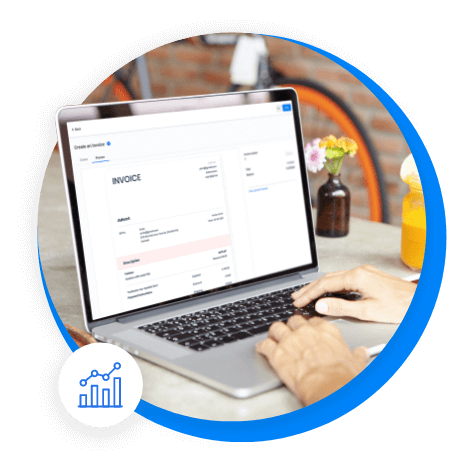 Create Professional Invoices Online Easily and Keep On Top of Your Finances
InvoiceOwl is a feature-rich invoicing app that helps small businesses, freelancers, and contractors to create invoices on the go and get paid quicker!
Get Started for FREE
Conclusion
Using professional invoicing methods for creating a unique contractor invoice template ensures that your clients are clear on what services they have received, how you prefer to receive the payment, and how soon you are expecting payment.
Such techniques help many independent contractors to prevent delays and allow them to get compensated for the services they have provided on time. No matter what kind of contracted work or job you offer, you can create detailed contractor invoices with the contractor invoice template from InvoiceOwl. With our exclusive invoicing templates you can get paid for your work in no time without wasting much time in creating independent contractor invoices.