When you choose to be self-employed, many tasks automatically fall into your lap. These tasks are sometimes clerical and straightforward, while some other jobs require you to do the heavy-lifting and make informed decisions.
One task or a process that takes up a lot of precious time is creating invoices and tracking payments. Creating invoices is a clerical task, and it takes up quite a lot of time. It will depend on the number of clients you have and the number of invoices generated daily. But it is still essential to keep a record of the sales achieved.
But you do not have to worry about getting busy generating invoices. Why? Because we've got it covered for you.
In this blog, we will talk about how to write invoices for self-employed business owners or freelancers with software solutions like InvoiceOwl. This invoicing software will not only generate unique invoices from an invoice template but also track your payments.
What is a Self-Employed Invoice?
Even as a freelancer or a self-employed individual, it is crucial that you present your services and the other business processes professionally. It also includes sending out bills or invoices to your clients. You do not have to be an accountant or have thorough experience in creating self-employed invoices.
We live in an age where software can easily automate a lot of our tasks. Similarly, you can generate your own invoice with the help of automatic invoice software tools.
A self-employed invoice or freelance invoice template is one generated by freelancers or self-employed individuals. A self-employed invoice includes:
Aspects like the services you have offered
The total cost of the services
The payment methods
The due date
It is a reasonably simple invoice compared to other invoices created by businesses or organizations.
A self-employed invoice helps you keep a record of the services offered. It enables you to track the delivery of services and whether or not the payment for those particular services has been received or not. It is a memo that can be presented to the client and retained by the self-employed individual to streamline and manage the payments.
Try our free online invoice generator today!
Whether your business is in construction, landscaping, consulting, photography, auto repair, or the medical field, invoicing takes way too long. That's why we're here. InvoiceOwl makes your invoicing faster and simpler so you can get paid promptly and without the hassle.
What is the Use of Professional Invoices for the Self-employed?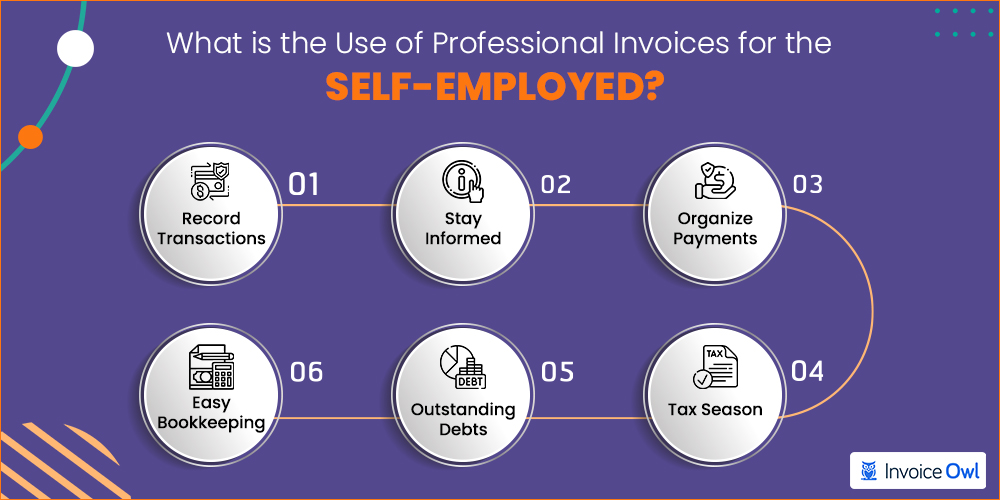 The use of professional invoices is crucial for self-employed professionals for the following reasons.
Record Transactions

Invoices help in recording important sales transactions in the best possible manner.

Stay Informed

It keeps the business owner on top of all the payment due dates. It helps you send out reminders to avoid late payments.

Organize Payments

Having proper invoices will help a business owner in organizing client payments efficiently.

Tax Season

During tax time, it will be easier to obtain important information necessary for submitting your tax return. Whether you have an accountant or are doing your taxes, it is imperative to have a record of invoices.

Outstanding Debts

With a list of invoices, a business owner can divide the payments received and keep a note of outstanding debts or unpaid invoices.

Easy Bookkeeping

Invoices help in facilitating quick and easy management of bookkeeping.

Creating an invoice might seem like a minor task, but it facilitates several other processes in the future. You only realize the value of it when it's missing. You can take the help of self-employed invoice templates to create your invoices.
How to Write an Invoice for Self-Employed Professionals?
To create an invoice for your freelancing services, you can follow the steps given below.
You can start by downloading a professional invoice template from platforms like InvoiceOwl.
The next step includes all the important components like – a unique invoice number, business name, and contact information to create invoices.
In addition to the information, you can add any logos or business media you have for your business.
Then you can continue by including the clients' details like name and contact information.
With every new invoice, you will have to add a unique invoice number. In addition to that, you will also have to include payment details like invoice date and the due date for payment.
Add each service or product that you offered to the clients, along with the price or hourly rate for each service or product. Here, you must mention the quantity and price or hourly rate for each unit.
Calculate the total amount and add it to the bottom of the invoice.
You can include any payment methods, terms, and conditions for payments or any additional payment instructions or disclaimer for the clients if you wish.
Save the invoice and send invoices to your client through email or any other communication channel.
What are the Types of Self-Employed Invoice?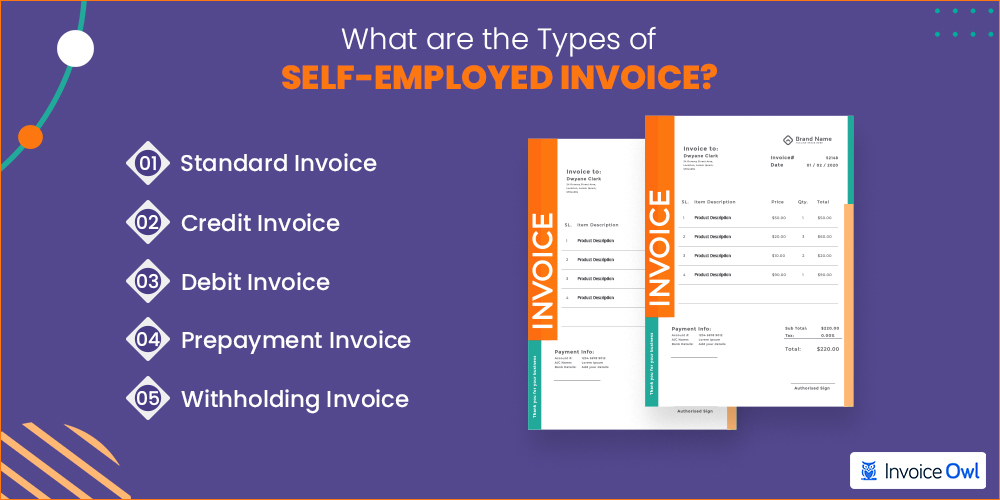 Here are the different invoice types of self-employed invoice:
Standard invoice

A standard invoice is a straightforward invoice that shows the amount owed by the client. It includes a description of the service, the cost or amount, payment methods, and the due date for the payment.

Credit invoice

A credit invoice, commonly known as a credit memo, is an invoice that has recorded the amount you owe to your clients. When a business owner owes a certain amount to the client, they create a credit invoice or memo.

Debit invoice

A debit invoice is a note that records any increase in the amount of money or debt your client owes you. It includes the total cost owed to you by your client at the given time.

Prepayment invoice

A prepayment invoice is the one that is sent to the client right before collecting a deposit on goods or services. The prepayment invoice is sent before collecting the final total owed to you.

Withholding tax invoice

A withholding tax invoice describes the tax payments that have been unpaid by the business. It is created to be submitted to the tax authorities to be clear about why the tax payments have been pending.
Download FREE Self-Employed Invoice Template
Creating an invoice can only be time-consuming or confusing if you do not have the right tools. Do not worry about that.
To skip the hassle of creating an invoice from scratch or finding a suitable invoice template, download the free self-employed invoice template offered by InvoiceOwl.
No matter if you have a small business or you do freelance projects, with the InvoiceOwl invoice template, you will be creating invoices for your clients in a professional manner within a few minutes.
These self-employed invoice templates can be downloaded in PDF, MS Word, and MS Excel.
InvoiceOwl – An Invoicing Software for Self-Employed
InvoiceOwl is the best online invoicing software that makes creating and sending out invoices easier for businesses and self-employed professionals. It helps you create unique and professional invoices for your business or brand.
As a business owner or a day trader, you will always be swamped with tasks that need to get done. None of those tasks can be put away for later. This is where an app like InvoiceOwl can be helpful. As soon as you provide your goods or services, you can instantly create a unique invoice on the spot.
InvoiceOwl takes away the pressure of handling clerical tasks, which are still extremely important for the successful running of your business. It makes sure that invoices are ready to be sent out. It also records any payments you receive and sends out a receipt to the client.
InvoiceOwl can be accessed across multiple devices (desktop, laptop, tablet, and mobile phone) to create and send out invoices instantly. It offers a variety of invoice templates to keep the payment process going and leave a great impression on your customer.
Frequently Asked Questions
What are the important elements of a self-employed invoice?
The five essential elements to be included in a self-employed invoice template are:
Invoice number
Date
Contact Information
Description of products or services
Payment terms
---
Which is the best free invoice template?
You can use free invoice software like InvoiceOwl and find many templates for invoicing. If you are a contractor, freelancer, or small business owner, you must visit InvoiceOwl.. The free professional invoice templates offered by InvoiceOwl will suit your specific needs and help you create an invoice as and when required.
---
How do I write a simple invoice?
A simple invoice needs to be as streamlined as any other kind of invoice. It contains some basic information that is required to bill the clients. Ensure that you have all the essential information and components, so you can fill in the accounting details when creating an invoice for your client. If you need help, you can use an online invoice creator like InvoiceOwl.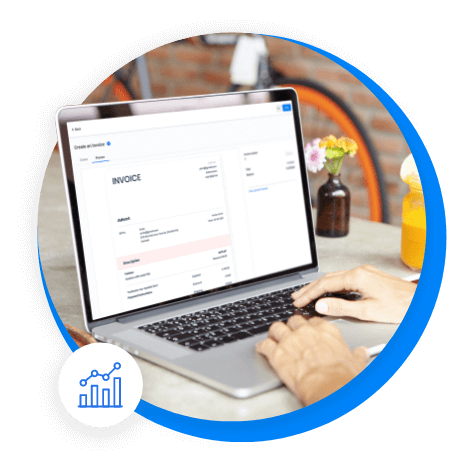 Create Professional Invoices Online Easily and Keep On Top of Your Finances
InvoiceOwl is a feature-rich invoicing app that helps small businesses, freelancers and contractors to create invoices on-the-go and get paid quicker!
Conclusion
As an individual handling most business tasks on their own, you cannot imagine using accounting software currently. But if you still want to manage your payments better, then rather than adding everything on Google Docs or Google Sheets, invoicing software like InvoiceOwl is probably the best option to create the perfect invoice.
If you can make and send professional invoices through an app like InvoiceOwl, why would you want to depend on something else?
Want to keep an eye on other types of professional invoices and more templates? Come to our blog. There will be other articles coming in this series. Feel free to ask any questions you have regarding creating your invoice using a free personal invoice template.