Being a self-employed contractor or a small business owner is not an easy thing. You are responsible for all the business operations, and even accounting work also has to be done by you only. Creating estimates and invoices is one of the most crucial tasks which a contractor has to perform.
It's easy to get oneself into a bind due to expenses, infamously sluggish payments, and the general nature of a credit-heavy company. Creating timely and correct invoices will help you get paid faster and prevent the nightmare scenario of running out of cash.
There are many invoicing methods, though whatever invoicing process you use, you'll want to present your clients with a trustworthy, professional contractor invoice.
But before moving ahead and talking about how to invoice as a contractor, first, let's understand exactly what an invoice is?
What is an Invoice?
When payment is due for work accomplished, a self-employed contractor, subcontractor, or supplier will issue an invoice to their customer. Invoices create an account receivable because they establish a payment obligation. It is, in essence, a written record of the purchase contract in a proper format. Thus, the cash flow is maintained by invoicing.
Now that we have come across the definition of the invoice, the next thing is when and how to invoice as a contractor.
Try our free online invoice generator today!
Whether your business is in construction, landscaping, consulting, photography, auto repair, or the medical field, invoicing takes way too long. That's why we're here. InvoiceOwl makes your invoicing faster and simpler so you can get paid promptly and without the hassle.
When Should You Send an Invoice to the Client?
Ideally, you should send the invoice to the client as soon as possible. However, it is not as easy as it sounds as it takes various steps to complete the invoicing. Still, even a week's delay in billing can result in more than a week's delay in receiving payment.
With the passage of time, more work accumulates, making it easier for both the contractor and the customer to lose track of what is owing and whether it was ever requested. Invoicing late is the surest method to get paid late, and early billing is more likely to get timely payment.
It is for that reason; contractors should be quick about invoicing and a reminder of the due payment in a timely manner. Fortunately, with the help of the latest accounting software like InvoiceOwl, accurate invoices are made much easier and faster than ever before through online invoicing, keeping you and your business up to date at the same time to ensure compliance.
How to Invoice as a Contractor
On the internet, you can find free invoice templates. If you want an easy-to-use professional invoice template, you can check InvoiceOwl, but first, let's check out all the procedures for the invoice.
This article will present ten simple invoicing tips that will help you to present a simple and yet professional invoice to your clients.
Billing Policy

Developing your company's billing policies and procedures is an important organizational effort. Rates, billing method, invoicing frequency, time to pay, chosen payment method, and late fines should all be included in your billing policy.

Not only will billing be easier, but also your client contracts will be easier to analyze if you have a defined set of guidelines for invoicing.

Nonetheless, even if you have prepared a well-established policy for your business, it is still very likely that the contracts of some clients differ. Thus, it's important to know your clients' billing policies in addition to having your own set of guidelines.

So for independent contractors, it is crucial that you cover all the given guidelines and policies of the client so that you can prepare a compliant bill that fits both for you as well as for your client.

For instance, if a client takes a long time to execute the payment and requires a paper-based invoice, then being an independent client, you are required to present an invoice that suits the need while keeping the policies of our business in mind.

Getting these kinds of information early will not only help you with the negotiation with the client but will also allow you to discuss required adjustment to the system that fits both you and your client.

You're Business Information

While creating an invoice, it is crucial to put your business details on the header. Things like your name, address, email, phone number (Contact Details), and logo (if available) should be included in those business details.

Although invoice details may seem self-evident, in order to identify your client's invoice, putting the company name is a crucial step. The most significant branding stage is naming your brand or your name, which ensures that your customers know who to pay.

Adding the company logo, name, and other information to the header of the service provider will look professional to the clients and, at the same time, allow you to market your name.

This ensures that you will be available and reachable to the clients in case they have any queries. This leaves a professional and good impression on the clients.

Information of Client

Once you have added your information to the header, it is now important that you add the client's information below the header. In order to keep all the information correct in the invoice, reach out to the client beforehand to know the client's contact details.

When dealing with big clients or businesses, they generally have a separate department for billing, which has different contact information than the normal business contact information.

Noting down all the relevant information about the client correctly is crucial. You don't want all your hard work of creating an invoice to go in vain just because you added the wrong information about the client. This looks unprofessional is not good for your small business image as an independent contractor.

It is for that reason you should double-check all the given information while putting it on the invoice.

Client-Friendly Process

Keep your client in mind when drafting your contractor invoice. Multiple levels of inspection are required in some circumstances, or a third-party provider can even process invoices. Avoid using industry jargon or abbreviations in your descriptions to ensure that anyone reviewing them understands what is being charged.

Keep easy payment options and bill hourly your service so that your overall process from different projects remains straightforward and easy.

Provide your Service Detail and Invoice Date

In order to mention the list of the service you have provided, create a table with four columns.

The initial column should contain a brief description of the services you have offered to the client. The second column should include the number of hours worked or the quantity of time you have worked, your rate of compensation or pay should be added in the third column, and the fourth column should include the subtotal for each service.

Also, add the date on top of the invoice on which you are sending it to your client.

Billing Terms and Process

On your invoice, you should include your payment method and terms. If there are any late fees penalties, then you should also include the terms of your invoice policy.

Add your payment methods on the invoice; what kind of payment do you accept for services provided. The details of your bank account can be useful here to request payment.

When it comes to creating professional contractor invoices, there are many options available. A simple way of creating free templates is by using a Word or Excel invoicing template. This is a simple and inexpensive procedure.

You can also use time and billing software like InvoiceOwl, which will pick a more comprehensive service option to minimize this unnecessary tension and instead devote your important time to billable tasks.

Bottom Due Listing

List the total amount due for the bill, including any relevant taxes, in the bottom portion of your invoice while billing. Use a huge font, bold lettering, or distinct font color to make this section stand out on the page. Try to avoid any invoicing mistakes during the billing process to save time and effort.

Labeling Each Invoice with Unique Number

Each and every invoice you create should be assigned a unique invoice number. This is more important than one realizes. Assigning invoice numbers can help you and your client in record keeping as well, as it's easier to refer to them. So if you want to look over any specific past invoice, assigning a number is a great way.

Modern accounting software allows independent contractors to search for the invoice with these assigned numbers in a fraction of seconds. The easiest way to assign a number to your invoices is to start from 1, for example, #001, #002, and so on.

Setting Payment Deadline

One of the most frustrating things for any independent contractor or small business is not receiving payment on time for the services rendered. Delayed payment can also affect your operations and can be bad for your contracting business.

It is for that reason, you must always be clear about the payment due date with the client. In large, easy-to-read font, write the payment deadline. Make the payment due date as specific as possible. Instead of using ambiguous payment words like "Payment Due in 30 Days," write out the whole date, as in "Payment Due November 30, 2018."

Set a clear penalty policy of exceeding the due date in order to minimize this. Overdue amounts could be subject to a percentage of accumulated interest. It may also state that you have the right to be reimbursed for the costs you incur in collecting past-due sums.

Robust Processes

Big enterprises have a large team to deploy various tasks, and each individual is responsible for a different task, which makes the process comparatively easy. However, for most independent contractors, it is not the case.

They are responsible for almost every activity, and hence it is crucial for them to create a robust and proactive system to keep everything up to the mark without missed deadlines. There are many things which you can ask yourself to know the effectiveness of the system, such as:

How long should clients wait for a 30-second courteous call? How long should it take for a client to receive a formal email or letter? When will there be another follow-up? Clients normally only require a polite reminder. They'll send over a check as soon as they get a nudge – all they need to know is that they forget the payment.
6 Invoice Contracting Mistakes You Should Avoid
We have understood, what are the things which an independent contractor must follow in order to create and manage invoices for your clients? However, it is equally important to keep in mind the things that should be avoided while creating contractor invoices.
Let's discuss some of the crucial points which you should take care of in order to avoid contractor invoicing mistakes.
Not Sending Invoice on Time

The faster you send the invoice to the client, the more likely you are to receive payment quickly. As soon as you have completed your services and done with all of your work, it is crucial to send the invoice to the client, as discussed above in this article.

The client will be reminded of the project, which will enable them to process the payment as soon as possible. Sending the invoice right away keeps the job fresh in your mind, making it less likely that you'll neglect something and fail to bill for it.

Often when people do not remember to submit the invoice regularly, they affect the overall operation. Not only will it make the overall process slow, but it will also leave a bad impression on the client as if you are not much concerned about the payment.

Forgetting to Track Your Hour

Since you'll likely bill most of your clients by your hourly rate, it's critical to establish a system for recording your hours as soon as you start working as a contractor. You can manually track your hours by writing down the start and end times of each project you work on, as well as a brief summary of the work performed.

Alternatively, if you utilize a cloud-based accounting solution, you can log your time directly in the software, simplifying your time tracking method. This can later be shown during the billing process so that the client feels justified while paying you the amount mentioned in the invoice.

Not Formatting Invoices Consistently

As an independent contractor, you will come across various types of clients with different types of work. This can also affect your invoicing system. This can cause you to fill out bills differently from job to job, wasting time and making you appear less professional to your clients.

Create a blank invoice template that meets your requirements and use it as a starting point for new invoices. It will save plenty of your time and ensure that your branding is consistent each time you charge a client.

InvoiceOwl offers a selection of blank invoice templates that are professionally formatted and simple to use. They're simple to alter, and you can choose from a variety of industry styles if you need more specific invoicing templates to create invoices immediately for your business.

Not Adding Payment Term

Though this point has been discussed earlier in this article, it needs a more detailed discussion to cover the whole point.

It is crucial that you ensure that each invoice you send to your client contains your payment terms and conditions. If your client is not aware of your payment terms and follows the payment procedure that does not suit your terms, it will create inconvenience on both sides.

The client will again have to go through the payment procedure, and your overall payment process will be delayed. Thus it is important that before the project begins, both you and your client are on the same ground regarding payment terms and policies.

Knowing your payment policies will help you to stand in the competitive market and will make future work much easier.

Know Paying Attention to Late Payment

As discussed above, following up on the delayed payment is crucial if you want to keep your work on time and everything up to the mark. It is possible for you to feel awkward when considering sending a late payment reminder.

It might occur to you that it will seem rude, and you might end up losing a client. However, there is nothing bad about it. You can send a polite reminder to the client gently telling them about their due payment.

Not Documenting Important Files

You never know when you are going to need a file you worked on years ago. Keep track of everything linked to the invoice in an organized manner. All receipts and timesheets from the project should be kept.

Having proper documentation is critical. The payment of the contractor is based on the work they document rather than the work they execute. If a payment dispute arises, you'll need evidence to verify prices and payment terms.

One easy way to keep a record of all the important documents is to store them digitally. Financial accounting software helps the contractors in documenting, making their work easier.

These documents are generally confidential, and thus their security is important. InvoiceOwl provides high encryption to your file, keeping them safe, meanwhile allowing the user to easily track their file within seconds.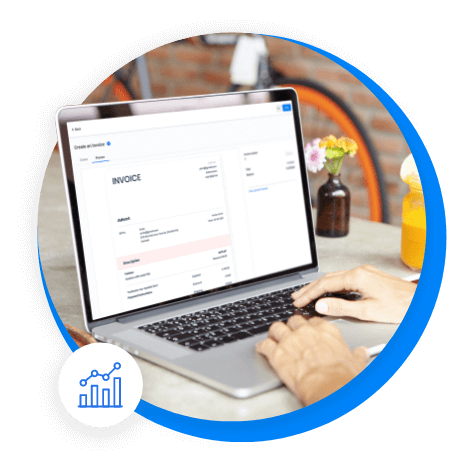 Create Professional Invoices Online Easily and Keep On Top of Your Finances
InvoiceOwl is a feature-rich invoicing app that helps small businesses, freelancers and contractors to create invoices on-the-go and get paid quicker!
Conclusion
With the rising technology, the complex and time-consuming invoicing work has become simpler and faster than ever before. If you are looking forward to creating estimates, invoices, and managing to account in clicks, then InvoiceOwl is the perfect estimate and invoice software for you.
InvoiceOwl makes your business estimating and invoicing work easy and smooth by providing estimation and invoicing solutions in order to streamline your finances and know your applicable tax.
So, you as a contractor can start using this estimating and invoicing software and get a range of benefits. To know how it will benefit your business, start a 14-day FREE trial today!