About 63% of freelancers say that having multiple clients is more secure than sticking with just one.
But, finding clients is one of the biggest and challenging metrics that many freelance developers are facing. If you're one of them, this article is for you.
We've come up with the best tips that will clear your doubts on how to get clients as a freelance web developer.
11 Easy Tips To Get Clients as a Freelance Web Developer
Getting clients as a freelance web developer gets simple if you know the way. So, if you want to catch the bus, these are the 11 simple-to-follow tips that will make you close the deals effortlessly.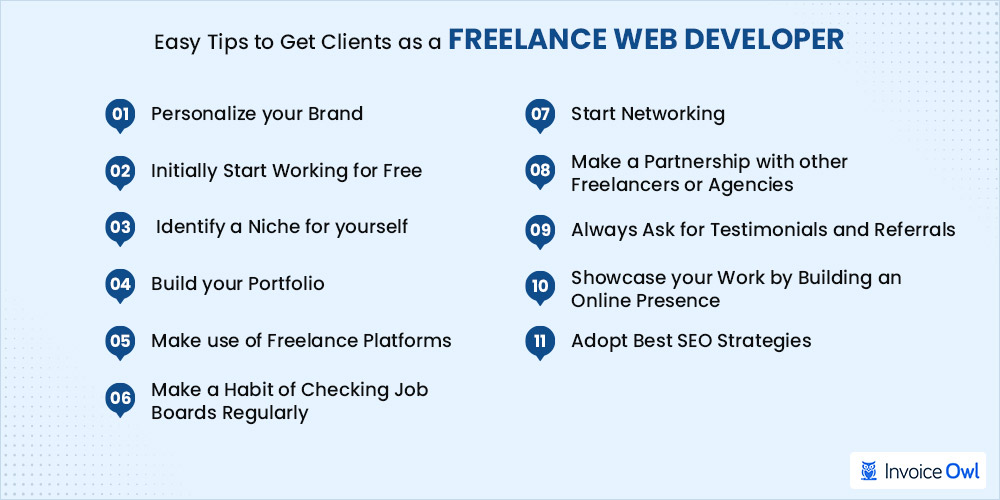 Personalize Your Brand

First, you need to make yourself ready to let people know about your work as a freelance developer. And for that, you need to represent yourself in front of them by adding your core values and how you are different from other developers.

In this competitive market, it is only your personal brand that makes you stand out among your competitors.

We can also say that branding is just your perception of how you want to share and influence your clients to make them ready to hire you.

To make it easy for you, below are some of the best ways that help you build a brand image:

Your ideal client: Generally there are two options available to target. General clients and clients with a specific niche.
Consider your client's requirements: Need to consider your client's challenges, goals, and possible solutions you provide them.
Unique Selling Proposition (USP): It tells your clients about your service offering, why they can opt for your services, and what sets you unique from the competition.

Try our free online invoice generator today!

Whether your business is in construction, landscaping, consulting, photography, auto repair, or the medical field, invoicing takes way too long. That's why we're here. InvoiceOwl makes your invoicing faster and simpler so you can get paid promptly and without the hassle.

Initially Start Working for Free

As a freelance developer, you might have the expertise and skills to create an awesome website for your clients. But, to remain on top of the web development industry, you need to prove yourself by creating freelance projects for your clients for free (of course with limited functionality).

You must have your best projects on hand that you can present and convince the clients to hire you. It's obvious that clients are always looking for freelance developers like you who have the capability to deliver the best project quality to them.

The primary reasons to start working for free are mentioned below:

You get a chance to stand out at the top of the industry.
You can prove yourself in your work.
You can mention your work by creating impressive content, especially in the form of a portfolio.
You can also include testimonials from your potential clients and can even add them to your personal website.
You'll get valuable feedback to improve the skills that you might be lacking.
You have a chance to improve your skills and become a successful freelancer.

You can grow fast like this, and you'll be able to charge what you are worth in the future.

Identify a Niche for Yourself

Depending on your expertise, you need to identify which is the best specific niche you need to work for. For example, it can be health & fitness, coffee shops, education, real estate, and many others. As a freelance web developer, you need to identify the best technologies that you're an expert at.

After identifying a specific niche, it becomes easy for you to target clients, charge them as per their project needs, and it brings chances to earn more.

Build Your Portfolio

Now, you have your brand image and specific niche ready, you can create your portfolio easily.

A portfolio is an essential metric for any freelance web designer or developer. It depicts your work and makes your clients ready to pay for the web design services you offer to them.

You can even ask your existing customers to include your work on their website and as it will work as your portfolio. So, just make sure that you are mentioning all the essential project-based information to highlight your expertise.

Moreover, you can also make a habit of using a portfolio site where you just have to post your work and allow you to share your work globally.

Freelance web developers must have a website to highlight their work. A website is a great platform where there are chances of getting clients and that makes it easy for the clients to pay easily for your service offerings.

If you are unaware of creating websites, then you can prefer other websites to identify how to create websites.

You might find this task daunting if you're a beginner who hasn't built a single website for a new business. In this case, you should find someone who needs a website (like local small businesses) and offer to build it for free.

They get their website, and you get a project that you can add to your portfolio. An alternative would be to build a website as your own project instead of doing it for somebody else.

To make a good impression on a potential client, you need to have a convincing portfolio.

Why does portfolio matter the most?

It represents your expertise, skills, and professionalism.
It can open doors and help you get a better job and increase your paycheck.
It's the first thing that your client sees, so make it perfect.
A portfolio is a must-have for a freelance web developer.

Make Use of Freelance Platforms

You'll come across many platforms that make it easy for freelance developers to get more ideal clients.

I personally suggest using leading platforms like Upwork, Fiverr, and even Toptal. Such platforms have many project requirements from different clients.

You can start working on projects which are underpaid and is a chance to generate 5-star reviews from your potential clients. After that, you can definitely increase your hourly charges to earn more money and enhance your expertise.

One of the best recommendations is that you can ask your friends and family to leave legitimate reviews for you if you have worked for them.

Don't give up if you don't get a job right away. It will take time to build up a good reputation and get more jobs.

Make a Habit of Checking Job Boards Regularly

As we all know, freelance platforms bring more competition among freelancers. For every job getting posted on such platforms, you need to compete with many applicants.

Remember that the jobs that are available on such platforms are low-paying jobs. If you want to earn more money, you need to upgrade your work and make it stronger.

As per the business requirements, the clients simply share their job on their job boards. So, it becomes essential for you to check the company's job boards regularly.

Some of the best job boards you can use to find freelance web developer jobs include:

Freelancers
Upwork
FlexJobs
TaskRabbit
LinkedIn ProFinder

Start Networking

To sharpen your career as a freelance web developer, networking is the one-stop solution.

Do you know how?

It's convenient in getting in touch with the specific target audience.
It builds strong relationships with clients.

Nowadays, almost everyone is deeply involved using social media platforms like Facebook, LinkedIn, and even Instagram. So, we can say that Facebook groups are one of the best platforms where you can grow your network and build relationships with your clients.

Moreover, you can also attend online networking events, LinkedIn profiles, and even join some leading communities like Reddit and Quora.

You can also meet your clients in person by searching for events and conferences in your town. Such face-to-face meetings help you meet freelance businesses or even most expert freelancers and can introduce you to their circle.

You can easily land yourself a client through networking and ask them for referrals and reviews for the future growth of your career.

Make a Partnership with Other Freelancers or Agencies

Let's say, your friend or family member or someone whom you know is working as a web developer in a good web development company or is working as a freelance developer. It's the best way where you can utilize them or grab work from them.

You have an option to make a contract with them as per the project requirements. It's a great opportunity for you to have your work published and you can include it in your portfolio.

Moreover, it's a chance for you to earn money as a freelance developer.

Always Ask for Testimonials and Referrals

Having good testimonials and referrals is one of the best ways to get new clients. The primary reason is that you have more trust with family members and even if they have expertise in working with web development.

Once you provide complete satisfied service to your clients, take feedback from them. It is very essential as it builds a strong reputation among other competitors. Feedback helps you sharpen your skills and get more customers quickly.

Moreover, you can even ask your potential customers to refer you to other people. If they are not able to find an opportunity with that money, they can prefer to find someone shortly.

Showcase Your Work by Building an Online Presence

Now, it's high time to showcase your expertise to the world and it can be made possible by having your own website.

A freelance business person can easily hire a freelance web developer by having a robust website. The website will work as your business card and you can easily highlight your work on the website.

To get clients, the best option is to create the perfect personal portfolio website.

In this highly competitive web development market, you need to differentiate yourself from other like-minded freelancers. So, you need to think of the USP as it is solely responsible for helping you stand out from the crowd.

Social media is another platform that helps you to build your online presence. Some of the best social media platforms are LinkedIn, Facebook, Twitter, and even Instagram. You can use such platforms to:

Share your expertise.
Portray yourself as an authoritative voice on social media.
Share a post about your work.
Use appealing captions.
Improve your user engagement.

Adopt Best SEO Strategies

The best way to reach people interested in dealing with different types of services is using Search Engine Optimization.

You can create impressive and technical content on your website and it should be such that it ranks on a Google search results page. It helps you to generate more traffic and qualified leads to your website.

To get more sales or your first client, it's important to showcase your work on your website. You can even add pricing and other services that you provide.

You need to start researching keywords that your clients are searching for. So, it becomes easy in finding clients for your freelancing projects.

Based on keywords, you can start producing relevant content that is more user-engaged and make your clients ready to hire your services.

You need to pay special attention to locally relevant SEO practices and marketing efforts because local equality is convenient, so people in your area are more likely to become clients.

Keep in mind SEO is trackable and adjustable, and you can always readjust your keywords and strategy.
These are the standard tips that you can follow to get more clients. Still, if you have any questions related to the same, we've highlighted the frequently asked questions in the next section.
Frequently Asked Questions
Where do freelance web developers get clients?
A freelance web developer can opt for the two best options to get clients like:
Freelance platforms
Using social media platforms like LinkedIn
---
How do I market myself as a freelance web developer?
One of the most effective ways where you can market yourself is by creating a portfolio and including them on your personal website or including them in an invoice.
---
What are the qualities that a freelance web developer must have?
Self-discipline
Time management
Professional
Motivated
Good networking skills
Resilient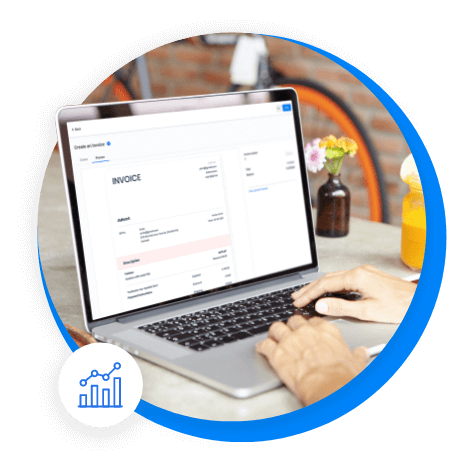 Create Professional Invoices Online Easily and Keep On Top of Your Finances
InvoiceOwl is a feature-rich invoicing app that helps small businesses, freelancers and contractors to create invoices on-the-go and get paid quicker!
Conclusion
Initially, getting clients as a freelance web developer may seem somewhat challenging. But, by working hard and having a strong determination, you can quickly get more clients.
To get clients as a freelance web developer, you need to take care of the following aspects:
Building your personal brand.
Creating websites.
Sharing your work on a Facebook group.
Once you've developed the website for your clients, it becomes essential to send accurate estimates and invoice them. But how would you do that? Have you ever thought about it?
You must adopt an online invoicing software solution like InvoiceOwl that is solely responsible for automating the entire invoicing process. InvoiceOwl helps small businesses and freelancers to create invoices, estimates, and quotes in a matter of seconds.
What are you waiting for? Download the InvoiceOwl app now or you can even Sign Up for free.