Are you tired of creating hotel invoices manually from scratch every time? What if we tell you that you will get an invoice half done from now on for you? Amazing?
InvoiceOwl has brought the best hotel invoice templates for you to download and make your clients pay you happily.
If you want to save time and energy on making invoices manually, read this blog till the end as we will discuss uses, types and how to create hotel invoices using templates. And as a bonus, we will share quick tips for invoicing for hotel businesses too.
So, without any further ado, let us get started.
What is a Hotel Invoice Template?
A hotel invoice template is a predesigned invoicing layout specifically designed for hotel businesses. It has to be extremely flexible because different customers avail different services.
Such a template makes it easy for hotel owners to calculate the total amount of the items, such as room rental, wifi usage, meals order, parking charges, room services, laundry, and all the other hotel services used by the guests. The layout design of the invoice template is designed by professionals, keeping specifically the hotel business needs and requirements.
A template for hotel invoicing helps hotel businesses with more than just generating a bill for guests.
Want to know more about how it can help your hotel business?
Then, let us talk about all the usage of a hotel invoice template.
Try our free online invoice generator today!
Whether your business is in construction, landscaping, consulting, photography, auto repair, or the medical field, invoicing takes way too long. That's why we're here. InvoiceOwl makes your invoicing faster and simpler so you can get paid promptly and without the hassle.
What is a Hotel Invoice Used For?
Other than the tacit use of letting a hotel guest know about the payment information, a hotel invoice serves businesses in a lot of ways. Hotel invoices can even be a part of the stay experience at your hotel.
So, here are the ways to use your hotel invoice to make the most out of it.
Keeping Record of Purchases

Guests may purchase many things during their stay at your hotel and it is quite common for hotels to track and keep details of every purchase. These mistakes make hotels either undercharge or overcharge the guests, which costs hotels a financial loss or reputational.

Thus, you can use a hotel invoice to automate the record-keeping of all the purchases made by the customers and create an accurate invoice every time.

Booking Reservation

A hotel business grows exponentially if it increases bookings. And the most simple way is to make booking reservations a 24*7 process. With a hotel booking invoice, you can charge your potential customers a booking charge and book reservations online. This makes bookings effortless for both the parties, you as a business and your customers too.

Organize Payments

It is a common practice in the hotel business that guests have to pay separately for services such as booking payment, food, and the final payment at the checkout time. Thus, organizing all the payments for multiple guests simultaneously is quite a challenge and opens up many rooms for errors.

However, if you use a hotel invoice, all of it gets automated and you do not have to worry about human and billing errors.

Bookkeeping

Hotels are legally obliged to keep a record of all the bookings and guests who stayed. And not only does the conventional (pen and paper) invoicing take a lot of time to dig the archives and find the needed information, it takes a lot of room to just keep the records.

Whereas, a digital hotel invoice can easily bookkeep all the records and information virtually without occupying any physical space. Moreover, you can bring out any information in just a few clicks.

Hotel Branding

The best way to impress your customers is by smart branding. Therefore, you can customize the sample hotel invoice to make it an integral part of your brand. It lets you use your brand colors and logo to impress the guest with your creativity and make a lasting impression.
Isn't it self-understood that one-size-fits-all does not work when it comes to hotel invoice templates?
As every hotel has different services to offer and different needs, a hotel business has to make use of many types of invoices. For example, a hotel might need different invoices for bookings, room services, gym or spa memberships, banquet bookings, and similar purposes.
Therefore, accommodation rental invoice template designs do need to have more than one type.
So, get ready to explore all the types of hotel invoice templates.
Types of Hotel Invoice Template
To know which hotel invoice template is best for your business, you need to know all the types of hotel invoices first. Hence, here are the types of accommodation rental invoice templates.
Standard Invoice

The standard invoice includes all the basic needs that a hotel business has to create a bill. It includes basic information, such as hotel name, address, and logo, with time and date of check-in and check-out, room rent, and sales tax.

Recurring Invoice

This type of invoice template is used for creating a bill for ongoing payments such as membership charges for the hotel's gym or spa.

Prepayment Invoice

Prepayment invoice is majorly used to accept advance payments such as room booking charges, down payment, and banquet booking deposits before the final invoice at the end of the service.

Time-Based Invoice

A time-based invoice is used when a hotel owner charges for services for the length of time. For example, booking a hotel room depends upon the number of days the stay lasts.

Credit Invoice

This type of hotel invoice template is more like a hotel receipt. It is used to notify clients about a refund transaction and a positive balance in their account.

Debit Invoice

A debit invoice is used to convey to clients the due amount they owe to the hotel. These are also known as payment reminders.

Mixed Invoice

Mixed invoices are a mix of Credit and Debit invoice which have details of all the transactions and displays the net amount to be debited or credited in the account. A mixed invoice is also known as an account statement.
How to Create a Hotel Invoice Using a Template?
Creating a hotel invoice using a template is too tedious and hectic if you are starting from scratch. But to make your life a little less complex, you can use the free hotel invoice template from InvoiceOwl.
So instead of learning how to create a bill in Google sheets, MS Excel, MS Word, or Google docs, let us just simply learn how to create invoices with the InvoiceOwl invoice templates.
Download the best free hotel invoice template from InvoiceOwl for MS Word/ MS Excel/ PDF
Start customizing the free hotel invoice template and add your brand name, logo, color, hotel address, phone number, email address, and other details
List out items with their description, rates, and charges like a total hotel stay, room service, security deposit amount, resort fees, airport transfers details (if available).
Send it to your hotel guests over email by mentioning a unique invoice number or get a print and hand it over in the physical form
And you are done. Isn't it simple and effortless?
This way, you can create unique invoices for your hotel business.
But before getting started, read the quick tips and tricks for invoicing specifically for hotels.
Quick Invoicing Tips for Hotel Owners
As we promised in the beginning, here are some quick tips and tricks on creating outstanding invoices.
Be Open to Multiple Payment Gateways

Make sure you accept debit and credit card payments. Moreover, it should support online & offline payment methods for the least.

Keep It as Detailed as Possible

Don't miss out on mentioning any relative information on the invoice such as invoice number, payment terms, contact information, amenities/services used & their cost, and all the applicable charges.

Personalization is the Key

Mentioning your brand name, logo, address in the brand colors in a unique way is another way to impress your customers.
Download a Hotel Invoice Template for Free
To begin with, a blank page is always tough no matter if you use MS Word or MS Excel. But it is a great help when you get pre-made invoice template designs and InvoiceOwl lets you download hotel invoice sample templates in both the file formats and in PDF too.
Frequently Asked Questions
Which is the best free invoice template?
InvoiceOwl is the best invoicing software to get a free invoicing template. Just enter your essential information related to your customers and you're good to go with your invoices.
---
How do I set up hotel bills in Excel?
Download InvoiceOwl invoice template for Excel
Personalize it with your branding
Enter the bill details
---
What is an invoice in hotels?
An invoice in hotels includes the hotel guest's information like the room number, room rental, room service, contact information, and even use of the pay portion of the facility used by them.
---
What is a hotel receipt called?
A hotel bill receipt has information related to the statement of charges for hotel guests staying in a hotel. invoice, bill, account. A hotel owner just needs to send the hotel receipt to the customers once they checkout from the hotel.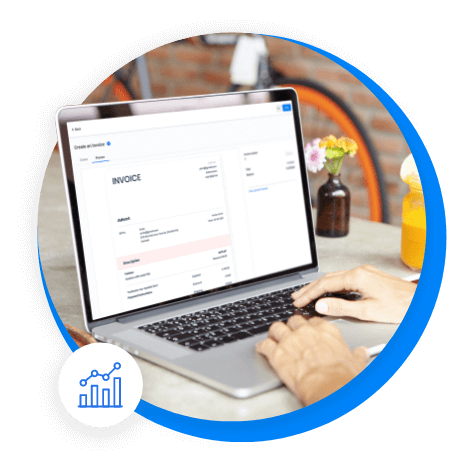 Create Professional Invoices Online Easily and Keep On Top of Your Finances
InvoiceOwl is a feature-rich invoicing app that helps small businesses, freelancers and contractors to create invoices on-the-go and get paid quicker!
Conclusion
In your hotel invoice, you need to take care of the following aspects:
Make your payment processing easier;

Include all the essential information in your invoice that makes it easy for you and your customers to verify;

Include multiple payment gateway options for the customers to pay faster;

Make a habit to use hotel invoice sample templates available for free.
Digitize your payment processing by adopting online invoicing software like InvoiceOwl.
InvoiceOwl has revolutionized the invoicing system. It also provides you detailed reports so that you don't have to use any accounting software separately.
So, what are you waiting for? Get your hands on it and start creating amazing invoices TODAY!