Freelancer Invoice Templates
A freelance invoice is a document used to request payment for provided services. It conveys and explains the final amount to be paid. With the exclusive invoice designed for freelancers, any freelance service provider effortlessly gets paid faster, such as writer, photographer, web developer, accountant, musician, and similar professions.
Since a freelance business is different from large-scale business contracts, a standard invoice would not suit to bill your clients for the freelance projects.
So, let's discuss what are the important elements a freelance invoice must-have.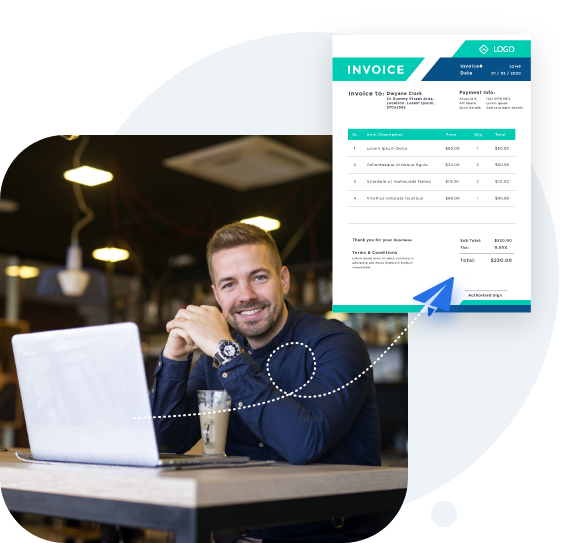 How to Create Freelancer Invoices?
If you have created an invoice manually, you must be well aware of the struggles and time the invoicing process takes.
But to take all the fuss out, InvoiceOwl assists you to create an invoice on the go. You will not even need a computer system to generate one. All you have to do is open the InvoiceOwl app on your smartphone and get going.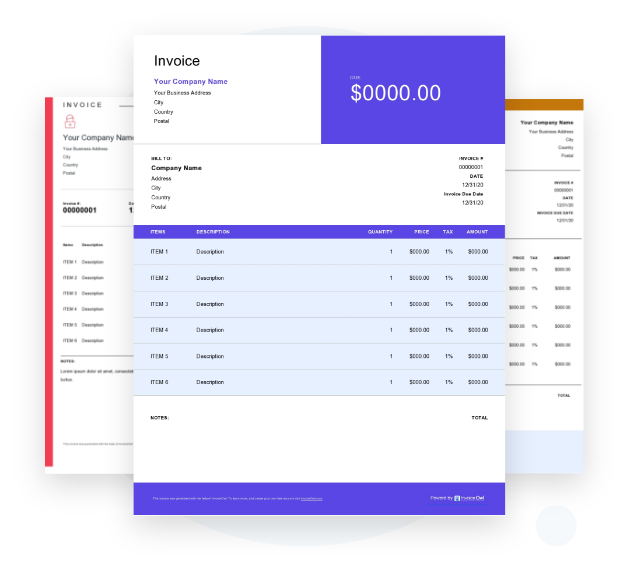 So, follow the below-mentioned steps and you will get a personalized invoice before you know it.
Download the free invoice template from the InvoiceOwl template library
Include your business name, logo, contact information, and customize it to match your brand colors
Mention the invoice date clearly
Mention the client information (for example, client name, phone number, and email address)
List out each service provided and material used individually with description, rate, quantity, and cost
Calculate the applied tax and discounts (if any) under the gross amount
Highlight the final amount to be paid
State all the payment terms and conditions, such as due date, refund conditions, accepted payment methods, and further details of the payment process
Print the invoice or you may send invoices via email too
Download Free Freelancers Invoice Templates
InvoiceOwl provides you multiple free invoice templates that are perfect for a freelancer to generate invoices effortlessly.
Such a freelancer invoice template helps you a lot with getting paid faster. And unlike many other invoicing tools, you can download the freelance invoice template in your preferred file format, such as MS Word, MS Excel, and PDF for free.
So, get your fully customizable invoice template free of cost.
Upgrade Your Invoice Template with InvoiceOwl
Try Our Free Online Invoicing Software Today!
Although using a freelance invoice template lets you create invoices quickly, invoicing is much more than just creating invoices. Thus, InvoiceOwl— the complete invoicing solution lets you streamline your entire invoicing process, from creating invoices to sending them and generating sales reports.
Why should you use Freelancer Invoice Template?
A freelance invoice template helps your freelance business in many ways. Here are some of the major benefits of using a self-employed invoice template
Other than that, a consultant invoice template lets you :
Save your time and energy
Explain your charges in detail
Give your invoices a personal touch
Maintain consistency with all your invoices
Send invoices via email
Accept multiple payment options
Maintain consistency with all the invoices
Request advance, deposit, or a partial payment professionally
Moreover, the freelancer invoice template helps your business indirectly by
Help you maintain a positive cash flow
Spread brand awareness
Protects you against any lawsuits
Win client's trust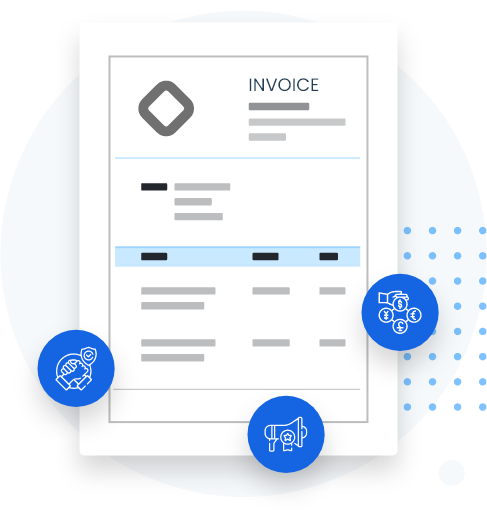 Suitable Invoice Types for Freelancer Businesses
A lawyer provides various types of services, and each of those services needs a distinct invoice template. This way, the lawyer can mention all the billing details quickly and most efficiently.
Therefore, let's talk about the different types of invoices for the legal services providing company.
1
Freelance Services
You need a flexible invoice template to fulfill all the different jobs and services you provide to clients. Don't let this flexibility break your back. Just download this invoice template and help your business to invoice efficiently.
2
Freelance Consulting
Freelancing consultancy needs to deal with different clients and different types of services every day. Thus, a fixed invoice layout can not effectively request the payment. So, use this freelancer invoice template to charge your several clients effectively.
3
Private Agency
As a private agency, you must be dealing with many clients simultaneously. Don't waste your time creating invoices for every client from scratch. Use this freelance template to save your time and let your business serve even more clients.
4
Freelance Photography
If you spend most of the time creating invoices, when would you shoot photographs? Thus, this freelance photography invoice template is designed to satisfy your requirements and help you cut invoice mistakes.
Elements of a Freelancer Invoice
Without the following elements, a freelance invoice is incomplete. So pay attention and we have put a few tips and tricks to get paid faster in between too.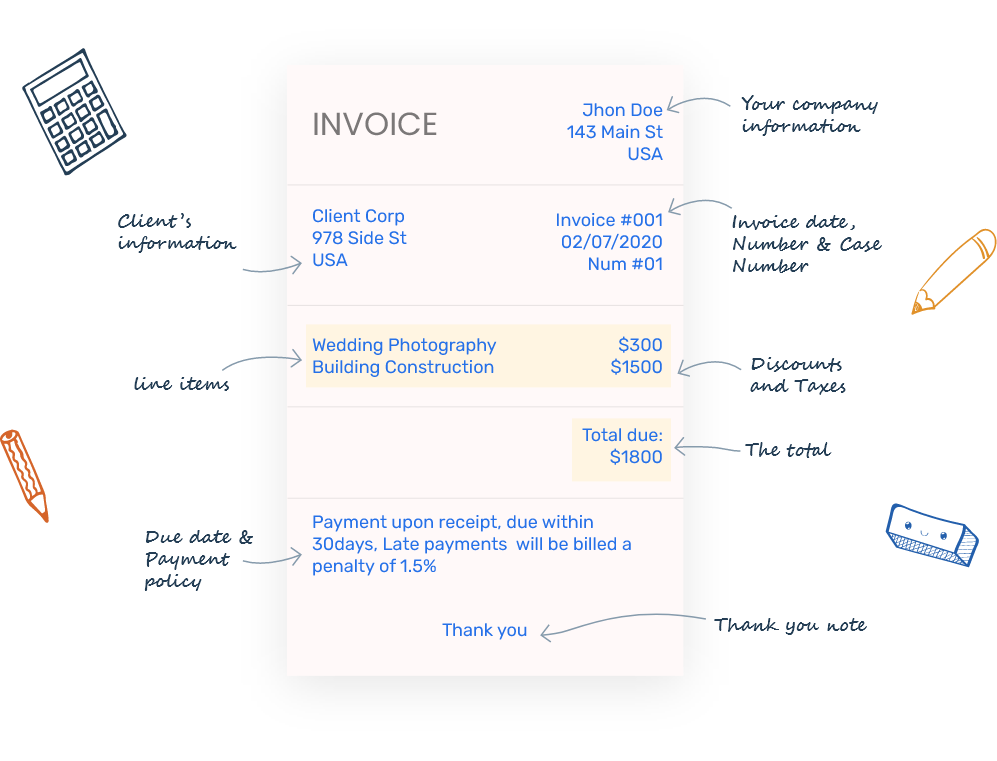 Handy Invoicing Tips for Freelancer
The invoice templates are important to an organization in many ways:
Don't Rely On Handshakes
If you want to be professional, don't rely on handshakes. It might lead to miscommunication and delay your payment at the end of the service. Get your clients to sign a written contract instead of stating all the client requirements and scope of your service.
Request Advance Payments
When you are working as a freelancer, you should not hesitate to request an advance payment. It gives you the capital to start the service and ensures the legitimacy of the client as well.
Send Due Date Reminders
If you want to get paid on time, remind the clients of the due date. Send reminders one or a couple of days before the due date and help them pay you without any late payment fees.
Free Invoice Template vs. InvoiceOwl Invoicing Software
Want to know what's best for you? Let's compare the free invoice template and the InvoiceOwl invoicing app and see the advantages the InvoiceOwl app offers you.
Features

InvioceOwl

Starter$0/month

Free Invoice Template

 Free

Send unlimited invoices and track them in real-time

Automate reminders for late payments

Issue receipts automatically when the customer pays

Record sales & sales taxes, and generate reports

Save clients with all the client information

 
Create Your First Invoice Now
Download Template
Frequently asked questions
How do I invoice as a freelancer?

As a freelancer, you would want your earned money as soon as possible. Thus, invoicing your clients using a freelancer invoice template is the best way to go. Invoice all your clients online and get paid faster.

How do I make a self-employed invoice?

When you own a self-employed business, you have to handle all the tasks like sales, marketing, and customer care single-handedly, so it must be difficult to get time to create invoices from scratch every single time. It is better to use the professional freelance invoice template by InvoiceOwl and get extra hours to focus on business chores other than invoicing.

What are the types of invoices for freelancers?




Freelancers mostly use three standard invoice types, which are:

Fixed rates invoices
Invoices based on work done
Invoices based on hours worked
Create Professional Invoices Online Easily and Keep On Top of Your Finances
InvoiceOwl is a feature-rich invoicing app that helps small businesses, freelancers and contractors to create invoices on-the-go and get paid quicker!