Want to start a freelance business of your own?
We can't blame you.
Working for yourself and being your own boss is the dream of many.
However, most of us are clear about starting a freelance business but are unclear about what sort of business we want to do.
Don't worry!
We have listed the 20 best freelance business ideas that can make you rich.
So, let's just begin.
Try our free online invoice generator today!
Whether your business is in construction, landscaping, consulting, photography, auto repair, or the medical field, invoicing takes way too long. That's why we're here. InvoiceOwl makes your invoicing faster and simpler so you can get paid promptly and without the hassle.
20 Money Making Freelance Business Ideas To Start Right Now
Web Designer

Are you a creative person who enjoys designing?

If yes, web designing might be the right freelance business for you. The great news about getting a web designing gig does not require any degree course.

If you are creative enough and skilled with designing software like Adobe Photoshop, Sublime Text, and Adobe Dreamweaver, you can easily get a web designing project.

Other than that,

Web designers can acquire international clients through the best freelance websites. If you have a computer and an internet connection, you are good to go.

Content Writer

If your writing skills are better than your peers, you should try freelance writing. As online marketing is a necessity for most businesses, the market is full of opportunities for freelance writers.

Good writing skills can get you a contract to write articles, blogs, and sales pages, or you can start your own blog as well.

Freelance content writing is the best job for solo work.

One of the best advantages of freelance writing is that you can get remote work.

So,

want to always be on a vacation?

Be a travel blogger and work from the beach.

Technical Writer

Do you have good knowledge of technical stuff, such as coding and web development but have a creative bone as well?

You might want to start freelance technical writing.

Technical writing includes writing user manuals, coding tutorials, FAQ sections, support material, knowledge bases, research reports, and similar content.

In other words:

Technical content writing is writing to resolve a query. It is the content written for a reader seeking answers.

In addition to good writing skills, you should develop researching skills and SEO skills to have an extra edge over your competitors.

And since you can work on your own hours, this is a great business idea for college students.

So, if you like to explain things to others, this job is perfect for you.

Digital Marketer

Marketing is crucial for every business. Especially in this highly competitive era. A business can never grow if the marketing is not done right. Thus, every business would need a marketer.

This creates a wide opportunity for marketers to work freelance. And as it is digital marketing, you are not bound to be rooted.

You can easily be a digital marketing consultant for a company on the other side of the globe.

Digital marketers can get remote jobs like marketing consultancy, marketing strategy, marketing campaign designing, online advertising, managing email marketing campaigns, social media marketing, managing social media accounts, and other relevant jobs.

And since a majority of business revenue depends on marketing, business owners are ready to pay digital marketers well.

UI/ UX Designer

If designing the user interface (UI) and user experience (UX) for mobile applications and software, you need to start your freelance services now.

A UI/UX designer handles the overall experience of a user with the app or software.

Which button goes where, where it takes the user, what does it look like, and when does it appear, a UI/UX designer is responsible for all of it.

UI/UX designers are always looking for getting the product better and easy to use.

Moreover,

You not only get a job designing UI/UX for a product in development but for enhancing an already existing one too.

That ensures one thing:

You will never be out of job opportunities.

Virtual Assistant

Are you good at multitasking?

Want a quick buck?

Freelance virtual assistance is a perfect job profile for you.

A freelance virtual assistant is generally hired by a small business owner or self-employed business person who does not have enough time to do clerical and tasks.

It involves responsibility for making appointments, scheduling the day, and replying to emails.

Moreover, you can get expertized job roles such as finance, marketing, or accounting virtual assistant as well.

This is generally a perfect role for young parents who want to work from home.

Tutor

If you are an expert in your field and want to start a side hustle, start freelance tutoring.

The best part of this profession is that you can teach anything. Right from tutoring high schoolers to training professionals, you can provide tutoring to almost every niche.

If you want to quit your day job, you can find many online platforms where you can be a featured tutor and earn money online.

Moreover, you provide tutoring only on weekends.

Other than giving you extra cash, this freelance job is great for networking as well.

Programming

IT is one of the world's leading industries.

If you know any of the programming languages, you can find a freelance programming job effortlessly.

There are two ways to go about it.

Work on your own project and sell it
Work on clients' projects and charge hourly

Either way, it is profitable.

You can get jobs like software development, app development, website development, and coding.

And since you can work remotely, serving international clients is not a hassle.

Consultant or Advisor

Have a few hours extra to spend?

Start a freelance consulting and advisory business.

If you have good experience in your profession, you can advise the new beginners and help them set the roadmap.

Use the experience you had in your career for more than just an increment. Guide the beginners and make a positive impact in their careers.

This helps you stay updated with the present-day challenges and trends in your profession.

The most exciting part of this profession is that you get to learn from others' experiences as well.

Sell Your Arts and Crafts

Are art and craft one of your hobbies?

This hobby of yours can get you an extra income.

The art & craft you created on weekends can easily be sold on online platforms.

If you are worried about how to reach maximum clients, make an online presence and show up at art &craft exhibitions.

Once you have a brand, you can take orders as well.

Translation Services

Ever thought being bilingual can help you pay the bills?

If you know more than one major language such as English, Spanish, French, German, and Japanese, you can help businesses translate documents, ideas, and reach a new target audience.

Moreover, when two companies from different countries have to make business deals, a translator is required to avoid any miscommunication.

Before the Covid19 pandemic, the translator was needed to be present in the same room. However, this practice has been changed. You can get remote translator jobs and join the meeting online too.

Podcast Channel

As the world has seen a rise in online music streaming platforms, podcast channels are gaining more popularity day by day.

You can start a podcast for anything. Review movies & books, tell stories, talk about lifestyle, fitness, fashion, or anything for that matter. If you have a lot to say about anything, podcasting is the right thing for you.

Although, starting a podcast needs equipment and knowledge for handling them too. This might sound a lot to a beginner, but it gets simpler as you go step by step.

The best thing about owning a podcast channel is that you do not have to step out of your home. You can set up all the equipment at home and work at flexible hours.

Interior Designer

Interior designing is a great line of business for creative people.

If you can imagine space and light, interior designing can be your forte. And don't worry about the interior designing degree. It sure helps if you have one, but it is not necessary. You can get interior design consultant jobs by networking. Create your portfolio and show your prospects how you have transformed the interior.

You can start interior designing consultation and make money online. And every new property needs interior designing and the old one needs redesigning. Thus, you need to set your target audience and market your services accordingly.

Accounting

Accounting is a tedious yet necessary task. Thus, there is no escape from accounting.

And since the entire process is time-intensive, most small businesses and startups outsource it.

So, if you are good with numbers and excel sheets, accounting can be your thing.

You can help businesses with employee payrolls, financial reports, sales reports, invoicing, managing accounts.

Moreover, with the InvoiceOwl app, you can automate invoicing for your clients and generate useful sales reports and with rich insights.

Other than that, as an accountant, your responsibility includes tracking and managing cash inflow and outflow.

SEO Service

Creating a website is one thing but bringing it to the top is another.

And that's the job for an SEO (Search Engine Optimization) expert. The SEO expert analyses and optimizes websites to get the maximum reach.

Since the internet has created high competition for every business, demand for SEO services is at an all-time high.

Bringing a website to the top results of search engines needs a lot of effort. It depends on multiple factors such as domain authority, keyword density, and on-page optimization.

Therefore, you can charge your client for these tasks separately, or can offer a package including overall website optimization.

Food Delivery

Thanks to technology, food delivery has become easier than ever.

Moreover, the food delivery industry saw new heights due to the lockdown and now has become a lifestyle. Ordering food through mobile has become a norm now.

Thus, starting a food delivery service is one of the great business ideas in today's time.

People who want to work freelance but don't want to stay confined in their homes would enjoy such business.

DJ-ing

If you are the go-to person for a good playlist amongst your family and friends, why don't you give DJ-ing a try?

DJ (disc jockey) is one of the most enjoyable jobs one could have. If you have a keen interest in music and know all the top charts for the latest songs, you should pick DJ-ing for freelancing.

This is one of the live-performing jobs. You would be paid to entertain a live audience by playing music. You would need to mix songs and create remixes of already existing songs to be unique.

It can get a gig at corporate events, personal events, restaurants, discotheques, and music festivals.

In short:

If you want your job to be a party, be a DJ.

Property Manager

As the name suggests, a property manager is a person who helps the property owner to handle it.

Finding tenants, overlooking basic maintenance, invoicing tenants for rent collection, and recording lease information are a few of the operations a property manager is responsible for.

Tour Guide

If you enjoy knowing historic facts and the culture of places, you must be knowing your city well. This opens an opportunity for you to work as a freelance tour guide. Show around your city to travelers and tourists and get paid instantly.

As a tour guide, you must know the best site, seeing places, hotels to stay, and places to eat in your city.

By meeting new people from all around the world, you too get to know different cultures.

Thus, this is a perfect side hustle to earn money while having fun on weekends.

Photo Editing and Video Editing

If you have good photoshop skills, you should start freelancing for photo editing services. You can find future clients online needing a touch-up or a specific photograph edit.

Editing images needs knowledge of photo editing software such as Adobe Photoshop, Adobe Lightroom, or Affinity Photo. And not everyone has this knowledge. Thus, you can make a living out of editing photos easily.

Moreover, if you know video editing, it's even better. Video content is consumed the most on the internet and hence, there is a high demand for video editors.

Many vloggers and YouTubers outsource the editing and pay a hefty price. Thus, if you have a computer capable of video editing, it is a lucrative business you should start now.

Now you know the best business ideas you can start.
But, before starting the business right away, let's discuss the pros and cons of starting a freelance business.
Pros and Cons of Starting a Freelance Business
As every coin has two sides, running a freelance business has advantages and disadvantages too.
So, it would not be wise if you start your business without knowing them in advance.
Pros
You get to be your own boss
You get an opportunity to work on diverse projects
You can work on a flexible schedule
It lets you make passive income
Freelance projects bring flexibility
Freelance jobs provide you a room for creative freedom
Cons
Complicated tax system
You don't get paid vacation
You have to prepare a plan B if a client discontinues a contract
Depending on the nature of your business, you might experience busy months and slow months
You have to market yourselves
You have to be patient with late payments
Alright!
You know the benefits and the challenges of pursuing a freelance business idea.
Now, let's have a quick look over the things you need to consider before starting your voyage.
Important Considerations For Starting Freelance Business
Define your Niche Market

Before starting a freelance business you need to define your niche market because everything depends on that. Right from deciding pricing for your services to the scope of your services, you need to study the niche market thoroughly and know whether it's a profitable niche or not.

Moreover, defining and analyzing the niche market helps you create a successful freelance business plan.

Know your Skills

Knowing your skillset is vital for a freelancing business. You would not want to over-promise your new clients. It would be detrimental to your brand.

Thus you need to always be mindful of your skills and try to enhance them. One of the best ways to upscale your skills is by using the best tools for freelancers.

Do away with Personal Liabilities

Although as a freelancer, you are the sole proprietor of your business, yet you should protect your personal liabilities.

You need to keep your personal accounts separate from your business accounts to secure your personal liability in an unfortunate case of bankruptcy.
Frequently Asked Questions
How can I start a freelance business?
You need to follow these ten steps to start a freelance business
Define your objective
Know your niche
Set a target audience
Fix strategic prices and packages for your services
Mark your online presence with a high-quality website
Put up a premium portfolio
Address potential clients in your content
Learn how to market yourself
Pick your first client thoughtfully
---
What is the best freelance business?
The best freelance business is what you are good at. Every business has the potential to make you retire in your 30's, it is up to you what you want to choose.
The best business is what you find interesting to do.
---
What are some freelance Ideas?
Here are some successful freelance ideas you can start working on.
Content Writing
Digital Marketing
Graphic Designing
Web Development
App Development
Web Designing
These freelance business ideas are profitable enough to let you be a full-time freelancer.
---
Is freelancing a good business?
Undoubtedly yes! Freelancing is a good business as it helps you with the extra income. It is the best as your side hustle.
Moreover, you get to choose your clients and work on your own schedule. This provides you with greater job satisfaction.
However, it might overwhelm you too. Therefore, it might not be for everyone. You need to have entrepreneurship to start and sustain an online business.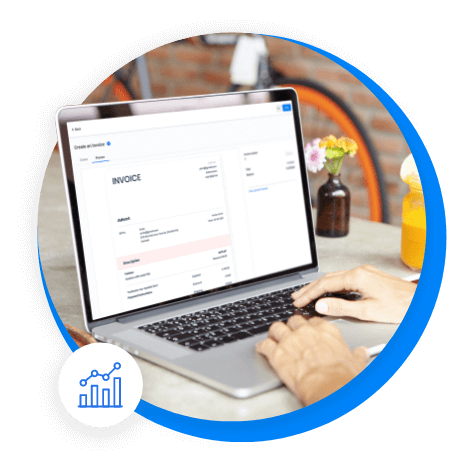 Create Professional Invoices Online Easily and Keep On Top of Your Finances
InvoiceOwl is a feature-rich invoicing app that helps small businesses, freelancers and contractors to create invoices on-the-go and get paid quicker!
Conclusion
We discussed the 20 best freelance business ideas, the pros & cons of working as a freelancer, and things you need to consider before starting to work on new freelance business ideas.
Hope this blog has helped you pick the right freelance business and pushed you one step ahead toward starting your freelance business.
If you want similar blogs, keep visiting the InvoiceOwl blog page.