Contractors perform a variety of services beginning from business consulting, home remodeling, designing, and building services. For such services, contractors need to get paid faster. The contractor's invoice will help describe the amount of work including hours and dates on which the specific work was done since they execute various kinds of work in different durations. Free Printable invoices for contractors are designed for constructors, which is ideal for most of the contract works, no matter which field they are in.
Independent contractor invoice templates are a decent way to request payment in a professional way. To design, customize, save and send independent contractor invoice they do not need any extra efforts to fulfill the core business goals for accounting purposes like –
Expense tracking,
Automatic reminders,
Time tracking,
Credit card billing processing,
Recurring invoicing and more.
What is the Contractor Invoice Template?
Every individual contractor works hard to provide high-quality services to their customers. They always try to maintain their professional impression of their business with a premium invoice sample for the services they have provided. An independent contractor invoice template is a template that clearly lists each and everything a contractor has charged for –
The hours worked,
Supplies,
Travel expenses,
Additional expenses,
Applicable Taxes and more
Now as you know why you should use accurate invoices for constructors, let's move on to exactly what you need to know about invoicing if you are new to this.
Try our free online invoice generator today!
Whether your business is in construction, landscaping, consulting, photography, auto repair, or the medical field, invoicing takes way too long. That's why we're here. InvoiceOwl makes your invoicing faster and simpler so you can get paid promptly and without the hassle.
Get Started Now
What Do You Need to Know About Invoicing as a Contractor?
As a small business owner, you must be charging by hours or at flat rates for the services you have provided. When it comes to getting paid online for the professional services, you must invoice them, and based on your preferences will conclude the specific qualities of your invoicing and accounting purposes.
Overall, you will need to clearly outline in a professional invoice template why you are requesting the payment, as well as the extra charges for the materials. If you want to know more in detail about invoicing you can read out the previous article about How to Make an Invoice?
Note: Solid and consistent invoicing will help you project your brand in a very professional way. You can also include Google Docs or Google Sheets for your invoice template.
How to Use Invoice Templates?
Free contractor invoice templates are trouble-free and insightful to use. Once you download a free invoice template for your small business, you can easily customize them according to your requirements. It will also happen that various projects will have slightly different contractor invoice template formats so it is advisable that you choose a flexible contractor invoice example.
Download the contractor invoice template from invoicing or accounting software
Include a unique number for each invoice sorted by the invoice date
Edit your company details i.e. name, email, phone number, logo, contact details
Add/or remove the details of services/products
Add/or remove the quantity
The total amount of free invoice templates is trouble-free and insightful to use. Once you download a contractor invoice template for your contracting business, you can easily customize them according to your requirements. It will also happen that various projects will have slightly different contractor invoice template formats so it is advisable that you choose a flexible contractor invoice example.
Fill up the special note and privacy policy
Send invoices according to your convenience
Receive the payment using their preferred payment method
All the above should be in an appropriate format and should be easy for your customers to read and understand. And it will be also helpful in case your client wants a physical invoice if it is formatted in an appropriate way. You can use any of the free independent contractor invoices available in the market.
When you use any of the free contractor invoice templates, you can make an invoice document that is designed in an easy-to-read format for your customers, because the main sections will be already included in the free invoice template. Now, let's see how you can use such templates and which of the 5 best invoice templates are for constructors.
What You Should Include in an Invoice for Contractors?
When you are invoicing the customers you need to prepare the list of things that you are going to include in your contractor invoice template before you create an invoice. Apart from this list, you also need to include your payment terms to understand the customer and your general rules.
As an individual contractor and multiple service providers (For example, you are working as an individual flooring contractor), you can also include a breakdown of your charges to create an invoice with an extra edge. For example, you are charging for a specific hourly rate and separate charges for the services or the material you need to include clearly into a contractor invoice template. Just be clear and detailed as much as possible when you are invoicing someone.
A standard contractor invoice template should include:
Your business name, company logo, and contact information
Your client's name and their business details (phone number, email, address, etc.)
Unique Invoice number or work order number
Dates you have provided the services
License information for the licenses you hold
A brief description of your services and labor costs
Flat rate if you have any services
Hourly rates if any
Price of material, quantity, and the description of each material used
Miscellaneous charges
The total amount for all the costs including applicable tax
Note: Your taxes will depend upon your state and city's tax requirements as an independent contractor.
Advantages of Using Contractor Invoice Templates
There are plenty of benefits of using a contractor invoice template, but here are some core advantages that general contractors can look into.
Save time
Ideal for invoicing on-the-go
Easy-to-use
Straight forward design
Quick invoice tracking
Time-efficient
Apart from these advantages, independent contractors can use specific invoice templates to keep track of the products and services they have provided and maintain professionalism at the same time.
FAQs
1. How do I invoice as an independent contractor?
You can choose a free invoice template or you can create your own blank invoice template. You can download invoice templates, modify them as per your small business, send and print the high-quality invoice templates as an independent contractor.
---
2. How do I invoice a contractor?
If you want to invoice a contractor you can proceed using a similar way you are invoicing a client no matter what format you choose (e.g. Microsoft Word, Excel, PDF, Google Doc, Google Sheet, and Spreadsheets). In the contractor's invoice, you just need to modify the details (e.g., contact details like name, contact number, service description, etc.) according to both of your agreements.
---
3. Is sending invoices help getting paid?
Definitely yes, it is worth sending an invoice to the client for the services you have provided. By sending an invoice, you will be clear on your side that you are only charging for the products or services you have provided and not cheating anyone.
---
3. How do I create an invoice?
There are different ways to create an invoice, but it completely depends on your branding needs and how you want to create it to look professional. You can go through our articles and learn how to create a professional template for the invoice. We have identified many ways for you to create professional invoices that help you stay connected with your clients.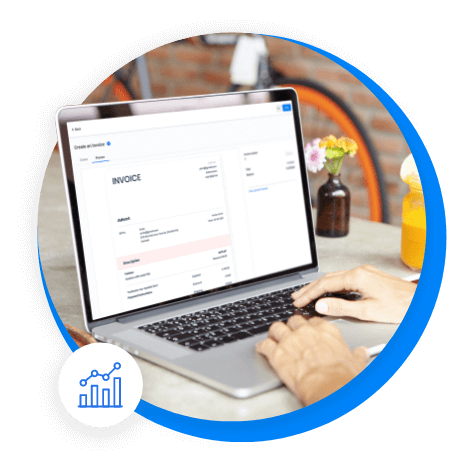 Create Professional Invoices Online Easily and Keep On Top of Your Finances
InvoiceOwl is a feature-rich invoicing app that helps small businesses, freelancers and contractors to create invoices on-the-go and get paid quicker!
Get Started for FREE
Conclusion
You should choose an appropriate invoice format whichever is suitable for your business using InvoiceOwl's contractor invoice templates. It is ideal to use such a contractor invoice template rather than creating one from scratch, which is ready to use. This way you can be professional and create an impact on your clients. Not only these, but you should also avoid making silly contractor invoicing mistakes, which may cost you delayed payments. If you want more details about the contractor's free invoice template or contractor invoice form you can contact us anytime.