Fillable invoices are the type of frequently used and/or customized templates that are available in digital format for trouble-free editing. Each template is considered as a document that can be formatted and permit you to easily add your data into the fillable invoice template. Each template includes the components that you can modify according to your branding style and your business strategy.
Generally, the blank customizable invoice is used by a company or an individual to fill in the additional information and try to collect the payment of the services they have offered to the customer. With such a free invoice template that is fillable, as an organization or an individual, you can list out the quantity of the products or services, the corresponding cost, and the relevant taxes.
These invoices are also helpful to give a clear breakdown of the rates and costs to make it clear to the clients about the charges they are going to pay. You can also keep these templates for your internal records for all the transactions you and the client make internally.
If sending invoices is a frequent task for you and you need to keep editing every invoice template pdf each time for the various clients then a blank invoice online is the best solution for you. Here are more reasons you should use a blank billing template for any business you are in.
Why You Should Use A Fillable Invoice?
By following the accurate free invoice form guide, you will be able to create professional invoices by minimizing mistakes and maximizing your brand's professional appearance. The customizable guides with fields will help you understand, why you should use invoice templates with pre-filled fields to create a detailed and organized invoice within just a few clicks and save them in various formats.
For example, if you choose Microsoft Word, Microsoft Excel, Google Docs, Google Spreadsheets, or PDF invoice template it will give you the freedom to create outstanding invoices that get you paid for all the hard work you have done.
Try our free online invoice generator today!
Whether your business is in construction, landscaping, consulting, photography, auto repair, or the medical field, invoicing takes way too long. That's why we're here. InvoiceOwl makes your invoicing faster and simpler so you can get paid promptly and without the hassle.
Get Started Now
Elements of Fillable Invoice Templates
Elements also play a major role while choosing the right invoice type for your business. So, when you are looking for the right invoice you must look for the elements also that are suitable for your requirements.
A Header That Standouts
When you look for an invoice header that standout at the same time when your clients see the invoice and notice the professional touch you have given to the invoice. To create such an impact you need to make sure that the header of your invoice contains the following components:
Business name and/or your full name
Business logo
Contact details including phone number, email address, and website
Unique invoice number
Date when the invoice is generated
Specification of Products or Services
In this section of the invoices, you must give an itemized breakdown of the goods or services. You can specify the details by adding the following points:
A detailed description of the products or services
Date of purchase or when the tasks were performed
Quantity for the number of items or number of hours
The rate of the product or services
Subtotal of all the listed products or services
Appropriate Tax Type
If your services include any taxes, you must include the appropriate tax type in the invoice in a dedicated column. You can include any of these:
Service tax
State tax
Delivery fees
Sales tax
GST
VAT
The Due date and the Total Amount
The total should be there after you have mentioned the taxable amount. You should also mention the total payable amount on the top of your invoice which is corresponding to the goods and services you have included in the list.
In the customizable invoice, you will have a separate section for the due date and total amount so that the clients can quickly read the highlighted amount and know exactly how much they have to pay.
Terms and Conditions for Better Clarity
Terms and conditions are the most important part of any invoice that justifies the clear instructions for making payments. You clearly mentioned "Due on receipt" to get the payment immediately. When you are sending invoices to any client, you must specify your proffered mode for receiving the money so they can choose the suitable way to make a payment.
How to Use an Editable PDF Invoice Template?
The free PDF invoices are the best way for freelancers or contract workers, for example, Construction owners can use free construction invoice template for Windows and Mac, which enables them to create a professional and personalized invoice template pdf for your clients within quickly.
The invoicing software offers PDF invoice formats, Word, and Excel format. Template PDF invoice offers a clean, classic design, it also helps you get the benefit of customizing built-in features so you can automatically add your pdf format and also include tax.
We have designed various PDF invoice template that is easily printable and completely free, so the one you choose any of the invoice template PDF will depend on your business needs. The PDF invoice template is the most considered invoice template that is a printable invoice PDF form and easy to print and send. So you need to create an invoice wisely when it comes to making an invoice form professionally.
Benefits of Using Blank Fillable Invoice Online
When you have identified the purpose of using an invoice form, the first thing you will think about right after that is, what are the benefits of using blank invoice templates? And you must be also thinking that how quickly you will get paid for your hard work.
The core benefit of a highly customizable blank invoice form is – it can be edited as many times as you want. To take advantage you need to make sure that you need to use an appropriate format type according to your branding style and the information i.e. contact information you want to include, for example, you can choose any of these free fillable invoice template Word, Google Docs, Google Sheets, Excel, or PDf and save the file in any formats.
The main advantage of using any free invoice is that you can be sure that the result will be crystal clear and will help you maintain a professional relationship with your customers. If you keep such professionalism, it will not go unnoticed by your clients.
Well-written free invoice templates also serve as legal documentation for your financial transactions. By maintaining the free invoice records you can analyze and plan your strategies for your business.
Now, that you know all about invoicing a free editable invoice instantly through this article. We are constantly including all the tips and tricks for generating invoice templates. If you want to learn more about our invoicing updates you can follow our blog section and keep learning about the best invoice practices.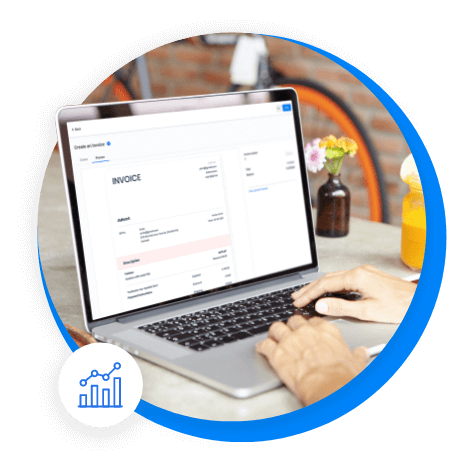 Create Professional Invoices Online Easily and Keep On Top of Your Finances
InvoiceOwl is a feature-rich invoicing app that helps small businesses, freelancers and contractors to create invoices on-the-go and get paid quicker!
Get Started for FREE
Frequently Asked Questions
1. How do I create a fillable invoice in Word?
You can use a customizable invoice form in word to create professional invoices. To help you we have created a classic invoice template for Word that you can tailor in Microsoft Word, you can choose any of the invoice templates according to your business requirements. These specially designed invoices help you maintain your branding image.
---
2. How do I make an editable invoice?
To make an editable invoice template you need to download the editable invoice bill template online and after that, you need to start editing the template and add the relevant information that you need to include in the invoice form.
---
3. How do I make an empty invoice?
To make an empty invoice form you can create it from the scratch using any of the online tools/software or selecting any platform for making an empty professional invoice form. You can also add/delete the details anytime you want.