Consulting is a very popular term in all fields. Many people are working as a consultant and a freelancing consultant. To run their consulting firm successfully they need to manage their financial flow and keep getting money for the consulting work they provide to the companies. To maintain such cash flow consultant invoice template help business consultants notify the clients about the services they have opted for.
Most of the consultants don't know what exactly they need to include in the invoices. For such a situation, consultant invoices can help them professionally justify their services. There are many types of invoices you can choose as a business consultant for your invoices. one of them is creating a free consulting invoice template word or blank consulting invoice template that can help create professional invoices.
The invoice is one of the key documents that allow professional consultants to justify the rates or any point for the tasks and services provided. They can either send such invoices at the time of the services/delivery of the products or bill them later on, and allow the client to make a payment before the last date. As a business consultant, you can also keep a copy of the document as a printed version or in a digital form.
Who Should Create a Consultant Invoice?
All consultants don't need to send invoices, while for some it is essential to send invoices. Whatever invoice types you choose from the options will depend on the agreement between you and the client engaging for your consultant services. The sample consultancy invoice is specifically designed for the business consultants who want to continue getting paid on time and regularly even if they are working as freelancers or on contact.
Try our free online invoice generator today!
Whether your business is in construction, landscaping, consulting, photography, auto repair, or the medical field, invoicing takes way too long. That's why we're here. InvoiceOwl makes your invoicing faster and simpler so you can get paid promptly and without the hassle.
Get Started Now
Types of Businesses Opting Consulting Services
Healthcare
Technology companies
Retail
Food industry
Start-ups
Sales and marketing
Manufacturing
What is a Free Consulting Invoice Template Used For?
A consulting invoice template is used for the people who are opting for the consultancy services of the consultants. Such a template is used to list a description of the project and the amount based on the rates either per hour or per month. If you are running start-up consulting firms or businesses, you should know what you need to include in the individual invoices.
What Should be Included in Your Consulting Invoice Template?
Here is the list of certain pieces of the information you should include in your consultant invoice section (whichever invoice types you choose:
Name, address, logo, and contact information or email address of your company
Name, address, contact details, email address, and phone number of the client
Current date and the due date
Invoice name and invoice number
Descriptions of line item/product/service
Current price/resale rates
Total cost
Applicable VAT/GST or Sales Tax rates
Payment terms and conditions
Privacy policy and rights reserved
The payment method you accept
The subtotal
Thank you note
Essentials Of a Consulting Invoice
Apart from the information listed above, there is other essential information that you can do with a consulting invoice example.
Changing the Currency Format
You can modify the money format used in the sample invoice for services provided by changing the formatting of the currency. For example, if you are using Microsoft Excel, you can change the money format from the number option by selecting "Currency" and choosing the right currency from the drop-down box or highlight with a different color.
Create a Custom Invoice Format
After you download any of the business consulting invoice template you can customize the name, logo, address, phone number, email address, invoice number, project details and description, total cost, the amount payable, installation or tax rates if any, payment terms and conditions, payment methods from the features online invoicing software or invoice generator offers then save it at your convenience. Such a service invoice template gives the freedom to modify every tiny description with flexibility.
Manage the Invoices With Ease
When you choose any online invoice generator or accounting software it allows you to manage all the invoices from one place like Google Sheets. Similarly, when you are creating a sample consulting invoice template on your own using doc or xls or pdf, you can still work and manage the invoices from your desktop or laptop. So, you can also manage the invoices with ease digitally and manually.
How to Charge Consulting Fees
Now, as you know about all the elements of free invoice templates, but are confused about how you are going to charge your clients, especially when you are going to handle a start-up on your own. But don't worry about such things. Here are a few elements that you can consider while charging a consulting fee during the invoicing.
Research about competitor's rates
When you are deciding on the consulting fees for the consulting invoice template, the first thing you need to do is, do a little research about your competitors' rates. The cost or fees may vary in each way that helps you decide the cheaper rates/fees than your competitors and the number of differences.
You can also strategize the personal approach that you can address according to market demand and based on such an opportunity to sell the solutions. You can also switch your rates as per your research.
Decide the rate model
So once you have completed your research on your competitors, you need to make sure you create an appropriate model for the rates/fees that you are going to charge for the service or products. If you ever feel that your solution may take only several hours or sometimes based on your experience and expertise may take longer than expected hours. So, based on your analysis decide your hourly rate model.
Bill the client
Now, the model/documents are decided whether according to an hourly rate or monthly rates, it's time to bill the client for the solutions you have offered. Make sure that you immediately start the designs part of the invoice on the completion of the project and prepared the expense report for any industries you are serving.
Also, ensure that the final invoice is accurate with all the contact information included and has all the rates included in the invoice you are about to send.
Keep all the records
Once you have generated all the invoices, you must keep all the records of invoices of paid and unpaid invoices. This will also help you track and analyze all the financial transactions for future company strategies and make sure that your revenue continuously flows for your consulting company.
Free Consultant Invoice Templates in Microsoft Word & Excel
Now that you are clear with your thoughts, you need to choose the right templates for your invoicing process. There are many options for the template providers who help you create free sample consultant invoices templates in Word & Excel and you can also create them online.
InvoiceOwl also provides professional free invoice templates in Word and Excel. You can check out all the unique invoice designs for your sample consulting invoices template excel & word. These templates are often utilized for the clients or for the third-parties to get paid quickly and continuously.
These formats are flexible and strong enough to justify your rates and the total amount of payment calculations. Apart from this you can make creative in your consulting invoice template and re-design it according to your branding needs. Word and Excel templates are very different in many ways.
For example, if you are using Word invoice template it will give you a standard look and feel, but it will not give you the freedom to calculate effortlessly, whereas if you choose Excel invoice template it will give you standard formulas for the automatic calculations, but it will not give you standard look and feel compared to Word. So, you must choose the best suitable invoice template for the consulting service.
When Should You Send Your Consultant Invoice?
After considering all the aspects of the invoicing process it is time to send your invoices to all the clients you have provided consulting service. Ideally, you should send invoices as soon as you complete your project. But, in case you miss it at that time you can send it within one week.
Still, you miss the chance, you can send it at your convenience, but you have to be ready for the late payments. The most important thing, you need to cross-check the contact information before you send an invoice. Once you send the consulting invoice you need to ask the client whether they have received the invoice or not. Also, remind them of the last date or past due date in a very polite way to get paid.
What Will Happen After You Send Your Consultant Invoice Template?
When you send your invoice, you should expect payments from the client before the last date of payment or by the due date you have specified in your invoice. If you do not receive the payment on time, you can check with the clients by sending the payment reminders. Keep in mind the method of the payments or prepayments you have specified in the invoice so that you can check your payment.
Basically, the free consulting invoice templates are fill-in-the-blank documents that can be easily tailored to fit for multiple purposes. Just be constant about your branding including consulting business name, logo, address, contact details, and payment terms and conditions, etc. Other elements of the lists are up to you. It completely depends on your needs, whether you want to choose a different format or want to include a long list of the projects or hours you have done.
Using consulting templates or contractor invoice template allows a company to set up or customize an invoice sample according to each customer and save the document digitally or in a folder dedicated to the specific clients. Most of the consultants consider invoices for facilitating a smooth-running operation. We at InvoiceOwl always try to help you learn useful tactics through our blogs on invoicing and invoice designs.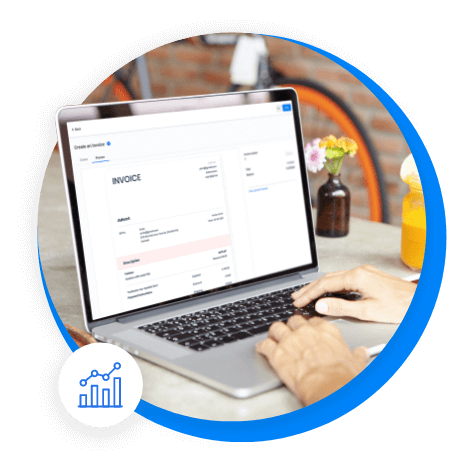 Create Professional Invoices Online Easily and Keep On Top of Your Finances
InvoiceOwl is a feature-rich invoicing app that helps small businesses, freelancers and contractors to create invoices on-the-go and get paid quicker!
Get Started for FREE
Frequently Asked Questions
1. Is it necessary to send an invoice if I am a freelance consultant?
Definitely, yes. Because if you want to be professional and continue to provide consulting work to the same clients or work from the references, it is essential to be professional and create a brand image by sending an appropriate invoice template. For this reason, a freelance consultant should create professional invoices to make an impact and be in a competition and be different among others.
---
2. What should I consider before sending a consulting invoice template?
There are lots of elements that you should consider before you create and send free consulting invoice templates. The main thing that you can consider to create an invoice is to identify the information you need to include in the templates. Collect all the consulting business branding materials and prepare a format that your clients can identify immediately that it's your brand.
---
3. How do I write a free consulting invoice?
Wring an invoice template is not at all a difficult task for consultants. There are plenty of ways you can create professional invoices using free consulting invoice templates or by creating manual designs using Microsoft Word, Microsoft Excel, Google Docs, or Spreadsheets. It depends on your preferences and business needs. When you choose online invoice templates it will be easier for you to modify and to use and save your quality time.
---
4. How to bill for the consulting services sample?
Once you are done with your project, you should start your billing process for the business consulting services provided. Ideally, you should start formating your invoices and including all the details step-by-step. So that when you complete your project your consulting service invoice will be ready and save your time.