When you are a sole proprietor of a small business, it must be tough to stay organized.
Definitely, you intend to offer excellent service and invoice items in your domain. Other than that, it is also crucial to send free blank invoice template for excellent service and product ensuring you get paid and a constant revenue flow to grow your company.
Some of you might find it difficult to create invoices, and you must have your reasons for that, but it is mandatory for mid-sized and small businesses (SMBs) to send invoices for the hard work they have done for the clients.
Well, creating invoices is not as difficult as you think. You can use InvoiceOwl (one of the best invoicing software). This invoice generator comes with free blank billing templates available for professional and individual freelancers.
So, they can create outstanding invoices without much effort.
To help you remain organized and well-maintained for the service you are providing, we will discuss the blank invoice template that you can customize according to your business or industry-specific requirements and is easy to use.
How to choose the blank invoice template that suits your enterprise?
We all know that sending a blank invoice is not the only solution that fulfills all your needs, but it is the most crucial aspect of the business that helps you get paid most professionally.
Selecting an appropriate template is also another critical task. Different industries need to include distinct details according to their businesses.
To help you choose the best printable invoice template, we have included various kinds of blank billing templates in our previous blog – the best free printable invoice template.
These templates help you create professional invoices that are easy to fill out, quick to send and print, and are suitable for your business branding needs. You must make sure that the invoice template you choose reflects your brand.
Following that, you need to modify the templates and itemize services, costs, payment terms, and conditions. So, choose your free blank invoice templates in any format, but just be careful when you are new to invoicing.
Here are 5 types of blank invoice templates that you can consider for your business invoicing.
Try our free online invoice generator today!
Whether your business is in construction, landscaping, consulting, photography, auto repair, or the medical field, invoicing takes way too long. That's why we're here. InvoiceOwl makes your invoicing faster and simpler so you can get paid promptly and without the hassle.
5 Free Blank Invoice Template for Professionals
The chosen blank invoice for professionals should be consistent with branding.
Thus, ensure the template you have selected is printer-friendly, no matter in which format (Microsoft Word, Google docs, Microsoft Excel, or PDF documents). So, you can send professional templates to your client via post, or you can keep them in your records as a physical copy.
If you are looking for a faster-invoicing process, you can choose among the below 5 free blank invoices suitable for your business requirements.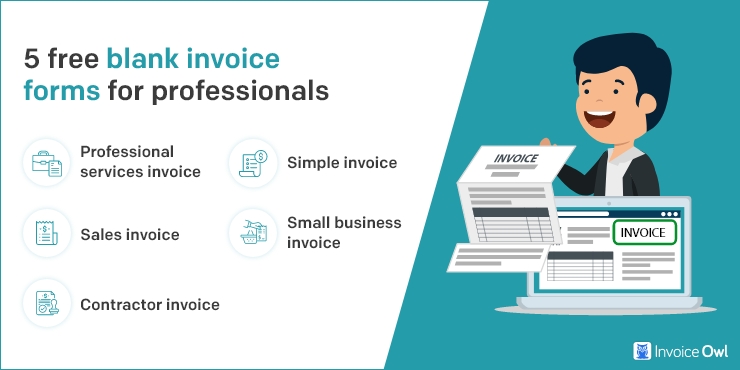 Professional services invoice

Professional services invoices templates are helpful in many ways for businesses of any type, from accounting to consulting. This type of blank invoice template is ideal for impressing clients with your tailored information.

For example, the logo and the details for the services & products make your customers understand your printable invoice professionally.

Sales invoice

Whether you are a shop owner, fashion designer, or doing any business related to sales, you should choose a blank sales invoice template that helps you create beautifully designed sales invoices.

And which helps to identify the purchases your client made that will make them come back to you for more purchases.


Contractor invoice

If you are a contractor, you need to send out payment requests regularly. As you must be charging weather hourly or on some fixed rates.

So, you need to choose the apt contractor invoice template that helps you include all the details about the services you have provided. To help you make the right decision, check out
free printable invoices for contractors, check out this blog and take the right decision for invoicing.

Simple invoice

Simple but professional templates are designed for business owners who are little conscious about their extra expenses and learning to go up in their business.

This simple template gives them the freedom to explain their payment request easily and helps them get paid on time. With a simple printable invoice template that makes sense, they can download and send invoices effortlessly.

Small business invoice

As a small business owner, you definitely want to take care of your customers and desire to grow your business day by day.

For such purposes, small business invoices are designed to help small business owners stay in the competition.

Being a small start-up owner, you have to take care of lots of things. In this situation, small business invoices help you get paid quickly.
Download the free blank invoice template designed for professionals
Now that you have selected a blank invoice template, simply download that selected printable invoice template.
Whether it is Microsoft Word, Microsoft Excel, or PDF template, fill out details, customize it, give a professional touch, and you are ready to send professional-looking invoices quickly.
How to send a blank invoice template to your clients?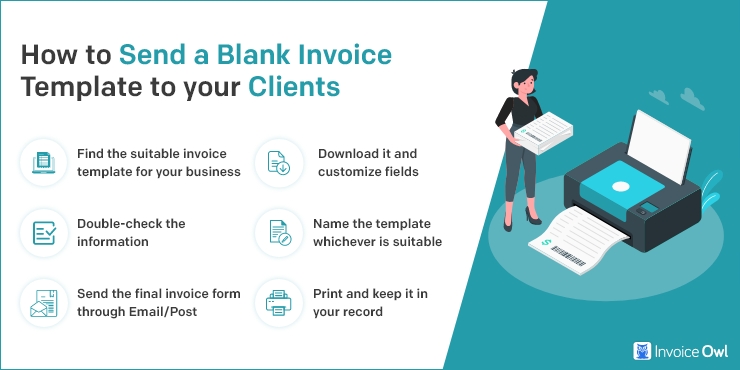 Once you have selected and customized the appropriate invoice template suitable to your business needs, it is your time to send a blank invoice. Let's send it faster to your client via mail or email.
Find the suitable invoice template for your business
Download it and tweak customizable fields
Double-check the information
Name the template suitably
Send the final invoice form through Email/Post
Print it and keep it in record
How to get clients to pay you on time?
Now that you have sent a printable invoice, you must get paid on time. You have to follow a few methods once you send a blank invoice template to the client.
Once you send it to the customer, make sure you talk to the client and make them aware that you have sent them a request for the payment.
Then, send them a thank you email when they pay on time as a polite gesture. But in case of customers miss paying on time for any reason, take follow-up from them and send them gentle reminders for the invoice template you have created.
Sending reminders does not mean being rude. It is a gentle way of asking for the money you have earned.
Frequently Asked Questions
How do I make an invoice for free?
You shall find many blank invoice template providers available in the market. The various kinds of professional templates that you can choose based on your business requirements.
They will help you make an invoice free of cost. You can modify it and send it all for free.
---
How do I create a fillable blank invoice form?
Just download the template. Add the details (business name, logo, customer information, email address, services, list of products or items, total amount, taxes, and payment terms and conditions).
You can use Microsoft Excel, Microsoft Word, or PDF. It gives you the freedom to modify the templates.
---
How do I print blank invoice forms?
Whenever you choose a template, the first step is to check all features before you download any invoice template. Is it print enabled or not? Just make sure that the template you download from Microsoft or Google is customizable, flexible, and easy to use, which is the best way for invoicing.
These little things help you create an invoice faster and reduce the extra efforts that will keep you spending time growing your business.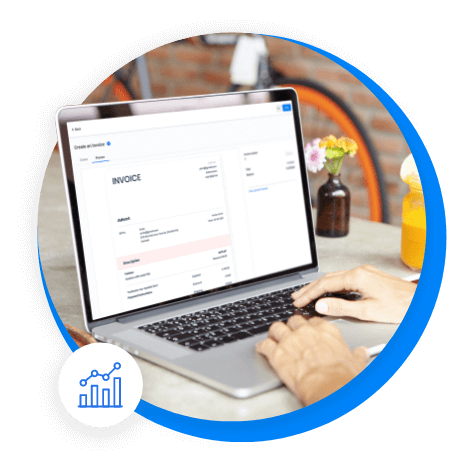 Create Professional Invoices Online Easily and Keep On Top of Your Finances
InvoiceOwl is a feature-rich invoicing app that helps small businesses, freelancers and contractors to create invoices on-the-go and get paid quicker!
Conclusion
Free blank invoice templates for professionals by InvoiceOwl — (the best invoicing software) offers a convenient and easy-to-use solution for all your business needs.
It helps save time you spend on making a professional template and decreases your efforts in maintaining the trust you build for your clients.
If you like to keep up with new invoicing trends, keep visiting our blogs where we will update you about the best invoicing tactics that will be helpful for your business.