Many businesses are still using the pen-and-paper methodology to create an invoice for their customers. They are wasting their time and effort in doing such tasks.
Creating a bill for contract labor work is one of the essential parts to get payment from the customers for any business. Rather than going for a manual process, it's better to go for free online invoice templates available in the market to make it easy for you.
But the question will be arising in your mind: how to create an invoice template for your customers? To answer this question, we have highlighted the essential steps to creating a labor invoice template for your business.
We have covered almost all the essential information related to invoices for contract labor work, including the types of templates available in the market. So, let's get started.
Getting payment for hard work is one of the essential parameters for any contractor. Nowadays, creating bills manually for potential customers is a challenging and time-consuming task. There are more chances of missing some vital information.
To get rid of such manual processes, you need to include an easier way to create invoices, adopting a contract labor invoice.
Such an invoice template typically works as an free download invoice generator software. In your invoice, you need to include the following parameters:
What work was performed?
Total costs of contract labor work
Any additional information related to the job
By creating an invoice, communication becomes easy between you and your clients. Also, you do not need to create a new invoice from scratch. Just download the template, and you are good to go.
Apart from payment collection, invoices play a vital role in recording multiple transactions and other financial details. Also, the businesses can easily file sales tax and perform the legal formalities.
Essential Steps to Create a Contract Labor Invoice
Now, it's time to create online invoices for your business. The process is relatively simple as you just need to download your favorite template either in Excel, Word Doc, Google Docs, Google Sheets, or any other app of your choice.
Once the template is available to you, you can start customizing it by entering essential company information, services undertaken, pricing structure, payment mode, and many more. Let us focus on a step-by-step guide that will help you to create an invoice with ease.
Step 1: First of all, you need to download a free invoice template of your choice to provide a bill related to labor contract work.
Step 2: Fill in the essential information like your company name, phone number, address, job description, and contact details.
Step 3: Next, you need to provide the customer name, list of service offerings they need, work description, and payment mode directly from a bank account.
Step 4: Based on all the information available, it's time to create a unique invoice number. Along with an invoicing number, you need to include the issue date and due date of payment.
Step 5: Now, you need to include the list of contract labor services mentioning the complete description of the material used in performing the job.
Step 6: Perform the calculation of the overall cost and include the total cost of a contract labor work.
Step 7: Include payment terms, payment mode like cash or credit card, and additional information
Just save the invoice as a simple document or in the form of XLS or PDF format. Once done, you need to send a bill to your customers either using email.
What are the Different Types of Contract Labor Invoice?
Nowadays, in this competitive world, there are multiple types of invoice templates available in the market. Depending on the clients' requirements, you need to select an appropriate one that suits them best.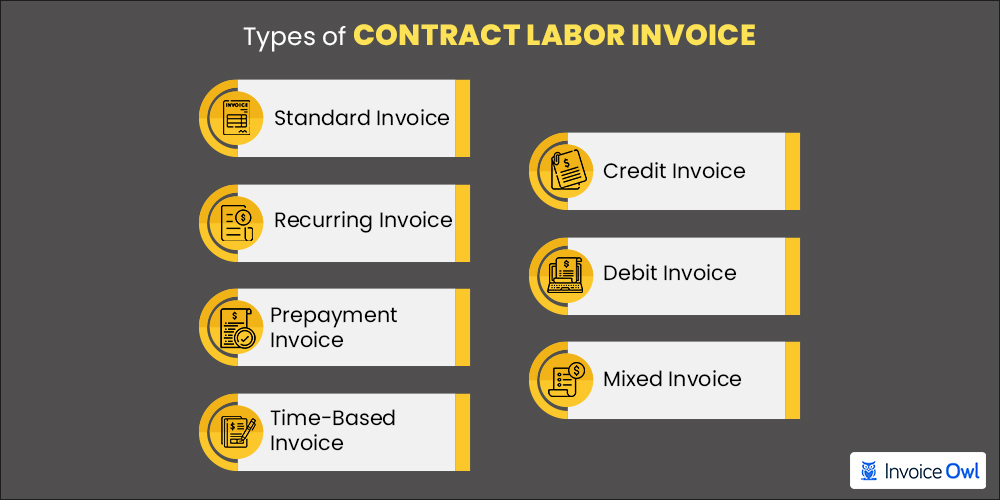 Selecting the perfect invoice shows the clear communication between you and your clients related to the charges you offer. Now the question arises: How to choose the template for invoices?
To answer this question, you need to understand the various types of online templates available in the market.
The common types of invoice templates are:
Standard Invoice
Recurring Invoice
Prepayment Invoice
Time-Based Invoice
Credit Invoice
Debit Invoice
Mixed Invoice
Whatever the work you select for your client, like a contract basis or full-time project, invoice type is available to choose the best per your clients' needs.
Moreover, multiple format types like PDF, XLS, and many more to download, depending on the requirements. Such invoice templates are designed explicitly for handymen, landscaping industries, home/room cleaning companies, air conditioning companies, construction companies, inspectors, roofers, electricians, and more.
Frequently Asked Questions
How detailed should an invoice be?
An invoice is a document that includes detailed information about the legal company name, number, customer name, and most importantly, an invoice number. It should contain all such essential information whenever any business personnel views the invoice.
---
Is a handwritten receipt legal?
Yes. A written receipt is also considered a legal one. It works the same as simple contracts like IOUs and promises of a raise. It is regarded as a legal receipt as it works under the Statute of Fraud.
---
Can I issue an invoice before delivery?
Yes. You can provide an invoice to your customers before the delivery date. Many times, it happens that suppliers issue tax invoices just before and after service delivery.
Conclusion
Take your valuable time to read this article and create an invoice for your customers' contract labor work.
We have highlighted the essential steps to create invoices for your business. Also, we have included the common types of invoices that will help to select the best one.
You can easily download an invoice template available in the article and start creating invoices for your customers.