People rely on your expertise and knowledge about the construction business, so you must focus on enhancing your skills rather than investing your valuable time in administrative tasks, such as invoicing. Instead of creating an invoice form from scratch, you should choose free construction invoice templates that help you create a professional-looking invoice design most quickly. Want to know how?
Here in this blog will explain everything you need to know about construction invoice template: What they are, why you need them, and what best practices can help you get paid on time.
When you are running construction businesses you must know every aspect of getting paid on time, from noting down the hours you have worked to send a professional invoice form properly and on time. Invoice templates are the most important component of the construction industry as it helps construction companies and freelancers get paid for the services they have provided and help them complete the legal formalities at the time of disputes and delays.
What is a Construction Invoice?
A construction invoice is a legal document that a construction company, vendor, or freelancer issues to a customer who opts for their services and products. A construction invoice should be sent before or after the construction services have been provided for a construction project.
It is considered as proof or verification of an initial agreement between a customer and the construction business owners regarding the costs of services, labor costs, material, and hours worked, and how the customer must pay. Invoice templates also include payment requirements, thereby construction service providers can create accounts receivable. It is a written record of the purchase agreement.
A standard construction invoice includes specific details such as:
Invoice number (make sure you create a unique invoice number)
Invoice due dates
Business details, for example, company name, address, contact information, and phone number of contractor
Name, contact details, street address, and phone number of the client
The invoice issue date
Itemized list of products and services along with the description
The unit price and total cost of the goods and services provided
Total amount due including sales taxes
Terms and conditions
Preferred payment method
Of course, every construction business functions in its own way and handles its invoicing practices differently. But they need to maintain professionalism through the invoices they provide depending on the construction work they have done.
Try our free online invoice generator today!
Whether your business is in construction, landscaping, consulting, photography, auto repair, or the medical field, invoicing takes way too long. That's why we're here. InvoiceOwl makes your invoicing faster and simpler so you can get paid promptly and without the hassle.
Get Started Now
Why Should Construction Companies Create Professional Invoices?
Construction business is all about specialized skill, knowledge, and expertise about the construction products and services, as well as knowing which material to use and where to use it. Apart from that companies need to perfect have invoice templates that clearly mention their expertise as well as all the associated costs for the materials and supplies.
Companies use free invoice templates to illustrate the specific project requirements of each job they have done. It is the only way to be clear and understandable about the services, so the customers exactly know what they are paying for. Construction companies need to provide great customer service, so they need to be sure their invoice templates look polished and professional, and it indicates their high-quality work through the construction invoice template. That is the core reason for using a pre-filled free invoice template.
Construction Invoices vs. Other Types of Invoicing Documents
Some of the information mentioned above may also be in other types of construction work invoices and documents. However, a construction invoice is not the same as other formats that you will also often see in operating a construction business.
Construction Invoice Template vs. Purchase Order
A purchase order is just a receipt or a record of the products or services that a client has ordered from a construction service provider. It is used to keep track of the relevant information about the services or products that have been ordered, and it is not anything about the payments.
A purchase order is issued before the transaction is done, while a construction invoice indicates all the details about upcoming transactions and customer information along with the prices and final payment information that have been agreed upon.
Construction Invoice Template vs. Bill
A bill is created to request immediate payments, and it is generally used in other commercial transactions such as restaurants, retail outlets, car dealerships, etc. Typically, a seller or service provider will hand over a bill to the client and expect to get money in exchange.
A construction invoice is quite similar – it also indicates prices and contains the payment information but the difference between a bill and a construction invoice is when you send a final bill you request the total amount immediately whereas when a contractor sends a construction invoice the payment request is not immediate. The contractor can also send templates of the credit invoice. In this case, materials suppliers can also use a template invoice for the materials they supply.
Best Practices for Construction Invoice Template
Every construction business has its own invoicing practices that they are following. Most of them know what works for them and what is not working for their successful business. Based on their experiences they need to change their strategies. And we all know that there is always room for improvement. Here are some of the best practices that you can follow while creating a free invoice template.
Send invoices on time
There are very few contractors who will say that their customers consistently pay them on time. The longer you wait, the longer you must wait. When invoices are sent late, there are chances of late payments. Plus, outstanding invoices can mess up your business cash flow. So, it is ideal to send your free invoice as quickly as possible (while the work is still going on in the case of a longer project). Also, make sure that the client receives the free invoice while the construction work completed is still fresh in the client's mind.
Keep invoices professional and detailed
When you are creating invoices, your purpose is to make your clients aware of why they are paying and what they are paying for. It is always good to include enough payment information and client information that supports your payment request. But not too much where the invoice is overloaded with over impossible to read and provides a bad impression.
One of the easiest ways to accomplish this is to have a standard format. No doubt the invoice requirements will vary from project to project but you need to make sure you standardize the basic format. You should also uniform the method of labeling products or services that helps the entire organization.
Payment terms (Short – but meaningful)
Generally, invoices provide 30 days of credit to the customers to pay, still, some companies offer 120 days. However, longer payment instructions lead to a higher debt ratio, which can be critical for the companies' finance. In this case, you need to clearly mention your terms and conditions so that your customers know exactly when you are expecting payment. But do not try to include burdensome terms and conditions along with payment instructions. Build trust and a collaborative relationship with your client so that you can help them on the path towards securing better terms.
Late pay penalties or Early pay discounts
The easiest and efficient way to speed up the payment process is to offer a discount if a client pays before the payment is due. On the other hand, some companies choose to mention late payment penalties in case the client misses the payment due date. Both the ways are simple tweaks to gain your total amount as early as possible that can speed up your payment collection. Discounts or penalties no matter what a customer chooses as a contractor you must inform them about your intention very clearly.
Invoice follow-up
There is no need to be shy when you are asking for payment. Do not be afraid to follow up when you have outstanding invoices. But you should send gentle reminders at the initial stage so that clients understand your concern. You can also take follow-up with phone calls or emails; just be sure you end up getting paid quickly for what you have worked. Before sending payment demands, it is a good idea to talk to the customer about the pending invoice.
If you follow the above given best practices while creating a free construction invoice template, there are high chances that you will get paid on time and customers will easily understand your invoices.
Frequently Asked Questions
1. How long does a contractor have to invoice?
There is no deadline to send an invoice. But, the contractor must start creating invoices as soon as they start their project and note down the hours they have worked. Once the project is done they should immediately send the final invoice to the clients so that the client can pay you in a timely manner.
---
2. What are construction invoice templates in the construction industry?
Construction invoice templates are one of the easiest ways for a contractor to create unlimited invoices. It comes with pre-filled basic information related to the construction industry where a contractor just needs to add their hours and description of the services performed. The construction invoice template is created to ease the work of a contractor and help them get paid faster.
---
3. What are the standard payment terms on the construction invoice template?
The standard payment instructions on the sample construction invoice template help you accept ongoing payments and let customers know what will be the consequences if they don't pay the total cost on time or at the payment due date (i.e. late payment penalties). The contractor can modify the standard payment term as per the client's agreement before the invoice has been created or before the project starts.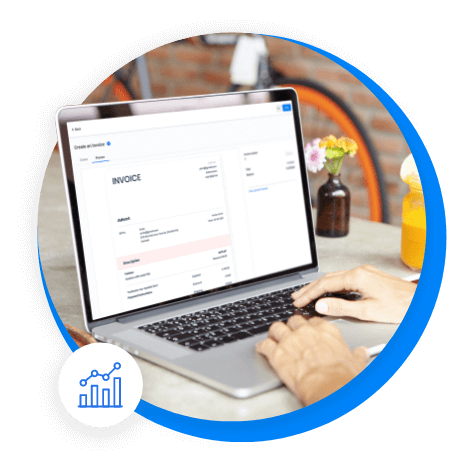 Create Professional Invoices Online Easily and Keep On Top of Your Finances
InvoiceOwl is a feature-rich invoicing app that helps small businesses, freelancers and contractors to create invoices on-the-go and get paid quicker!
Get Started for FREE
Conclusion
The contractor uses your experience and skills to build strong, safe houses and buildings. People rely on your expertise, so it is ideal to spend time on your expertise rather than spending on administrative tasks such as professional and organized invoicing. Still, if you follow the above given best practices it will be easier for you to get paid on time. You can also simply download InvoiceOwl 's highly customizable construction invoice template in Google docs, Google sheets, Word, Excel, and PDF. You can also opt for accounting software. The free invoice template is completely customizable and suitable for every contractor's branding needs.