As small business owners, the primary goal to improve business cash flow is by managing the financial state.
The simple ways to do that is by:
creating invoices quickly
making sure to receive payment on time
keeping track of what's been paid and what's outstanding
And for that, you need a robust solution like online billing software that helps you strengthen your organization's financial structure and boost business growth. However, several benefits of billing software play a crucial role in enhancing your economic perspectives.
Try our free online invoice generator today!
Whether your business is in construction, landscaping, consulting, photography, auto repair, or the medical field, invoicing takes way too long. That's why we're here. InvoiceOwl makes your invoicing faster and simpler so you can get paid promptly and without the hassle.
Here, we've highlighted some of the best benefits to make it easy to select the billing software for your needs. So let's get into it.
Top 9 Benefits of Using Billing Software
Let's see how online billing software benefits your organization in 9 different ways.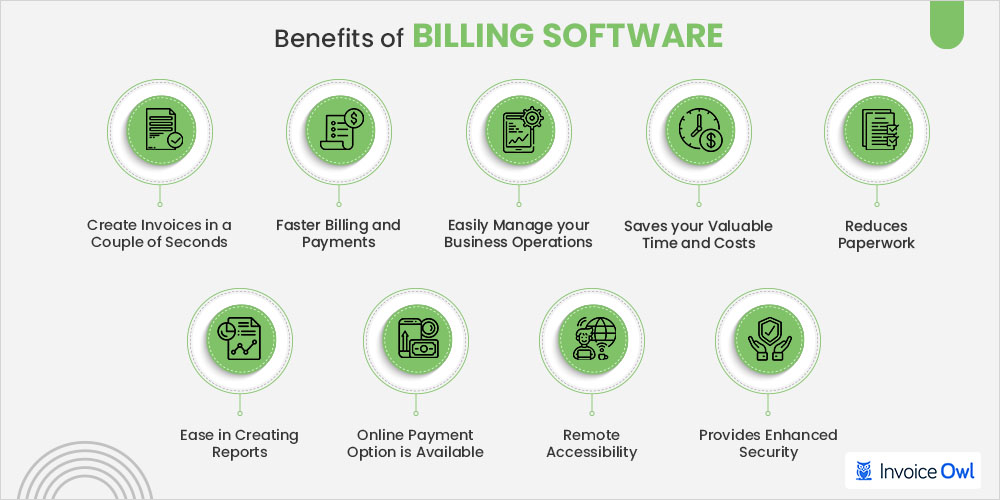 Create Invoices in a Couple of Seconds

Are you getting bored by using a manual billing process? It is indeed tedious and time-consuming.

Why?

Because you need to:

verify the transactions
prepare invoices
register the essential information in records
send the professional invoices to the customers

Looks quite difficult, right?

No worries!

Billing Softwares make it easy for you.

The best billing software for you resolves all the above manual and complex steps of your billing system. In addition, most software contains templates to create invoices faster.

Faster Billing and Payments

As stated earlier, the manual invoicing process is time-consuming, and you'll need to deal with numerous steps before an invoice is generated. Once you've provided the services or delivered the product to the customer, an invoice needs to be created.

One of the best recommendations is to adopt an online invoicing software that makes your payment processing easier. The billing software will automatically send the bills to multiple customers at a time. The faster you send the bill, the earlier you get paid.

Other than that, collecting payments via multiple payment gateways with invoicing software is no big deal. You can accept online and offline payments too.

InvoiceOwl is one such invoicing software that brings automated billing systems. You can not only create invoices, but this software enables you to create and manage estimates, purchase orders, and credit memos too.

Easily Manage Your Business Operations

Many times, you might forget to look out for invoices that are still unpaid. In that case, you need to be aware of all the essential criteria to manage your business finances.

The online billing software is one such solution that allows you to create and send an invoice to the customers. Moreover, it makes the billing systems easy for you to keep track of reminders and automatically generate invoices each time they are sent.

Online billing software provides an efficient way to track sent, paid, or unpaid invoices and sends automatic reminders to speed up the billing system.

Saves Your Valuable Time and Costs

Saving time by using business management tools like billing software is one of the biggest benefits. Not only that, it will help you to get paid faster.

The online billing software allows you to get rid of additional charges of paper, envelopes, and even courier travel expenses. And the good part of this software is that all the essential information such as client data, accounting data, is stored in the cloud. Thus, you do not need to worry about storage.

Reduces Paperwork

One of the biggest challenges for business accounting is managing the finances manually, with a lot of paperwork. As a result, business owners need to do a detailed analysis of almost every aspect of financial management.

Other than being solely responsible for handling multiple invoices for the customers, the billing software allows you to filter your invoices by days, payment status, as well as download or print them so that you can send them to your customers for boosting customer satisfaction. Therefore, it might also work as your customer relationship management tool as well.

Ease in Creating Reports

By adopting online billing software, you can easily create reports with a few clicks. In addition, you'll have your personalized dashboard, where you can view the invoices-related information.

You can also manage multiple company finance records and customer-vendor records. You can compute tax returns efficiently on your transactions for easy reporting.

Moreover, it allows you to generate reports on buying patterns and project cash flows to make informed decisions about allocating marketing resources.

Online Payment Option is Available

The billing software allows you to perform payment processing easier than ever. For example, it allows you to send secure links to invoices via email; customers can sign into a payment portal and instantly pay their invoices.

Moreover, an online billing software makes it easy for you to perform transactions and manage payments in the safest way that cuts down costs from purchasing stationery and printing business invoices.

Fast, efficient invoicing vastly reduces the margin for error compared to manually processing invoices from scratch. This, in turn, saves your business time, which saves your business money.

Remote Accessibility

The billing software allows you to check your invoices directly from smartphones. In simple words, you can access it anytime, anywhere.

You will remain up-to-date on the invoicing system even while you're on vacation due to the remote access.

Provides Enhanced Security

Online billing software stores all the essential information in the cloud and so your data is completely secure. In addition, it protects files from interference and loss. And helps you increase the volume of recurring customers.

On the other hand, It helps you raise customer confidence about personal and business data security and payment processes. In addition, there will be no data loss or leakage that could endanger your company's or your customers' personal information during the transaction process, such as credit card payments.
Frequently Asked Questions
What are the types of billing?
Generally, there are twelve types of billing available in the market:
Standard Invoice
Credit Invoice
Debit Invoice
Mixed Invoice
Commercial Invoice
Timesheet Invoice
Expense Report
Pro Forma Invoice
Interim Invoice
Final Invoice
Past Due Invoice
Recurring Invoice
---
Is billing and invoicing the same thing?
Both the terms, billing and invoicing convey the same meaning in somewhat different ways. In short, an invoice means you are requesting money, and a bill means that you are required to pay for something.
---
How to create an invoice for hourly work?
Maintain the invoice record clients-wise
Number the invoices date-wise
Show all the calculations
Use e-Invoicing
Market your services
---
Is there any hourly invoice template available to download for free?
Yes. InvoiceOwl offers free invoice templates to charge your clients on an hourly basis. You can easily download the templates in different formats like Word, Excel, PDF, and even Google Docs.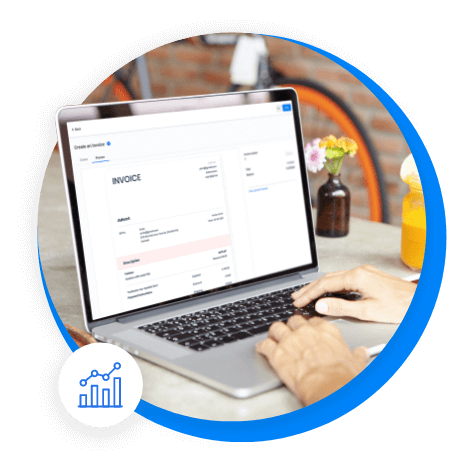 Create Professional Invoices Online Easily and Keep On Top of Your Finances
InvoiceOwl is a feature-rich invoicing app that helps small businesses, freelancers and contractors to create invoices on-the-go and get paid quicker!
Conclusion
Choosing billing software is a big decision for all businesses. Sometimes you may find that an industry-specific software is right for you and sometimes you feel that a universal solution is the best that offers everything.
It is up to you to find the appropriate solution, you just need to ensure you don't be one of the 18% of small businesses that are not using accounting software.
In the process of selecting the billing and invoicing software, you should make sure to compare all the essential things that are necessary for you to consider.
Therefore, if you want to leverage the above-mentioned 9 benefits and many more, sign up for InvoiceOwl for FREE!