AI and automation nowadays are undoubtedly rapidly growing. Most of us are familiar with Siri, Alexa, Google Home, text message suggestions, and Bots which are essential parts of artificial intelligence. This 4th Industrial Revolution is here to make our life easy, smarter, and quicker. Now the luckiest thing is AI trends in invoicing now entered into accounting as well to automate and improve the AP (Accounts Payable) processes.
There are many strategic benefits and advancements as per the market forecast of accounts payable but invoicing processing remains manual human interference and time-consuming for many organizations.
For example, there are many clients that are still getting a large portion of unstructured invoicing in paper form, email template, or in a FAX – which means there are some inefficient processes that cause challenges for accounts payable teams. Then how can you overcome those challenges and have the transformation for your business? Well, the simple answer to this question is automating the accounts payable process through AI and the latest technologies.
Try our free online invoice generator today!
Reduce the Stress of Manual Process with Automated AP Process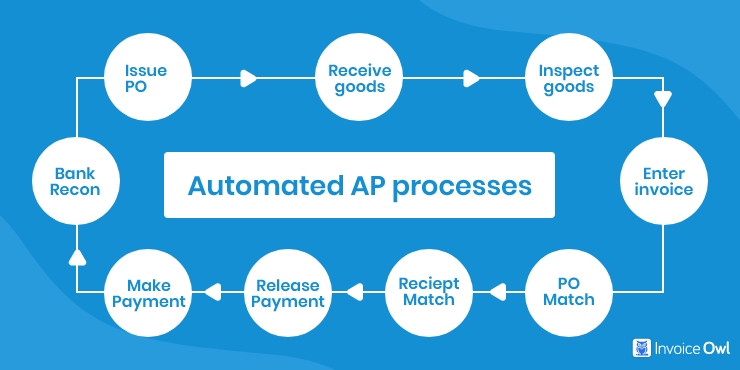 Let's understand the current state of the AP automation market performance and market estimation and how to reduce the stress of manual processes with automated AP processes. In earlier times, people used to invent various types of machines to faster their work which is cost-effective and does the task with great invoice accuracy. The same implies to the financing field as well.
Enterprises using digital payables platforms can see 81% lower processing costs and 73% faster processing cycle times – Businessinsider
The evolution of artificial intelligence technology and robotic process automation continues at an ever-increasing speed, especially for businesses that are automating their business procedures. This technology is capable of performing error-free tasks and helps most businesses in performing their manual time-consuming tasks effortlessly.
The potential to automate invoice handling, data entry, and transaction processing in a way that is intelligent enough to function without human interference. Adopting AI and robotic process automation for AP processes can reduce the risks of analog and manual lengthy processes.
AI and automation are definitely on the rise, and it has also started serving in the world of invoicing and accounting to lightning up the speed. So, it is very important that you learn how it actually works to fasten your business activities. Let's learn more about how you can use it to improve your AP processes.
The first step to adapt this technology is you should learn all ins and outs of using such technology for your business domain. While you are learning about how to adapt to advanced technology like AI and automation you might need to contact specialized technology providers or software providers who can guide you in a better way.
Most businesses believe that AI and automation add competitive advantage and -improves the company's productivity. Here are the 3 most valued AP automation trends that you can follow in 2021.
Try our free online invoice generator today!
Whether your business is in construction, landscaping, consulting, photography, auto repair, or the medical field, invoicing takes way too long. That's why we're here. InvoiceOwl makes your invoicing faster and simpler so you can get paid promptly and without the hassle.
Get Started Now
Top 3 AP Automation Trends to Follow In 2021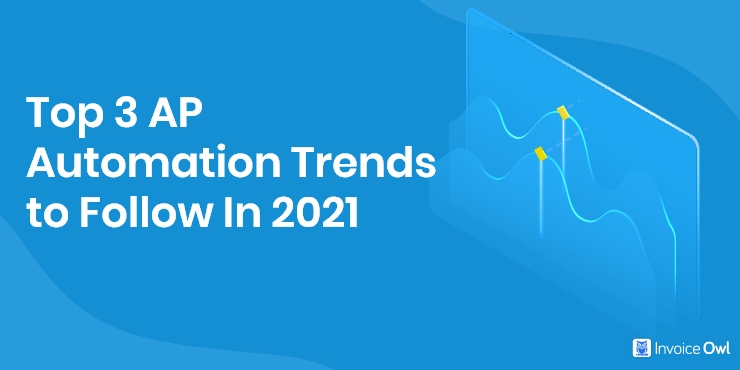 The adoption of accounts payable automation is growing steadily year by year, from large enterprises to SMEs during the different stages of their business cycles. When you adopt highly automated AP functionalities, you must be expecting a touch-less, paper-free environment for the invoices that float automatically for getting paid – all without any kind of human intervention.
Instead of spending the most valuable time and resources on time-consuming manual data entry and checking approvers for every invoice, AP professionals can utilize their time on critical tasks that add value and transform the loss into profit. Here are the key trends that organizations can follow to make the most out of AI and Automation.
#1 Effortless Data Capture
Most business owners believe that data capture is one of the important features of their AP software or invoicing applications. AI and automation organizations can capture the information in the invoices and eliminate the human interference to enter data manually. The OCR (Optical Character Recognition) of AP management software identifies the text of the invoice no matter in which format it is added. The automated AP system afterward extracts the relevant data and double checks the details against some configurable rules, such as PO numbers or invoices.
An advanced level automation pairs OCR with the AI that can automatically fill the data into the relevant invoice fields. It completes this task by using the data quality from similar product vendors and invoices to build an invoice pattern that suits an organization and invoice type. This advanced technology also ensures that your invoicing process becomes more accurate and has the minimum human intervention.
Effortless automated data capture helps organizations in reducing the amount of time for the tax information and low-value tasks especially data entry, for accounts payable professionals. It also decreases the volume of paper stationeries, which ultimately reduces the business costs and invoice processing time.
#2 Digital Way of Invoicing for SMEs
Organizations nowadays move their business processes digitally and build structured digital ways using various technologies and tools. Traditionally, larger companies receive a higher percentage of electronic invoices than smaller companies but both types of companies can utilize the way of electronic invoicing technology. The adoption of digital invoices is growing among all types of organizations and SMEs.
The reason for choosing the digital form of invoices is just because more and more AP solution providers are including self-service functionalities in their offerings, which is something most of the clients will prioritize.
With self-service functionalities of the accounting automation solution, businesses can centralize the supplier data and enable customers to upload invoices, check out the business transactions and update the status information on a self-service portal.
It reduces the manual work regarding address disputes and queries, decreases the time and cost, and enhances the transparency between all the parties. This digital process leads to clear visibility and communication, which initially improves the relationships between buyers and sellers.
#3 Approval Workflows with Automation
Most enterprises use automated approval workflows to get better AP efficiency and that has left behind a manual step for most of the SMEs. With approval workflow automation, accounts payable departments can tailor the workflows as per business-specific needs. It offers handy authorization (i.e. stamp-to-paper approvals) in very easy steps.
With automation AP staff does not have to spend time in tracking down the right approver for each invoice and if there are multiple approvers needed then also automatic AP software routes invoices to the appropriate managers digitally.
It also sends notifications and reminders automatically to reduce delays and decrease the time to approve the payments. No doubt large enterprises may have more advantages here, but SMEs are also recognizing the importance of automated approval workflows. An automated approval workflow has one of the highest satisfaction rates from business users.
Frequently Asked Questions
1. How machine learning, AI, and automation affect invoicing?
NMachine learning, AI, and automation make it easier for businesses to manage their invoicing process. These advanced technologies fasten the process of accounts payable and help the AP department function smoothly approval process. These technologies majorly affect invoicing when businesses are managing it traditionally, it will basically boost up the entire process.
---
2. Is it essential to have the automation in accounts payable process?
Yes, it is important to have the automation for your accounts payable process just to speed up the payment cycle and business transactions. Advanced level automation will ease your work for your and your clients as it offers self-service to manage your invoicing. Apart from this it also offers reminders and an auto-approval facility just to make sure everything goes smooth.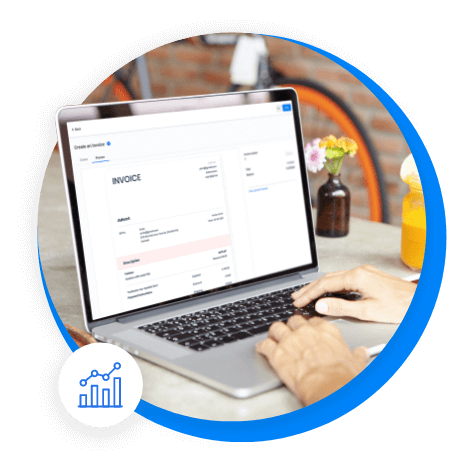 Create Professional Invoices Online Easily and Keep On Top of Your Finances
InvoiceOwl is a feature-rich invoicing app that helps small businesses, freelancers and contractors to create invoices on-the-go and get paid quicker!
Get Started for FREE
Conclusion
If you want to reduce the stress of your AP department they should opt for an automated approach whether it is to convert the old-fashioned way or to increase the potential of the accounting and invoicing process. The above-mentioned trends will help most business owners in reaching new heights by digitizing everything quickly.
Invoiceowl / Mixbit offers a wide range of invoicing tips and tricks along with the essential information that business owners can utilize to transform their traditional way into the most advanced and automated way for managing their invoicing process. If you want to know more in detail keep visiting – InvoiceOwl website.