For any modern business, managing invoices time-to-time and maintaining accuracy at the same time are the most challenging tasks, especially when they need to maintain their accounts payable process.
To maintain good relationships with clients and suppliers, your accounts payable plays an important role in your professional life. After all, every company has the right to get paid for what it owes.
A good accounts payable process ensures businesses do not have liabilities stored on their books for too long, it also helps them avoid the risk of having delayed invoices.
In this post, we will learn about accounts payable, its importance, and how the process works along with some critical tools and techniques.
Processing accounts payable could be called the most critical business process of the accounting cycle. As a business owner, you need to pay attention to your accounts payable cycle, understand what accounts payable process, and how you can improve your process.
But first, you need to understand what exactly accounts payable?
What Is Accounts Payable?
As per definition, accounts payable (AP) is a business account within the general ledger that signifies a company's responsibility to pay off a short-term debt to its creditors or suppliers.
Let us describe the accounts payable process in a simple way, accounts payable process invoices everything your business owes to creditors.
Usually, accounts payable refers to short-term debt to the company, for example, things you are supposed to get the payment for within the year.
In short, AP is a kind of liability account for businesses. This makes it even more serious for business partners to manage their AP cycle effectively and responsibly. It is a respectful thing to do for the creditors.
If you get successful in managing your AP smartly, it is sure that you will get paid for your bills on time. However, sometimes you must deal with multiple bills at the same time and you need to add them into your AP to be paid later and till then you must manage your business money by following income tax advice. To do this you need to understand how the AP department works and how it can benefit you in the long run.
Try our free online invoice generator today!
Whether your business is in construction, landscaping, consulting, photography, auto repair, or the medical field, invoicing takes way too long. That's why we're here. InvoiceOwl makes your invoicing faster and simpler so you can get paid promptly and without the hassle.
Get Started Now
Accounts Payable Process: Steps You Must Follow
The appropriate AP procedure begins with a good graph of accounts, which allows you to add your expenses to the right account. The entire process completes when you issue a check to the vendor for the amount due on or before the stated due date.
If you used to manage your own personal bills, there are a few steps that you need to follow to prepare and process your AP appropriately while transitioning bill value.
Create Your Graph of Accounts

Before you start your process for AP you need to create a chart of accounts that works well with your profession. This chart of accounts is the place where you can store all your accounting transactions and AP is not exceptional from this place.

If you want to track your account payable expenses more accurately, you need to make sure that you add all your additional accounts in the accounting software or applications to get a clear chart of accounts. You can also add your chart of accounts in Microsoft Excel if you are not using an online tool or software.

Set Up Vendor Information

Having the right set of vendor information is equally important as having up-to-date accounting transactions. If you have just started your firm, you must set up your vendors' information in your blank Google spreadsheet or use your Microsoft Excel worksheet before you start evaluating your accounting transactions.

Things will be easier, if you are using a good accounts payable system, you can insert your vendor information including company name, purchase order, expense entry, or vendor bank account details directly in the software or application that is getting stored in the cloud. You can also associate accounting records or payment terms decided between you and the vendor. Such accounting terms will show you how much time the vendor or supplier has given you to the company's bills. For example, they can use some payment terms like:
Net 10
Net 30
Net 60
Due on Receipt
Let us see how these terms work, for example, if your vendor sends a vendor invoice using payment term Net 30, that means you are supposed to pay before the 30 days period gets over otherwise it will be considered as a past due invoice, and you might have to pay late fees.
Evaluate and Enter Bill Information
Once the bill is received from a supplier or vendor, you need to start evaluating your bill details for more accurate results.
For instance, if you receive an invoice for the purchase order, make sure you match the products with the list mentioned in your invoice. If the invoice is generated for the goods and services, then make sure the services were provided as described on the invoice. It is important to evaluate and match invoices with the goods or services mentioned to check whether everything mentioned is right or not and if there is any double entry.
Once this step is done, you can start entering the invoice information either in your ledger accounts or in the software you are using. Once the invoices are accounted for you need to cross-check all the details you will be able to enter all AP for your company and you can also have an approval hierarchy or appropriate managerial approval process just to make sure it is legitimate and accurate.
However, you need to review the bill and match the correct account numbers with the correct information before you process the accounts payable and accounts receivable. Also, check if there is any double-entry accounting. This method allows you to view incoming invoices and help you ensure accuracy while avoiding payment-related errors.
Once you have completed the AP process, you can begin to enter the payment information including invoice number, invoice due date, and the total amount due for the invoice.
Review and Process Payment for Any Invoices Due
The best way to ensure that your vendors and service providers are getting paid on time is to review your AP every week to avoid confusion or to check how much payment is due for the invoice. Whether you are using a manual accounting tool or an online accounting tool, you will need to keep reviewing your invoices and due dates to see which invoice needs more attention.
There are many payment methods you can use to pay invoices. You can process a check from your accounting tool to pay your vendors and suppliers using company credit cards or use any e-payment method for making timely payments and win the trust of the vendor.
Repetition of The Process Weekly
The AP process helps you in monitoring the entire business transactions and if there is any past-due vendor invoice. By implementing an accurate AP cycle each week, businesses can reduce their workload at the same time they will be able to avoid late payments and past due invoices from their accounts payable account. The core benefit of having a regular AP procedure business will be being able to maintain the cash flow even if they only have a few vendors to make payments.
If you are dealing with two or three vendor invoices a month, processing their payment process manually should not be difficult. But You are a small business owner who has recurring invoices and vendor invoices or due vendor payment that will need attention regularly, probably each month or week. If that is the case, using appropriate accounting or invoicing software can be a tremendous help to manage your vendor payments in a llegitimately and accurately.
Frequently Asked Questions
1. What is the role of accounts payable?
The role of AP is to match and complete the unpaid invoices and control expenses by invoice processing, evaluating, and reconciling invoices along with receiving payments. A typical accounts payable department also indicates the day-by-day management of all transactions and the company's financial statements that the company has done.
---
2. Are accounts payable by debit or credit?
When you receive any invoice as a company, the amount of money owed to the vendor or the supplier increases. Since this liability is increased by credits, you will have the credit in the accounts payable. Once the liability gets decreased by debits, you will have to debit the AP for paying incoming bills regularly.
---
3. How do you calculate accounts payable?
It is very easy to calculate liabilities on your accounts payable balance sheet, you just need to add up the totals of all the invoices that you or your accountant team members have approved but the invoice is not yet paid. This is how the accounts payable department calculates proper unit costs, comparing purchase orders, payment vouchers, financial statements, income statement, balance sheet, and applicable income tax before the due date.
---
4. How does accounting software help with the accounts payable process?
If you are dealing with very few vendor invoices in a month then manual payment processing becomes very regular for you. But if you are a business owner dealing with recurring invoices that need your attention regularly, then using accounting software for AP automation can be very helpful. As it helps businesses in monitoring all their invoices.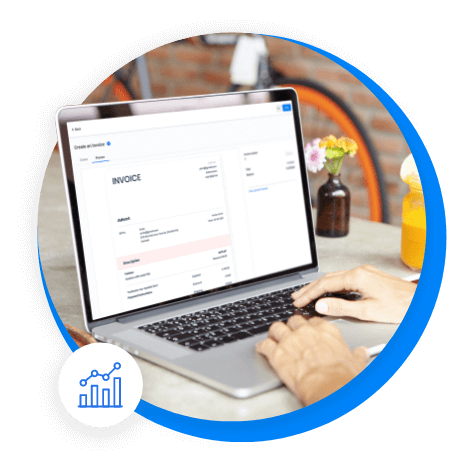 Create Professional Invoices Online Easily and Keep On Top of Your Finances
InvoiceOwl is a feature-rich invoicing app that helps small businesses, freelancers and contractors to create invoices on-the-go and get paid quicker!
Get Started for FREE
Conclusion
Maintaining your accounts payable process must be a priority for you to run your business properly. By implementing a good accounts payable process from the start, you can eliminate the chances of heavy late charges. It will also help you maintain good relationships with the clients, and ensure that all the transactions are accurately considered in a certain way.